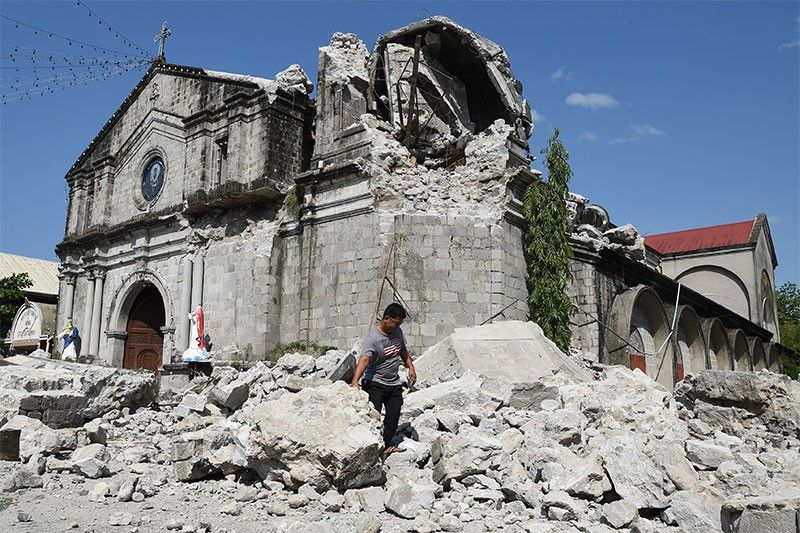 A church worker walks past rubble of the 18th century St. Catherine of Alexandria after its bell tower was destroyed following a 6.3 magnitude earthquake that struck the town of Porac, pampanga province on April 23, 2019. Philippine rescuers were scrambling April 23 to reach dozens of people feared buried under a building near Manila that collapsed a day earlier in a powerful earthquake, as the death toll climbed to 11.
AFP/Ted Aljibe
Zambales, Eastern Samar quakes 'not related'
(Philstar.com) - April 23, 2019 - 3:47pm
MANILA, Philippines — The two strong earthquakes that struck Luzon and Visayas for two consecutive days were not related, a Philippine Institute of Volcanology and Seismology official said Tuesday.
Science Undersecretary and PHIVOLCS Director Renato Solidum said the earthquake in Eastern Samar was caused by a movement of the Philippine Trench, a submarine trench to the east of the country.
A magnitude 6.5 quake rocked San Julian, Eastern Samar at around P1:37 p.m., according to the state volcanolgy bureau.
The strong earthquake was also felt in several towns in Eastern Visayas and the Bicol region.
On Monday, a magnitude 6.1 earthquake jolted Castillejos, Zambales at around 5:11 p.m.
The Monday quake, which caused damage in parts of Luzon, was a minor earthquake, PHIVOLCS earlier said.
"This is definitely not a major earthquake," Solidum said in a phone interview with CNN Philippines Monday evening. He added that no significant damage is expected in Pampanga and Metro Manila following the quake felt in Luzon.
As of Tuesday afternoon, 16 were reported dead, 81 injured and 14 missing in Central Luzon following Monday's quake, according to the National Disaster Risk Reduction and Management Council. — Patricia Lourdes Viray with reports from Helen Flores
As It Happens
LATEST UPDATE: September 29, 2019 - 10:48am
Get the latest updates on the earthquake here.
September 29, 2019 - 10:48am
A magnitude 6.1 earthquake hit the waters off Jose Abad Santos in Davao Occidental at 10:02 a.m.
Intensity 4 or moderately strong shaking was felt in Kiamba and Alabel, Sarangani; General Santos City; and Tupi, South Cotabato.
No aftershocks or damage is expected, Phivolcs says.
September 18, 2019 - 3:53pm
A 5.4 magnitude earthquake hits waters off Sarangani, Davao Occidental at 3 p.m. Wednesday.
Intensity I or scarcely perceptible shaking was felt in Alabel, Sarangani and General Santos City.
State volcanologists say aftershocks are expected.
July 17, 2019 - 2:06pm
The death toll from a powerful earthquake that hit a remote Indonesian island chain at the weekend has climbed to five, with thousands living in evacuation shelters, an official says.
The shallow 7.3-magnitude quake struck about 165 kilometres (100 miles) south of the town of Ternate in North Maluku province on Sunday evening, according to the US Geological Survey.
"Five people died after they were hit by debris," Agus Wibowo, a spokesman for Indonesia's disaster mitigation agency, says in a statement.
July 14, 2019 - 2:50pm
A strong 6.6-magnitude earthquake struck off northwest Australia Sunday, the US Geological Survey says, but there was no tsunami alert.
The shallow quake hit 203 kilometers (126 miles) west of the beach resort of Broome, Western Australia, the USGS says.
The tremor was felt in Broome and in Port Hedland, Australia's biggest bulk export port, according to Geoscience Australia, which measured the quake at 6.5.
In its initial assessment, the USGS says there is a low likelihood of casualties and damage.
July 5, 2019 - 8:32am
US President Donald Trump says the situation in Southern California after a strong 6.4-magnitude earthquake appeared to be under control amid reports of scattered damage.
"Been fully briefed on earthquake in Southern California. All seems to be very much under control!" Trump tweets.
Been fully briefed on earthquake in Southern California. All seems to be very much under control!

— Donald J. Trump (@realDonaldTrump) July 4, 2019
The quake struck near the city of Ridgecrest and the US Navy's China Lake weapons testing range.
A hospital damaged by the quake in Ridgecrest was being evacuated, and an official at China Lake said there was "substantial damage" to their facilities, including fires, water leaks and spills of hazardous materials.