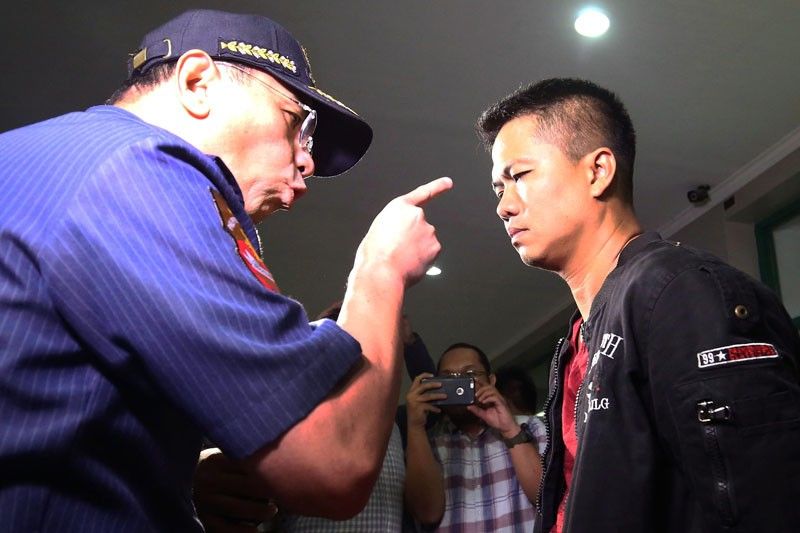 National Capital Region Police Office chief Maj. Gen. Guillermo Eleazar confronts Cpl. Marlo Quibete following his arrest on Tuesday night.
Miguel de Guzman
Chiefs of Eastern Police District, Pasay City sacked
MANILA, Philippines — The chiefs of the Eastern Police District (EPD) and Pasay City police were relieved from their posts yesterday following the arrest of their personnel for allegedly using the government's war on drugs in extortion.
Philippine National Police (PNP) chief Gen. Oscar Albayalde ordered the relief of EPD director Brig. Gen. Bernabe Balba and Pasay police commander Col. Noel Flores for command responsibility.
Balba was replaced by Brig. Gen. Christopher Tambungan, executive officer of the Directorate for Police Community Relations.
Col. Bernard Yang, regional operations chief of the National Capital Region Police Office (NCRPO) was named as Flores' replacement.
NCRPO chief Maj. Gen. Guillermo Eleazar said Balba and Flores were relieved after members of their respective drug enforcement units (DEUs) were arrested in entrapment operations.
The police officials were sanctioned for the fault of their subordinates whom they were supposed to lead, according to Eleazar.
He also announced the relief of 15 anti-narcotics officers of the EPD led by Maj. Allan Miparanum.
Twenty-seven members of the Pasay police DEU headed by Lt. Ronaldo Frades were also sacked for extortion.
They were placed on floating status at the Personnel Holding and Accounting Unit at Camp Crame in Quezon City.
Prior to this, Cpl. Mario Quibete of the EPD-DEU was nabbed in a sting in Barangay Santolan, Pasig on Tuesday night after he allegedly extorted money in exchange for the release of a detained drug suspect.
The drug suspect supposedly gave Quibete P40,000 in cash, a necklace and a motorcycle.
Even if Quibete had collected an estimated P80,000 in cash and valuables, he allegedly demanded an additional P20,000, prompting the drug suspect's partner to seek police assistance.
Based on text messages from Quibete's cell phone, he communicated his illicit transactions with three other police officers, including Miparanum.
Guillermo Eleazar's fury
An irate Eleazar gave Quibete a dressing down during a confrontation at the Marikina police station where the policeman was brought after his arrest.
"Hindi dapat ginagamit ang trabaho natin sa pangongotong," Eleazar shouted at Quibete.
The NCRPO chief grabbed Quibete by the neck and repeatedly pulled the lawman's head.
Eleazar personally escorted Quibete to his detention cell.
An entrapment operation by members of the PNP Counter-Intelligence Task Force (CITF) led to the arrest of Cpl. Anwar Nasser at the DEU office of the Pasay police station yesterday morning.
CITF commander Col. Romeo Caramat Jr. said Nasser's cohorts, including Lt. Frades, Patrolman Anthony Fernandez and Staff Sergeant Rigor Octaviano escaped through the backdoor, taking with them P100 in marked money.
The operation stemmed from the complaint of Joan dela Torre, who claimed that the police officers demanded P100,000 in exchange for the release of her partner George Revilla, who had been arrested on drug charges.
Eleazar also confronted Nasser at the CITF detention cell at Camp Crame.
Eleazar urged the other relieved police officers who have yet to surface to go on AWOL (absent without leave) to hasten their dismissal from the service.
"Mag AWOL na lang kayo. Huwag na kayong bumalik para mas mapadali ang trabaho natin at kung bumalik naman kayo, haharap kayo sa kaso," he said.
Brig. Gen. Eliseo Cruz, director of the Southern Police District, welcomed the relief of Flores.
"He is a good officer and efficient chief of police, but we have to abide by the PNP rules on command responsibility to strengthen organizational mandate on law enforcement," Cruz said. – With Ghio Ong, Robertzon Ramirez
Related video: