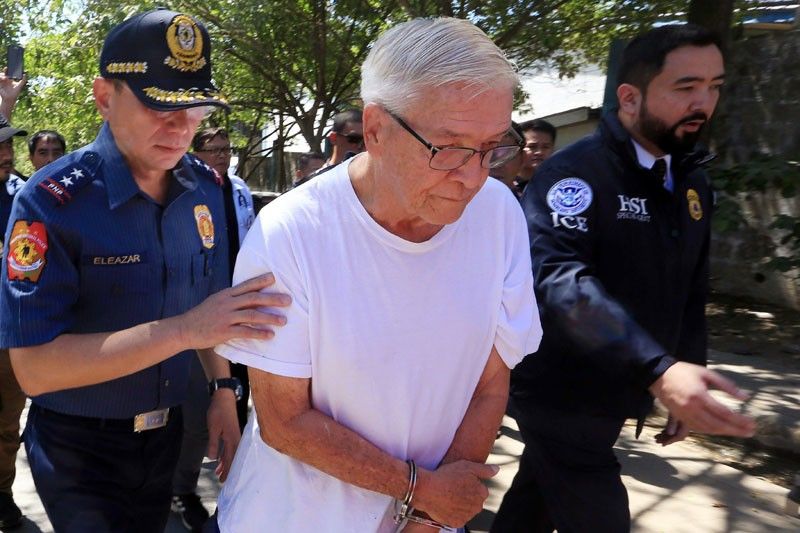 Catholic priest Fr. Kenneth Pius Hendricks is led to the Regional Special Operations Unit detention facility of the National Capital Region Police Office at Camp Bagong Diwa yesterday.
Edd Gumban
Priest rearrested for molesting 50 victims
Non Alquitran
(The Philippine Star) - February 20, 2019 - 12:00am
MANILA, Philippines — A Catholic priest arrested last year was served five more warrants of arrest at his detention cell at Camp Bagong Diwa yesterday for allegedly sexually abusing 50 more victims, mostly altar boys as young as seven years old.
Director Guillermo Eleazar, National Capital Region Police Office chief, served the warrants to Fr. Kenneth Pius Hendricks at the Bureau of Immigration (BI) jail at around 11 a.m.
Eleazar was accompanied by Superintendent Rogath Campo, chief of the NCRPO's Regional Special Operations Unit, and representatives from the BI fugitive search unit and the United States Department of Homeland Security.
"This arrest is another testament to the truism that the long arm of the law will always catch up with criminals," Eleazar said.
"It may have taken some time for Hendricks to be indicted and arrested, but at the end of the day, he is where he should be in," he added.
BI agents arrested Hendricks on Dec. 5, 2018 on the strength of an arrest warrant issued by Ohio District Court Judge Stephanie Bowman on Nov. 11, 2018 on charges of "engaging in illicit sex with a minor in a foreign country."
The charge is punishable with up to 30 years in prison and fines.
While the Franciscan priest was in jail, other victims – who reportedly received threats from Hendricks – surfaced after learning he had been arrested and detained, officials said.
Eleazar said the five arrest warrants were issued by Judge Constantino Esber of the 8th Judicial Region RTC Branch 16 in Naval, Biliran for either acts of lasciviousness or child abuse.
Hendricks arrived in the Philippines from Cincinnati, Ohio in 1968.
Upon his arrival in the country, he was ordained as a priest in the Franciscan order and practiced his vocation at St. Isidore the Worker Chapel in Talustosan Village in Biliran.
Hendricks was transferred from the BI jail to the RSOU detention facility, also at Camp Bagong Diwa.