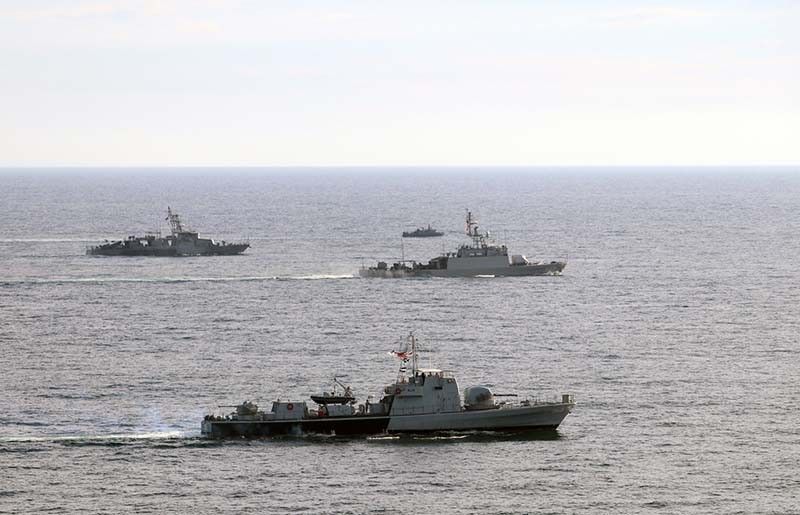 In this handout photo, ships from the navies of the Philippines, Indonesia and Malaysia sail through waters in the southern Philippines. Joint Task Force INDOMALPHI is a joint effort to secure common maritime borders.
Naval Forces Western Mindanao
Westmincom monitoring terrorist recruitment, movements
Roel Pareño
(Philstar.com) - December 16, 2018 - 4:41pm
ZAMBOANGA CITY, Philippines — Islamic State-inspired terrorists continue to recruit potential fighters for a potential stronghold in the southern Philippines despite being defeated in Marawi City last year, the Western Mindanao Command said.
Lt. Col. Gerry Besana, Westmincom spokesperson, said they have monitored reports of continuing recruitment, adding in Filipino that the terrorists "are really good at using propaganda ang materials."
He said the IS-inspired terrorists use social media to recruit and that many Filipinos have been convinced to support them. "At yon ang nakakalungkot (that's what's sad about it), that's why we are doing our utmost efforts to counter this kind of propaganda," Besana said.
The Department of the Interior and Local Government and the Department of Defense have been coordinating closely with Muslim religious leaders and scholars, and even with Christian sects, to curb recruitment by terror groups.
Besana said more than 40 stragglers from the IS-inspired Maute group that laid siege to Marawi in 2017 have surrendered. The terrorists have been linked to Abu Dhar, who led the Dawlah Islamiyah cell, and Abu Turaife of the Bangsamoro Islamic Freedom Fighters.
He said the military is also guarding against the entry into the Philippines of foreign IS fighters.
"We were already looking into it, we are not taking chances," Besana said, adding no new foreign fighters have been monitored while those who managed to enter the country have since been "neutralized" in military operations.
"So, those who come here will suffer the same fate," he warned.
Joint Task Force INDOMALPHI
Besana said foreign militants have been having a hard time entering the country since Joint Task Force INDOMALPHI — a joint security operation of Indonesia, Malaysia and the Philippines to secure common maritime boundaries — was put up.
That does not mean that securing the vast and porous border into the southern Philippines is no longer a problem, he said, since the three countries cannot put up physical barriers.

But the cooperation has proven effective in curbing kidnapping, piracy and smuggling in the past two years, Besana said.
He said the program would be more effective with support from the public since residents would best know their areas and would be able to identify outsiders in their communities.