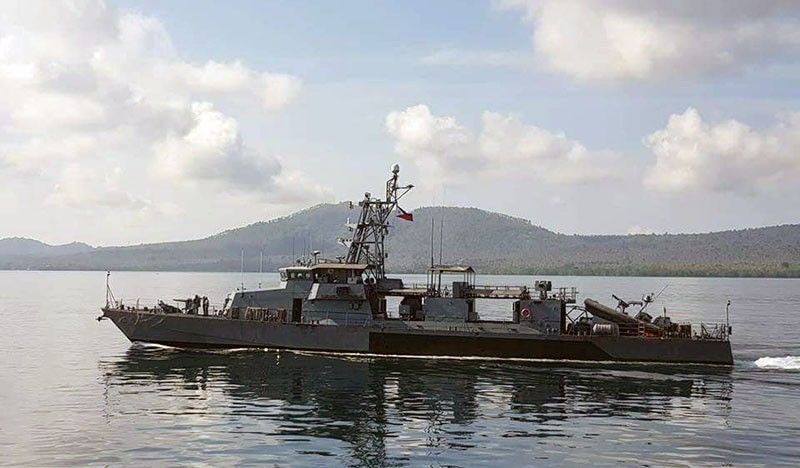 BRP Mariano Alvarez (PS-38) will represent the Philippine Navy in the maritime exercise with Indonesia and Malaysia.
Naval Forces Western Mindanao
Navy to hold trilateral maritime drills with Indonesia, Malaysia
Roel Pareño
(Philstar.com) - November 26, 2018 - 2:43pm
ZAMBOANGA CITY, Philippines — Ships from the navies of the Philippines, Indonesia and Malaysia will start a trilateral maritime exercise on Tuesday to better secure common maritime border against piracy and abductions.
Ens. Katherine Ferrer, acting public affairs officer of Naval Forces Western Mindanao, said the ships from Indonesia and Malaysia will arrive Tuesday in time for the opening of the security patrol training, which is part of the INDOMALPHI 4th Trilateral Port Visit and Maritime Training Activity.
The maritime patrol exercise is under the Trilateral Cooperative Arrangement signed in 2017 in response to a series of kidnappings of foreigners by the Abu Sayyaf group and its affiliates.
The groups operate in waters along the common borders in the southern Philippines, a sea passage through which 16,000 international vessels and $14 billion in goods passes annually.
Ferrer said Joint Task Force INDOMALPHI—representing the navies of Indonesia, Malaysia and Philippines —and the NFWM under Western Mindanao Command will hold the arrival honors for the visiting Indonesian and Malaysian navy ships.
The Indonesian navy, known as the Tentara Nasional Indonesia-Angkatan Laut, will send patrol ship KRI Sura-802 patrol ship and Malaysia will command its KD Pari fast attack boat. The Philippine Navy will be represented by BRP Mariano Alvarez (PS-38).
A series of capability exercises will be conducted during the three-day training in the area of responsibility of the Westmincom.
Ferrer said fellowship games will also be held as well as a day tour of Zamboanga City.
"This activity aims to strengthen the relationship, enhance mutual cooperation and interoperability of the three countries through the development of combined rules of engagement and develop better understanding and cooperation to address common issues on common maritime waters," Ferrer said.