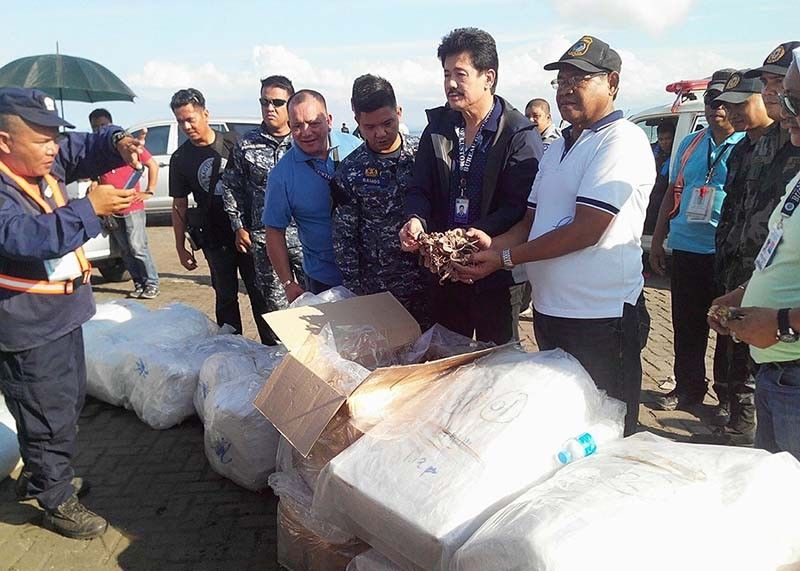 District Customs Collector Lyceo Martinez (2nd from right), and Coast Guard station chief Lt. Cmdr. Noriel Ramos show the dried seahorses contained in 15 bundles with an estimated value of P5.7 million seized Wednesday afternoon in the port of Zamboanga City.
Coast Guard Released
P5.7 million worth of dried seahorses seized in Zambo
ZAMBOANGA CITY, Philippines — The Coast Guard intercepted and seized an estimated P5.7 million worth of dried seahorses Wednesday afternoon inside the wharf in this city, according to official.
Lt. Cmdr. Noriel Ramos, Coast Guard station commander, said their intelligence unit received reports about the shipment of the contraband inside the port that will be transported to Manila.
Ramos said Coast Guard personnel, backed by their K-9 unit, tracked down the items in one of the 20-footer container vans inside the port area.
The Coast Guard, assisted by the Bureau of Customs and the Bureau of Fisheries and Aquatic Resources, inspected the van and discovered the dried seahorses in at least 15 bundles, each containing 11 kilos.
Lyceo Martinez, Customs District Collector, said the shipment of seahorses is prohibited by the customs and fisheries laws.
The consignee of the container van, according to Martinez, was identified as Ramon Sayson, whose business is located at 102 6th Baltazar Street, Caloocan City.
Martinez said Sayson, who appeared at the port, vehemently denied ownership of the contraband. He alleged that the items were only slipped inside his cargo composed of scrap plastic materials by a certain Tan from Tawi-Tawi.
The Customs director said the trade of seahorses in Manila is very expensive. Based on its market value, a kilo of seahorse roughly costs P30,000 to P35,000.
Dried seahorses, which are exported to China, are known to treat several ailments such as erectile dysfunction.
Pedling Munap, BFAR chief regulation officer, told the press that pouching and shipment of endangered species such as seahorseas are strictly prohibited under Section 97 of Republic Act 8550, otherwise known as the Fisheries Code and RA 9147 or the Wildlife Resources Conservation and Protection Act.
Munap added that pouching of seahorses is also among those prohibited under the Convention on International Trade in Endangered Species of Wild Fauna and Flora, to which the Philippines is a signatory.
The seized items were turned over to Customs and subsequently to BFAR for documentation and proper disposition.