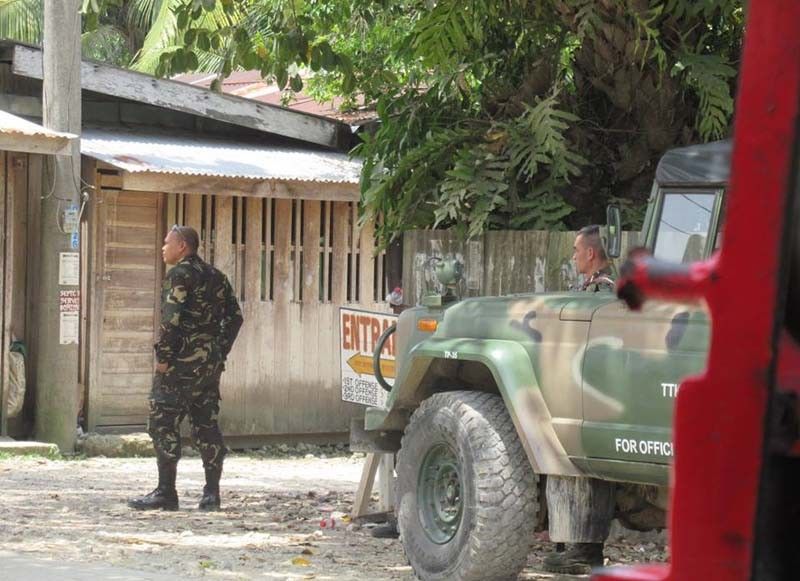 Soldiers have been posted near an evacuation center where residents of indigenous peoples' communities had fled in response to troops in their area.
Kasalo Caraga
Troops sent to Lianga evacuation site as standard procedure, military says
(Philstar.com) - July 19, 2018 - 1:24pm
MANILA, Philippines — The military has confirmed that soldiers have been deployed to an evacuation center in Lianga, Surigao del Sur, where more than 1,500 Lumads have fled in response to soldiers in their communities.
Volunteers who have been working with the Lumads and were with them when they left their communities had been reporting since Wednesday that police and military personnel had been deployed around the Barangay Diatagon Gymnasium and had prevented the entry of aid from the Catholic Diocese of Tandag.
The residents had left their communities because they felt unsafe with the military there, volunteers said. A Lumad organization had been petitioning for the soldiers to pull out, saying the community had not been consulted about the military deployment.
READ: Troop presence prompts Lumad evacuation in Surigao del Sur town, group says
Soldiers in Diatagon have set up an Incident Command Post, Capt. Rodulfo Cordero Jr. of the 401st Infantry Brigade's Civil-Military Operations battalion said Thursday, adding this is standard procedure for natural disasters and similar situations.
According to National Disaster Risk Reduction and Management Council guidelines, ICPs are where relief operations are coordinated. Cordero said the local governments of Lianga and Barangay Diatagon are in charge of operations and the police and military are there to provide security.
He added that under the same guidelines, relief from NGOs and from other volunteer groups are to be turned over to municipal social welfare and development office for distribution to the evacuees. "That is also for the proper accounting of the relief goods," Cordero said in Filipino.
Displaced Lumads reported a similar "food blockade" last year in the same barangay and town. The Armed Forces of the Philippines denied the allegation and said communist rebels "make our indigenous peoples in the mountain go down to the city centers as evacuees and confront local governments and national governments and give demands, which they have been doing ever since."
Lumad volunteers report 'pressure' to return
Kahugpungan sa mga Lumadnong Organisasyon sa Caraga (Organization of Indigenous Peoples Organizations in Caraga, Kasalo Caraga) said in an online update from the evacuation site said, however, that a soldier had been overheard saying relief should not be let through "so they'll be forced to return to their communities."
It also said that barangay and municipal officials have been "pressuring" the Lumads to return to their communities since there are ongoing clashes between the government and the communist New People's Army, which operates in parts of the province.
"They told the evacuees that if they do not return to their communities, they will put up a guard post right in front of the gate with the AFP/PNP stationed (there)," Kasalo Caraga said. It said the evacuees cannot move in or out of the center without surveillance.
Aside from the soldiers and police, evacuees said the head of the Magahat Bagani paramilitary group — implicated in the deaths of Alternative Learning Center for Agricultural and Livelihood Development school director Emerito Samarca and indigenous peoples' leaders Dionel Campos and Bello Sinzo in 2015 — was in front of the evacuation center and "addressing the evacuees (over a PA system), accusing them of being NPA supporters."
In a phone interview and in past online exchanges, Capt. Cordero had made similar allegations.
He added the soldiers are at the evacuation center to secure the displaced Lumad residents. "If something happens there, the Army will be blamed," he said, adding that that could bring the Lumads international attention. He had earlier stressed the evacuees lives "are not in danger" in the communities that they had left.
"Attacks against us, the Lumad, have been intensified to silence our growing dissent. We evacuated because the military has been harassing us, and when we are here, they continued with their wrongdoings! We don't want the killers of our brothers to 'guard' us. We want to feel safe from their atrocities," Kasalo Caraga said.
Rights group Karapatan, whose office in Caraga was among the first to issue an alert about the Lumad evacuation on July 16, said that the evacuation and the reported harassment and disruption of the Lumads' daily lives that led to the evacuation are not isolated incidents.
"This is martial law; this is Duterte's counterinsurgency program Oplan Kapayapaan in action," Karapatan Secretary General Cristina Palabay said in a statement on Wednesday afternoon.
"We reiterate our call to pull out military troops in civilian communities and lift martial law in Mindanao. We also call on concerned agencies to respond to the needs of those currently in the evacuation center," she said. — Jonathan de Santos