Army, police thwart BIFF 'show of force' in Maguindanao town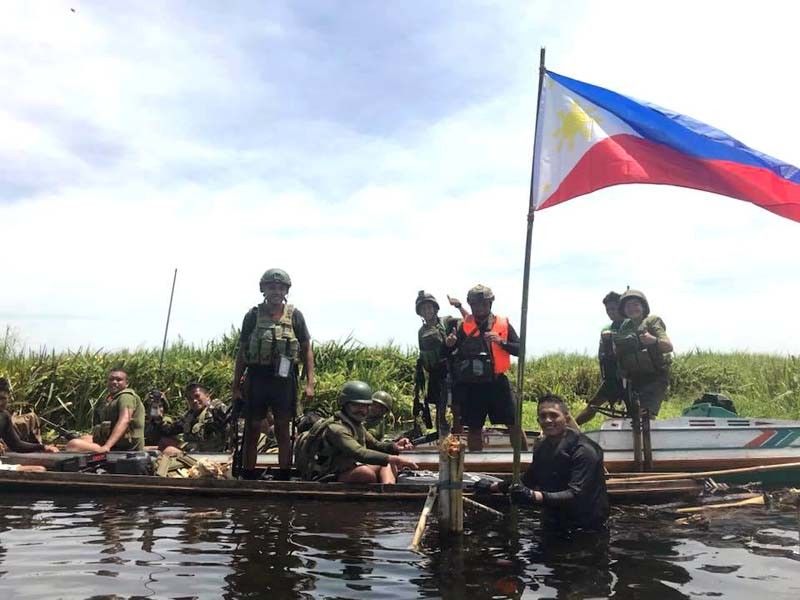 MAGUINDANAO, Philippines — Authorities foiled on Tuesday an attempt by militants to show force and hoist the Islamic State flag in a populated area in Datu Paglas, Maguindanao.
Personnel of the Army's 33rd Infantry Battalion and the police Special Action Force reportedly wounded two members of the outlawed Bangsamoro Islamic Freedom Fighters in firefights in the Mupak area of Datu Paglas after dawn Tuesday.
Brig. Gen. Cirilito Sobejana, commander of the Army's 6th Infantry Division, said the joint operation by the 33rd IB and the SAF was carried out after BIFF gunmen led by Abu Solaiman rejected appeals by local officials in Datu Paglas for them to leave.
Sobejana said the operation was properly coordinated with the local government unit of Datu Paglas, located in the second district of Maguindanao, and commanders of the Moro Islamic Liberation Front in the municipality.
Abu Solaiman and his followers fled to the nearby Liguasan Delta when soldiers dispatched to neutralize them started bombarding their positions with 81-mm mortars.
Municipal officials said they have alerted villagers of their request for authorities to drive the BIFF militants away, enabling them to relocate to safer areas shortly before the firefights erupted.
Barangay folk told reporters that two BIFF bandits, identified only as Awil and Gadoh, were wounded in the hostilities.
Local clerics who know the duo said Awil hails from Barangay Pusao in Shariff Saidona Mustapha, hometown of the terrorist Abu Toraife, leader of one of three factions in the BIFF.
Capt. Arvin Encinas, public affairs officer of 6th ID, said they received feedback from residents that Abu Solaiman's group planned a show of force somewhere in Datu Paglas as a diversion amid an ongoing offensive against BIFF forces in Maguindanao.
Soldiers killed four BIFF bandits in a series of encounters in the province on Sunday.
Muktar Undi and Orai Sangkay were killed in a gunfight with personnel of the 21st Mechanized Infantry Company in Barangay Pamalian in Saidona town Sunday.
Two other BIFF bandits, Aliman Bontah and Idris Udar, perished in a clash with personnel of the same unit in Barangay Elian, Datu Saudi two hours later.
More encounters between BIFF gunmen and pursuing units of the 6th ID in nearby towns ensued on Monday.
Sgt. Jose Nasar De Luna was killed Monday in a gunfight with militants in Barangay Pusao, Shariff Saidona Mustapha that left his companion, Pvt. Roy Mark Exiomo, wounded.
The two soldiers were in a platoon dispatched to run after a group of BIFF bandits collecting food and money from villagers.
Abu Solaiman's group was first noticed on Monday afternoon by residents of Mupak, an agricultural community in Datu Paglas. The group seemed to be preparing for an attack, residents said.
Local officials said the group was to hoist the black Islamic State flag near the town proper of Datu Paglas to trigger panic among residents and divert the attention of Army units chasing BIFF forces in nearby towns.