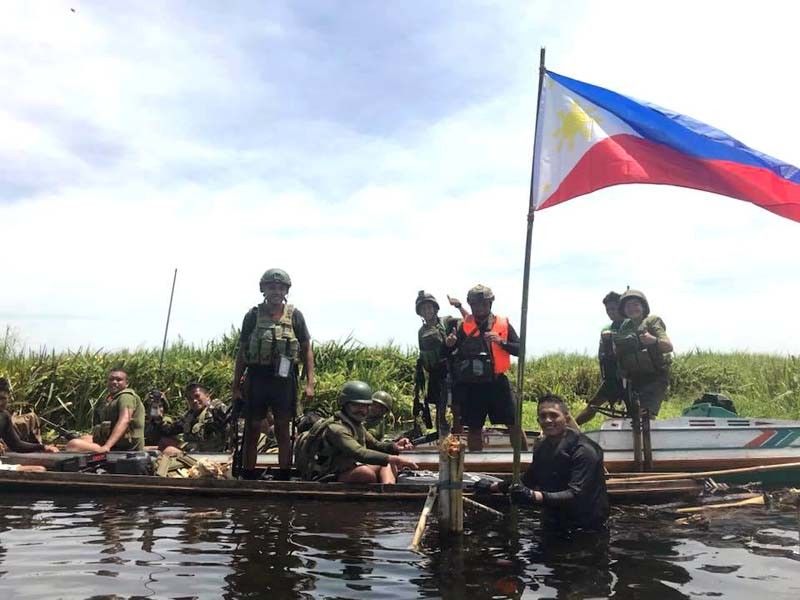 Soldiers of the 33rd Infantry Battalion are shown in this photo from the 6th Infantry Division hoisting the Philippine flag in an area of the Liguasan Delta that they cleared of militants on Sunday.
6th Infantry Division, released
2 suspected BIFF bomb makers caught in Liguasan operations
John Unson
(Philstar.com) - June 11, 2018 - 2:32pm
MAGUINDANAO, Philippines — The military has detained a couple caught fleeing from a house used for making improvised bombs and that was flattened by airstrikes before dawn Sunday.
Local officials told reporters on Monday that Ustadz Anwar Ali, 22, and his 20-year-old wife, Asnaya, were cornered by Army and police teams at the marshy boundary of General Pendatun, Maguindanao and Lambayong, Sultan Kudarat.
They were among more than a dozen people reportedly fabricating improvised explosive devices in the house of Abu Walid that helicopter gunships destroyed with rockets before ground forces closed in.
Intelligence officials said Abu Walid is a member of the outlawed Bangsamoro Islamic Freedom Fighters and was trained in handling powerful IEDs by the slain Malaysian terrorist Zulkifli bin Hir, most known as Marwan.
Helicopters also fired at targets in the swampy border of Pagalungan, Maguindanao and Pikit, North Cotabato where BIFF bomb-maker Taib Dinggo had earlier been spotted.
Maj. Gen. Cirilito Sobejana, commander of the Army's 6th Infantry Division, said Monday that local officials had alerted the 6th ID of the presence of militant bomb-makers in the area.
Members of the municipal peace and order councils of the adjoining North Cotabato and Maguindanao provinces said evacuees confirmed that more than 10 BIFF bandits were killed in the offensives.
Sobejana said his battalion commanders have reported that 15 terrorists died in the operations on Sunday.
"It was a calibrated law-enforcement activity initiated to weaken the capability of a group known for using IEDs to kill innocent people," he said.
A municipal official in Maguindanao, who asked not to be identified for fear of reprisals, said authorities have to prepare for retaliation by the militant group.
The source said that there was coordination between the Moro Islamic Liberation Front and the military prior to Sunday's airstrikes and ground offensives in the 220,000-hectare Liguasan Delta.
The delta is surrounded by the provinces of North Cotabato and Sultan Kudarat, both in Region 12, and Maguindanao, which is part of the the Autonomous Region in Muslim Mindanao.
The Police Regional Office-Autonomous Region in Muslim Mindanao is now helping the 6th ID validate reports circulating since noontime Sunday purporting that BIFF bomb-maker Taib Dinggo was among those killed in airstrikes in the Kalbugan area of Pagalungan town.
Kalbugan, which is inhabited by Moro farmers and fishermen, is one of the gateways to the Liguasan Delta, which is believed to have vast deposits of natural gas.
Thousands displaced, classes suspended in some schools
Sobejana said the 6th ID is now focused on helping the Humanitarian Emergency Assistance and Response Team of the Autonomous Region in Muslim Mindanao and the provincial governments of Maguindanao and North Cotabato extend relief services to residents of areas along the Liguasan Delta who were displaced by the offensives.
No fewer than 7,000 villagers are in makeshift relief sites in the town centers of Pagalungan, in Pikit and in several barangays in Lambayong and in General Pendatun towns.
Officials also closed schools in four Maguindanao towns due to tension sparked by the airstrikes.
Senior education officials in Maguindanao province said Monday classes in schools along the Liguasan Delta had been suspended for security reasons.
The affected schools in Pagalungan, Datu Montawal, Rajah Buayan and General Pendatun towns are located along the Liguasan Delta.
Sources from the provincial office of the Department of Education in Maguindanao said Monday that the suspension of classes affected 1,438 elementary pupils and almost a hundred high school students.
Lawyer Rasol Mitmug, Jr., regional education secretary of the Autonomous Region in Muslim Mindanao, said elementary teachers in the four towns had been directed to help protect their pupils from harm.