Quezon City anti-crime drive: 7 killed in 4 hours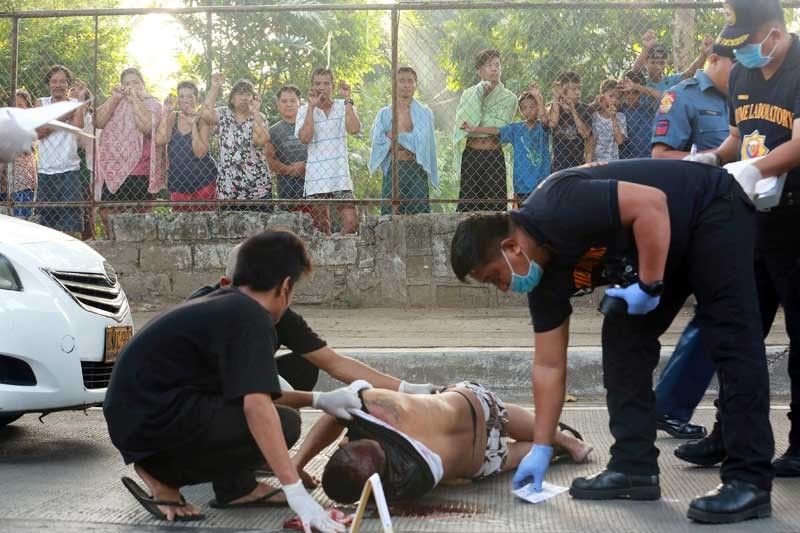 MANILA, Philippines — Seven persons believed to be involved in illegal drugs and other crimes were killed by police in separate operations in a span of four hours in Quezon City at dawn yesterday.
The first drug bust led to the neutralization of Joel Montallana along Samat street in Barangay Sto Domingo at around 2:30 a.m.
Montallana died at the scene from gunshots to the body.
Police said they recovered a .38-caliber handgun, six sachets of shabu and P500 in marked money from Montallana.
Marjun Clemente was shot dead in another sting along Sebastian street, Sitio San Roque in Barangay Bagong Pagasa at around 3:15 a.m.
Clemente allegedly opened fire at authorities, hitting Police Officer 2 Edison Guillermo.
Probers said they confiscated two improvised handguns, a .38-caliber revolver and five sachets of shabu from Clemente.
His cohort, 19-year-old Nicole Rosales, was arrested by police.
Clemente was taken to the Quezon City General Hospital where he was pronounced dead on arrival.
A drug suspect known only as Bong and his unidentified companion were killed after they allegedly engaged police in a firefight along Dona Hemady street in Barangay Kristong Hari at around 6:40 a.m.
Prior to the shootout, police said they were able to buy a pack of shabu from the suspects.
Probers said they recovered a 9mm pistol, a .38-caliber handgun and six sachets of shabu from the suspects.
Three alleged carjackers were killed in what police said was a shootout along CP Garcia Avenue in Barangay UP Campus at past 3 a.m.
Police said they have yet to identify those who died at the scene.
Probers said the suspects held up taxi driver Henry Camarines at gunpont while they were traversing Barangay Mariana.
Camarines said the suspects stole the cab.
Policemen spotted the taxi cab along University Avenue. But instead of yielding, the suspects reportedly opened fire, prompting police to retaliate.
Authorities said they recovered improvised guns, two bladed weapons and six sachets of shabu from the suspects.
The latest deaths brought to 14 the number of suspects killed in anti-crime operations in the city since Monday, according to Quezon City Police District director Chief Superintendent Joselito Esquivel.
He described the suspects as "bolder" and ready to fight it out with police.
Three rookie policemen assigned with the Fairview, Masambong and Batasan police stations were wounded in the operations.
They will be commended for their bravery, Esquivel said.
'PNP winning war on drugs'
Meanwhile, Philippine National Police chief Director General Oscar Albayalde said the PNP is succeeding in the campaign against drugs.
Albayalde made the statement amid the killings of drug suspects in Quezon City and Bulacan.
"The drug war remains a priority of the Duterte administration. We cannot solve this overnight," the PNP chief said during the Kapihan sa Manila Bay yesterday.
In Caloocan City, an alleged drug pusher was shot dead by motorcycle-riding assailants on Tuesday night.
Reynaldo Bacani was talking to his brother-in-law outside his house in Barangay Bagong Silang when the suspects fired at him.
City police chief Senior Superintendent Restituto Arcangel said they were verifying reports that Bacani was allegedly pushing drugs in the area.
In southern Metro Manila, police arrested 243 people and seized at least P100,000 worth of shabu during anti-crime operations in the past two days.
Superintendent Jenny Tecson, spokesperson for the Southern Police District, said among those arrested were 49 drug suspects, 32 illegal gamblers, 22 fugitives and 119 violators of city ordinances. – With Cecille Suerte Felipe, Robertzon Ramirez, Marc Jayson Cayabyab