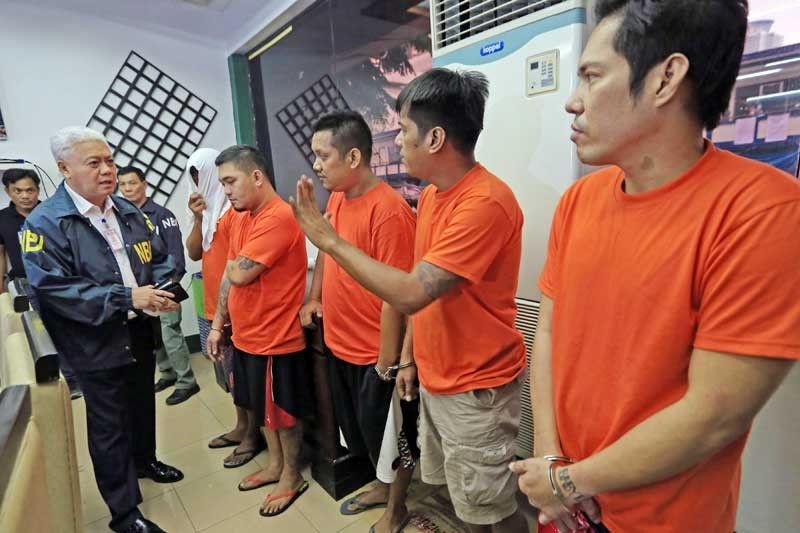 National Bureau of Investigation spokesman Ferdinand Lavin questions Maynard Alfaro, Jonathan Alfaro, Archie Alfaro, Romeo Laurenaria Jr. and Henry Moyano at the NBI headquarters yesterday.
Edd Gumban
Ex-Pasay barangay chief, 4 others nabbed for drugs
MANILA, Philippines — A former barangay chairman in Pasay City allegedly involved in the illegal drug trade and contract killings was arrested by the National Bureau of Investigation (NBI) in Cavite last week.
Maynard Alfaro was nabbed along with his brothers Jonathan and Archie, Henry Moyano and Romeo Laurenaria Jr. by agents of the NBI Task Force Against Illegal Drugs (TFAID) in Bacoor on April 14.
The suspects were presented to media yesterday by NBI officials.
Ferdinand Lavin, spokesman for the NBI, said Alfaro's group was allegedly involved in a drug turf war in Pasay.
Lavin said the suspects were also linked to the murder of former Pasay councilor Borbie Rivera, who was shot dead at a mall in Las Piñas in August last year.
Alfaro was also implicated in the killing of Mark Felizardo Baggang at a gas station in Makati in 2014.
According to TFAID chief Ross Jonathan Galicia, Alfaro survived an ambush attempt in 2013.
Alfaro was wounded when unidentified assailants fired at the barangay hall in Pasay.
NBI operatives said they confiscated shabu, marijuana, a .40-caliber handgun and ammunition from the suspects.
The suspects are being held at the NBI detention facility on charges of illegal possession of firearms and violation of Republic Act 9165 or the Comprehensive Dangerous Drugs Act and election gun ban.