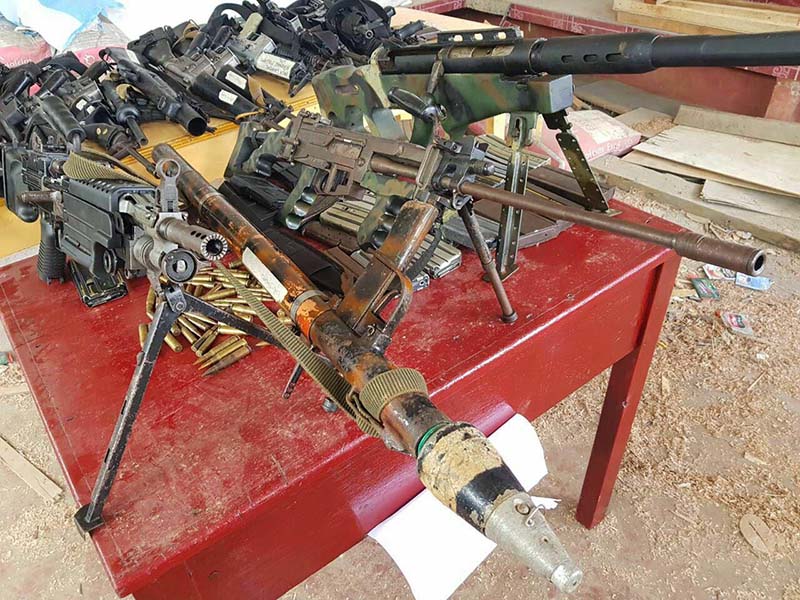 The firearms collected from local officials in Piagapo town are now in the custody of the Western Mindanao Command. Philstar.com/John Unson
Lanao Sur execs turn over high-powered firearms to authorities
John Unson
(Philstar.com) - March 17, 2018 - 1:13pm
LANAO DEL SUR, Philippines — Local officials in a former bastion of the Maute terror group turned in 43 firearms and crew-served military-type weapons to authorities on Friday.
The arms cache, comprised of assault rifles, machine guns and rocket launchers, were turned over by Mayor Ali Sumandar of Piagapo and his constituent-leaders to representatives of the Army's 103rd Brigade and the provincial police during a simple rite in Marawi City.
Lt. Gen. Carlito Galvez Jr. of the Western Mindanao Command said local officials in Piagapo, a component-town of Lanao del Sur, surrendered the weapons through the joint intercession of the Army's 51st Infantry Battalion and members of the provincial peace and order council, among them Lanao Sur Vice Gov. Mamintal Adiong Jr.
Piagapo was one of five Lanao del Sur towns where the Islamic State-inspired Maute terror group first recruited and organized small groups espousing public animosity to non-Muslims and to the government using poverty and underdevelopment as talking points.
Galvez said many other local officials in Lanao del Sur's 39 towns have sent them feelers to comply willingly with the ongoing firearm reduction campaign of President Rodrigo Duterte.