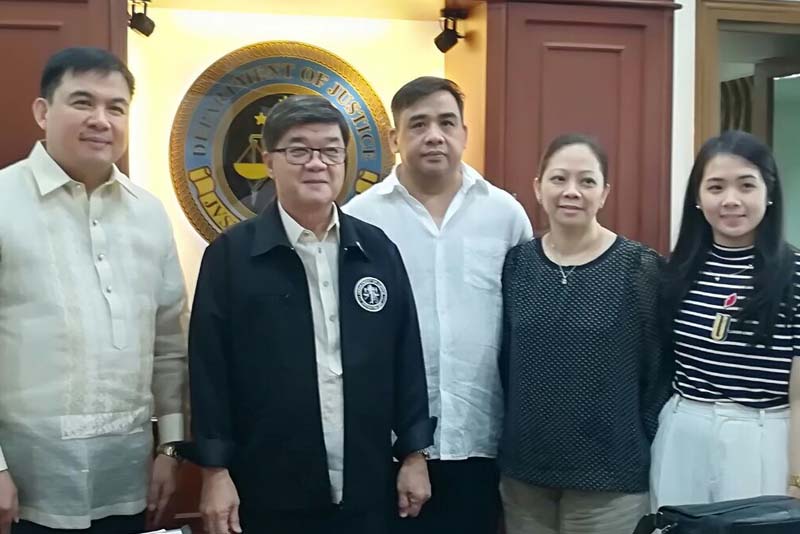 Atio's parents, Horacio Jr. and Carmina Castillo, met with Justice Secretary Vitaliano Aguirre II on Thursday, September 28. They asked to meet with President Rodrigo Duterte. DOJ Photo
Atio's parents to meet Duterte on October 4 — Aguirre
(philstar.com) - September 28, 2017 - 8:32am
MANILA, Philippines — Parents of hazing victim, Horacio "Atio" Castillo III, will meet with President Rodrigo Duterte Wednesday next week, October 4, Justice Secretary Vitaliano Aguirre II said.
In a text message, Aguirre said that Horacio Jr. and Carmina went to the Department of Justice on Thursday, a day after the agency issued a resolution ordering the release of John Paul Solano, one of the primary suspects in the case.
READ: Slain student Atio Castillo laid to rest
Aguirre said the parents "wanted to thank the DOJ for the things we are doing to help solve the case."
Atio, a 22-year-old law student of the University of Santo Tomas, was believed to be a victim of hazing as part of the initiation rites of Aegis Juris Fraternity.
The DOJ, in its 7-page resolution released on Wednesday, stressed that a further probe would be conducted into Solano and 15 other members of Aegis Juris Fraternity who are facing multiple criminal raps filed by the Manila Police District and Atio's parents.
READ: Hazing death suspect Solano released but not cleared
Solano promised to identify his fraternity brothers who had a hand in the death of Atio in his affidavit that has yet to be submitted to the DOJ.
The justice chief also issued an immigration lookout bulletin order against 20 persons of interest in the case, including Ralph Trangia who is being eyed as among the primary suspects in the case.
Trangia, however, reportedly fled to Chicago with his mother on September 19. Separate criminal raps have been filed against Trangia's parents.
Aguirre added that Atio's parents "want to get an audience with [Duterte], which was granted. They will see the president on Wednesday."
Atio's remains were buried on Tuesday afternoon at the Manila Memorial Park in Parañaque City.
The DOJ will start the preliminary investigation on the murder, anti-hazing and robbery raps against Solano and others on October 4.