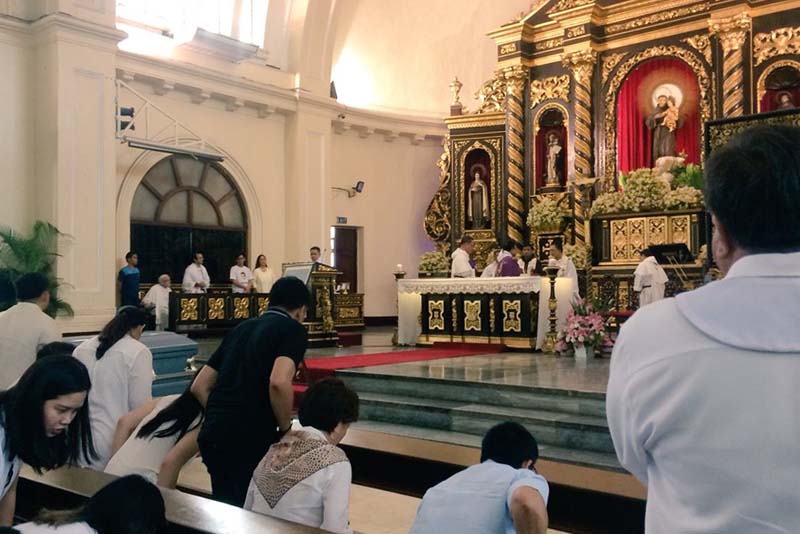 Funeral Mass on Wednesday, Sept. 27, 2017 for hazing victim Horacio Castillo III at the Santuario de San Antonio Parish, Makati City. STAR/Robertzon Ramirez
Slain student Atio Castillo laid to rest
(philstar.com) - September 27, 2017 - 9:17am
MANILA, Philippines — Slain law student Horacio "Atio" Castillo III was laid to rest on Wednesday afternoon at the Manila Memorial Park in Parañaque, amid continuing probe on his apparent fatal hazing.
Atio, a 22-year-old University of Santo Tomas first year law student, is believed to be a victim of hazing of Aegis Juris Fraternity. His body was discovered sprawled on a sidewalk at Balut, Tondo in the morning of September 17. His body, covered in a blanket when found, sustained contusions in the upper arms and candle burn marks.
Friends and family of Atio, including their pet Lega that was wearing a specialized shirt with Atio's face on it, also attended the funeral mass at the Sanctuario de San Antonio Parish, Makati City.
John Paul Solano claimed that he only discovered Atio's body in Tondo and brought it to the Chinese General Hospital. It was later found out that Solano is a member of the Aegis Juris Fraternity. He is now being eyed as one of the primary suspects in the case of Atio.
Solano went into hiding after news broke out of Atio's death. He resurfaced and surrendered to authorities on September 22, through the Office of Sen. Panfilo Lacson.
Solano said he is willing to "tell all" on what he knows on killing of Atio but he held back when the Manila Police District and Atio's parents—Horacio Jr. and Carmina—on Monday filed murder, anti-hazing, robbery, perjury and obstruction of justice raps against him.
Paterno Esmaquel, Solano's lawyer and among the founding members of Aegis Juris, manifested that his client is being illegally detained. He stressed in his filed Omnibus Motion that Solano surrendered and should therefore not be subjected to an inquest proceeding.
Following the burial of the victim, the Department of Justice has ordered Solano released.
In an executive session with Senate committee on public order, Solano divulged names of six of his fraternity brothers who had a hand in Atio's death.
He added that he will tell everything that he knows in his affidavit to be submitted to the Department of Justice, but he has yet to execute one.
Solano and 15 other members of Aegis Juris are also facing murder, anti-hazing, and robbery complaints from the Manila police.
Ralph Trangia, also a primary suspect, has reportedly fled the country to Chicago on September 19. His father, Antonio, is facing murder, anti-hazing, and robbery complaint, while his mother, Rosemarie, is facing obstruction of justice rap.