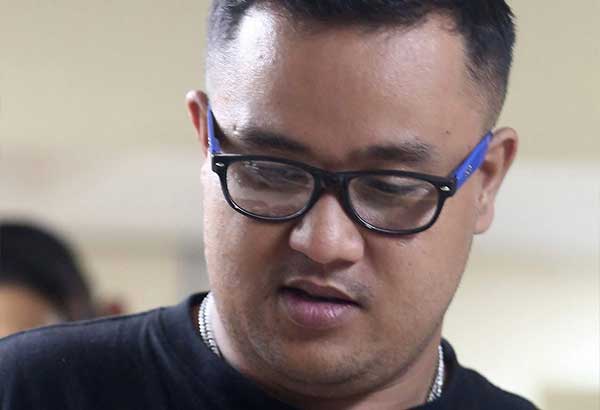 John Paul Solano surrendered on Friday to the Manila Police District through Sen. Panfilo Lacson and denied taking part in beating Castillo in hazing rites by the Aegis Juris fraternity. He said he was called by his fraternity brothers to the house where the hazing rites were held to give emergency medical assistance to Castillo. STAR/Miguel de Guzman, file
Hazing death suspect Solano released but not cleared
(philstar.com) - September 27, 2017 - 9:32am
MANILA, Philippines — The Department of Justice has ordered the release of John Paul Solano, one of the primary suspects in the apparent fatal hazing of Horacio "Atio" Castillo III, but stressed: He is not yet cleared of murder, anti-hazing complaints.
Acting Prosecutor General Jorge Catalan, in an interview with reporters, said the "release of the respondent would not mean that he already is off the hook."
"[There will be a] preliminary investigation, that would be conducted so he (Solano) will have the opportunity or chance to file his answer, but it would depend upon the panel whether or not probable cause exists. If there is, we will file the case in court. If there is none, then we will dismiss it," Catalan added.
A three-man panel of prosecutors, led by Assistant State Prosecutor Susan Villanueva, will handle the preliminary investigation on Atio's case that is scheduled on October 4 and 9, 2:00 p.m.
Atio was laid to rest at the Manila Memorial Park this afternoon.
On Monday, Solano, accompanied by his lawyer Paterno Esmaquel and members of the Manila Police District, went to the DOJ to undergo inquest proceeding.
Esmaquel manifested his objection to the inquest proceeding stressing that Solano "voluntarily surrendered and in fact, it was the police who preferred the affidavit of voluntary surrender." As such, Esmaquel said, his client should not be subjected to inquest proceeding.
"In connection thereto and to show his good faith and innocence, the herein respondent hereby undertakes to voluntarily appear and answer any accusation against him resulting from the death of the late Horacio," the Omnibus Motion filed reads.
In a 7-paged resolution penned by Villanueva, the DOJ noted that: "Inquest investigation is an informal and summary investigation conducted by a public prosecutor in criminal cases involving persons arrested and detained without the benefit of a warrant of arrest by the court for the purpose of determining whether or not said persons should remain under custody and correspondingly be charged in court."

The DOJ also noted that Senior Police Officer (SPO)1 Jorla Taluba of the MPD said that Solano "voluntarily surrendered himself to the police authorities."

"[H]ence, there was no arrest to speak of," the DOJ said, adding: "It must be emphasized that at the time when the police authorities were looking for respondent, he was not even considered as a suspect but only as a person of interest."
It was Solano who brought the body of Atio to the Chinese General Hospital on the morning of Sept. 17. It was later learned that Solano is a member of the Aegis Juris Fraternity,
Last Friday, Solano surrendered to authorities on Friday, Sept. 22, through the Office of Senator Panfilo Lacson. He has since been detained in the MPD.
ALSO READ: Slain student Atio Castillo laid to rest
He added that he is willing to "tell all" on what he knows on killing of Atio but he held back when the Manila Police District and Atio's parents—Horacio Jr. and Carmina—on Monday filed murder, anti-hazing, robbery, perjury and obstruction of justice raps against him.
However, in an executive session with Senate committee on public order earlier this week, Solano divulged names of six of his fraternity brothers who had a hand in Atio's death.
He added that he will identify those involved in the hazing in his affidavit that he is yet to execute for the DOJ.