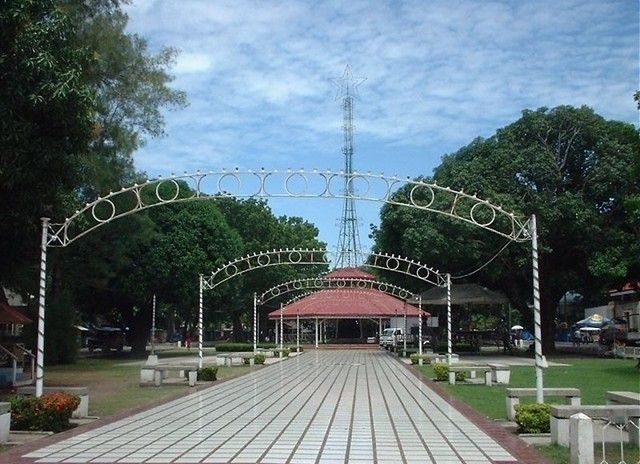 A proposal to make Tanjay City's Rizal Park look like the one in Manila has hit snags because trees will have to be uprooted for it.
(City of Tanjay website)
Groups: Don't cut trees for Tanjay City's Rizal Park facelift
(philstar.com) - January 19, 2017 - 9:42am
CITY OF TANJAY, Philippines (Negros Chronicle) -- A multimillion-peso project in Tanjay City has hit rough sailing due to vehement objections from groups who claim to be environment advocates.
Mayor Reynaldo Concepcion had earlier disclosed funding for the P42-million improvement and renovation of the Rizal Park to make it appear like the Luneta in Manila is ready after the complied with all requirements.
The objection was registered by members of the Tanjay Anti-Black Sand Mining and some members of non-government organizations who were invited during the public hearing on Decmber 29, 2016 at the Osmeña Park in the city.
Romualdo Dondee Señeris of the Visayan Forum stressed cutting trees is definitely not in line with the climate change adaptation mandate of local government units. His group is is asking the city of Tanjay, represented during the hearing by the OIC city administrator, the environmental officer, city planning and city legal officers and the chairman of the committee on environment in the city council, to change the design.
Inventory showed 19 trees will be affected and uprooted for the project: 12 mahogany trees, four pine trees, two gemelina trees and a mango tree.

According to Señeris, the group will be filing a formal complaint to object to the cutting of the trees.
He said the group is for development but the trees should be spared since they act as carbon sinks, absorbing carbon dioxide and releasing oxygen back into the atmosphere.
He said trees inside the Rizal Park have helped keep the air around the area, which has two churches three schools, the municipal hall and the police station nearby, clean.
Señeris suggested that funding for the proposed project be used instead to further develop the Tanjay Board Walk, one of the main tourist attractions of the city.
Mayor Concepcion considers the city's Rizal Park a historical place for tourists. He wants to make it look like the Luneta Park in Manila for Tanjayanons to be proud of.