Leni: Build typhoon-resilient houses, schools
January 5, 2017 | 12:00am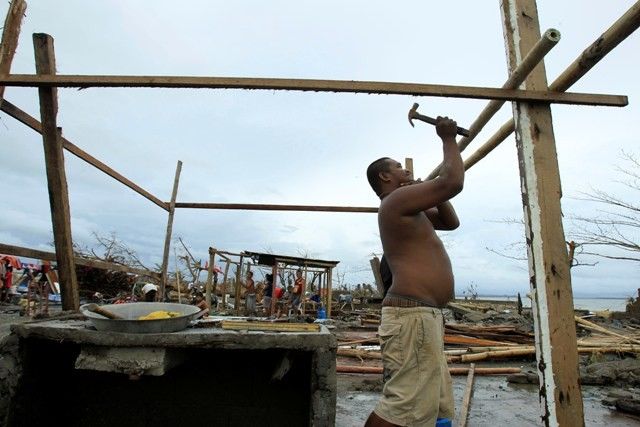 MANILA, Philippines – The government should build sturdier houses and schools in areas more vulnerable to the effects of typhoons, Vice President Leni Robredo said yesterday.
Visiting more barangays battered by Typhoon Nina in the Bicol region, Robredo noted that school buildings constructed after Typhoon Glenda in 2014 had been destroyed.
"We thought the buildings were designed for very strong typhoons, but they were destroyed by Nina. I think there's a problem with the design," she said.
Robredo visited Barangays Batalay and Banawang in Bato town, Moning and Batolinao in Baras and Barangay Cabcab in San Andres town in Catanduanes. She distributed relief goods and met with local officials to discuss possible assistance from her office.
She also went to Barangays Bolo, Sogod, Lourdes, Bariis and Naga as well as a village in Tiwi, Albay.
The Vice President is set to visit Barangays Bongalon and Patitinan in Sangay and the towns of Buhi and Balatan in Camarines Sur today.
Tomorrow, Robredo will be in Cabanbanan, Cagsao, Sibobo, Burabod, Harubay, and Comaguingking in Calabanga; Siembre in Bombon; Burubaybay and Ponong in Magarao; Palo, Fundado, San Francisco, and Mangyawan in Canaman and Sua in Camaligan in Camarines Sur. She is scheduled to visit Iloilo on Saturday.
The Vice President said she would devote the entire week visiting the areas affected by Nina to "to make up" for her absence.
The Vice President started visiting the areas hardest-hit by Nina in her home region on Tuesday, a day after arriving from the United States where she and her children spent the holidays.
Robredo had been criticized for her absence during the typhoon.
Meanwhile, she called on government officials to set aside politics and work together to rebuild the areas devastated by Nina.
Robredo said local government units should be in charge of relief distribution to make it more orderly.