Jenny to intensify into typhoon
October 2, 2023 | 12:00am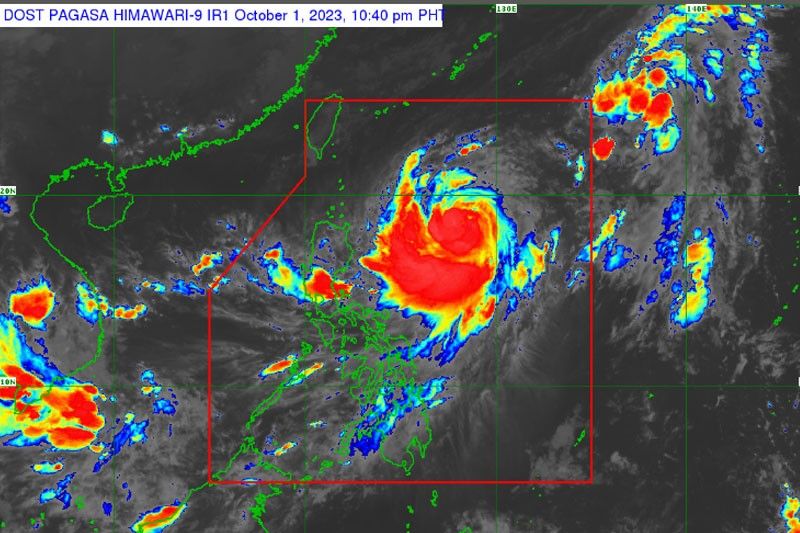 MANILA, Philippines — At least two to three typhoons are expected to enter the Philippine area of responsibility this month as Tropical Storm Jenny continues to threaten the country, according to the Philippine Atmospheric, Geophysical and Astronomical Services Administration (PAGASA).
At a press briefing, PAGASA weather specialist Daniel James Villamil added that Jenny (international name Koinu) is expected to intensify into a typhoon this evening or by Tuesday.
"Since it is the first day of October, for our monthly climatology for typhoons, for the month of October, we expect two to three typhoons to enter the Philippine area of responsibility," Villamil said.
He added that PAGASA might start to issue wind signals for areas in extreme Northern Luzon in anticipation of the strong winds brought by the approaching typhoon.
"Based on the track of the typhoon, we do not remove the possibility that it will make landfall or a close approach in areas in extreme Northern Luzon in the next few days. Tropical Storm Jenny is expected to gain strength as it approaches and will develop into a severe tropical storm category. It is possible that it will develop into a typhoon tomorrow (Monday evening) or Tuesday," Villamil said.
According to Villamil, the center of storm Jenny was estimated at 835 kilometers east of Central Luzon with maximum sustained winds of 85 kilometers per hour near the center and gustiness of up to 105 km/h as it is moving northwestward at 20 km/h."The trough of the typhoon will bring rains in the eastern section of the country while southwest monsoon will bring rains to areas in Southern Luzon, the rest of Visayas and western section of Mindanao," Villamil said.
He added that Jenny would move northwestward today and, by Tuesday, move north northwest.
"From Wednesday evening until Thursday morning, it will pass over the Bashi Channel, this is an area between southern Taiwan and Batanes Island," Villamil said.
PAGASA expects heavy rains in extreme Northern Luzon – particularly in Batanes, Babuyan Islands and the northern portions of mainland Cagayan, Apayao and Ilocos Norte on Wednesday or Thursday.
"In addition to the rains brought by Tropical Storm Jenny, the southwest monsoon will bring moderate to heavy at times intense rains in Palawan including Calamian and Cuyo Islands and Occidental Mindoro," Villamil said.
He also said that the tropical storm would bring moderate to rough seas over the coastal waters of extreme Northern Luzon and the northern portion of mainland Cagayan, adding that there is a high possibility of hoisting gale warnings for these coastal waters in the coming days.