Public barbs by UniTeam leaders signal brewing showdown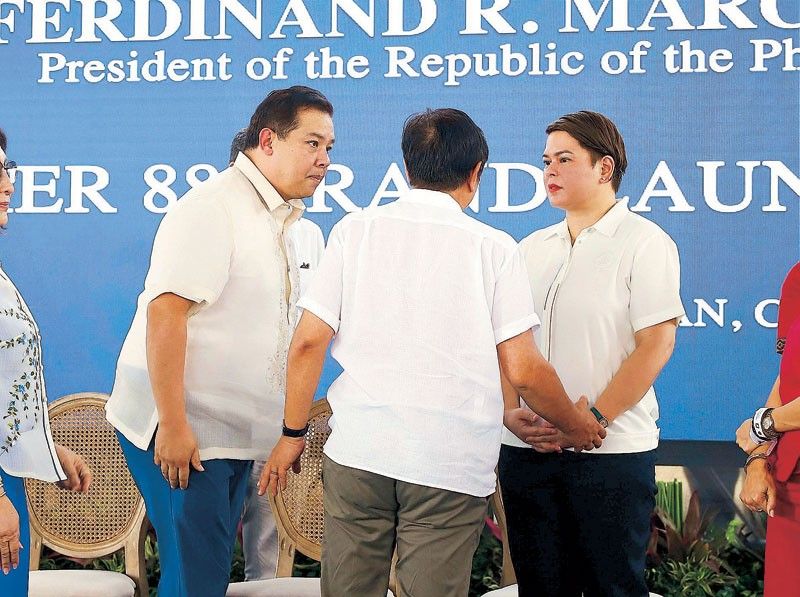 MANILA, Philippines — Allies of House Speaker Martin Romualdez have rushed to defend him, this time from a perceived slight from Vice President Sara Duterte, signaling what political analysts believe is a brewing political showdown between the president's second-in-command and his cousin.
Ranking House members on Wednesday released mostly cryptic statements praising Romualdez for taking the "moral high road" following Duterte's wisecrack during a speech last Monday where she quipped that she refuses to mention the President's middle name, Romualdez.
"I will not mention his middle initial…I love Apo BBM," Duterte said in Filipino at an Office of the Vice President event. Apo is an Ilocano honorific for senior men.
This revives the political rift that came to light when Rep. Gloria Macapagal-Arroyo -- former president and an elder at the ruling Lakas-CMD party -- was demoted from her post as senior deputy speaker to deputy speaker last month after allegations that she was planning to oust Romualdez as speaker.
After major parties rushed to voice support and loyalty to Romualdez, Arroyo denied the rumors and issued a statement clarifying her support for the current speaker.
Duterte left Lakas-CMD and hinted at powerplay and "political toxicity."
Days after, Romualdez appeared to pay respects to Arroyo during the House plenary session by "pagmamano" or placing the former Philippine leader's hand on his forehead. He posed for photos with her after.
Neither Romualdez nor his allies have clarified who exactly was behind the alleged plans to unseat him.
RELATED: Lagman urges Romualdez to bare details of supposed ouster plot
Defense of Romualdez
Rep. Elpidio Barzaga Jr. (Cavite), former president of the National Unity Party (NUP), which supports Romualdez, said that Romualdez has "held his horses and remained focused on his job as the leader of the House of Representatives amid this political rift."
"He never fired back with insults of his own. That shows strength of character," said Barzaga.
Barzaga's statement also said that Romualdez "never said a bad thing about the vice president despite being the obvious subject of her vicious insinuations."
"Romualdez tremendously helped in pushing for the vice-presidential candidacy of Duterte, who was eventually recruited to join Lakas," Barzaga said.
"Romualdez became close to the vice president because he was among those who convinced her to run for the post under the UniTeam ticket," he added.
Duterte has since refuted this in a statement released late Wednesday, saying that it was Sen. Imee Marcos who pushed her to run for vice president -- a decision that was "sealed only after President Bongbong Marcos agreed to the conditions I set before running for VP."
"There was no Speaker Romualdez in the picture," Duterte said.
Reiterating her support for Marcos, Duterte also remarked on how people who "cannot distinguish between attack and humor has no place in politics -- especially if one fails to understand that political bickering is just a facet of democracy and should not be used to equate with governance."
A 'bad sign'
Political science analyst Cleve Arguelles said that it is a "bad sign" for coalition members that the rift is "becoming more public."
Arguelles added that a "popular vice president with national following like Sara has publicly named the speaker and set her guns onto him should worry him."
"Speaker may have the blessing of the pesident but we have seen how VP Sara, (Arroyo), and (Sen. Imee Marcos) previously successfully unseated a speaker despite protest from Malacañang. I suspect that a political showdown is brewing," Arguelles added.
This latest debacle among Romualdez's House allies and Duterte is still "due to the perceived advances or efforts from the House Speaker to assert his control not just in the House, but also within the coalition through the party of Lakas," said political analyst Arj Aguirre.
"The demotion or humiliation of GMA is just one of the ways by which the House Speaker (asserts) his control over the party and the house itself," Aguirre said.
Duterte "won't allow the House Speaker to weaken the position and standing of her bloc within the coalition," he added.
'Unity' over 'divisive politics'
Meanwhile, without naming Duterte, House Majority Leader Manuel Jose Dalipe (Zamboanga City, 2nd District) and Rep. LRay Villafuerte (Camarines Sur) sang praises for Romualdez' leadership of the House and his ability to secure "multi-partisan support" and seemingly rise above political discord.
Villafuerte, who is also former NUP president, used the word "unity" eight times in his statement — a callback to the UniTeam platform that Duterte and Marcos ran on during the 2022 elections.
"Improving the lives of all Filipinos, as committed by President Marcos, is the priority in the House on the watch of Speaker Martin (Romualdez), in lieu of divisive politics, hence the need for greater unity," Villafuerte said.
Dalipe also hinted at "premature partisanship," saying that these are "distractions" to the efforts of the House supermajority to quickly pass all of Marcos' priority measures.
Meanwhile, Rep. Dan Fernandez (Sta. Rosa City) said in a statement that Duterte, "who ran and won on a platform espousing unity," should "join the president in translating this call for unity into action."