Philippines receives over 390K bivalent COVID doses from Lithuania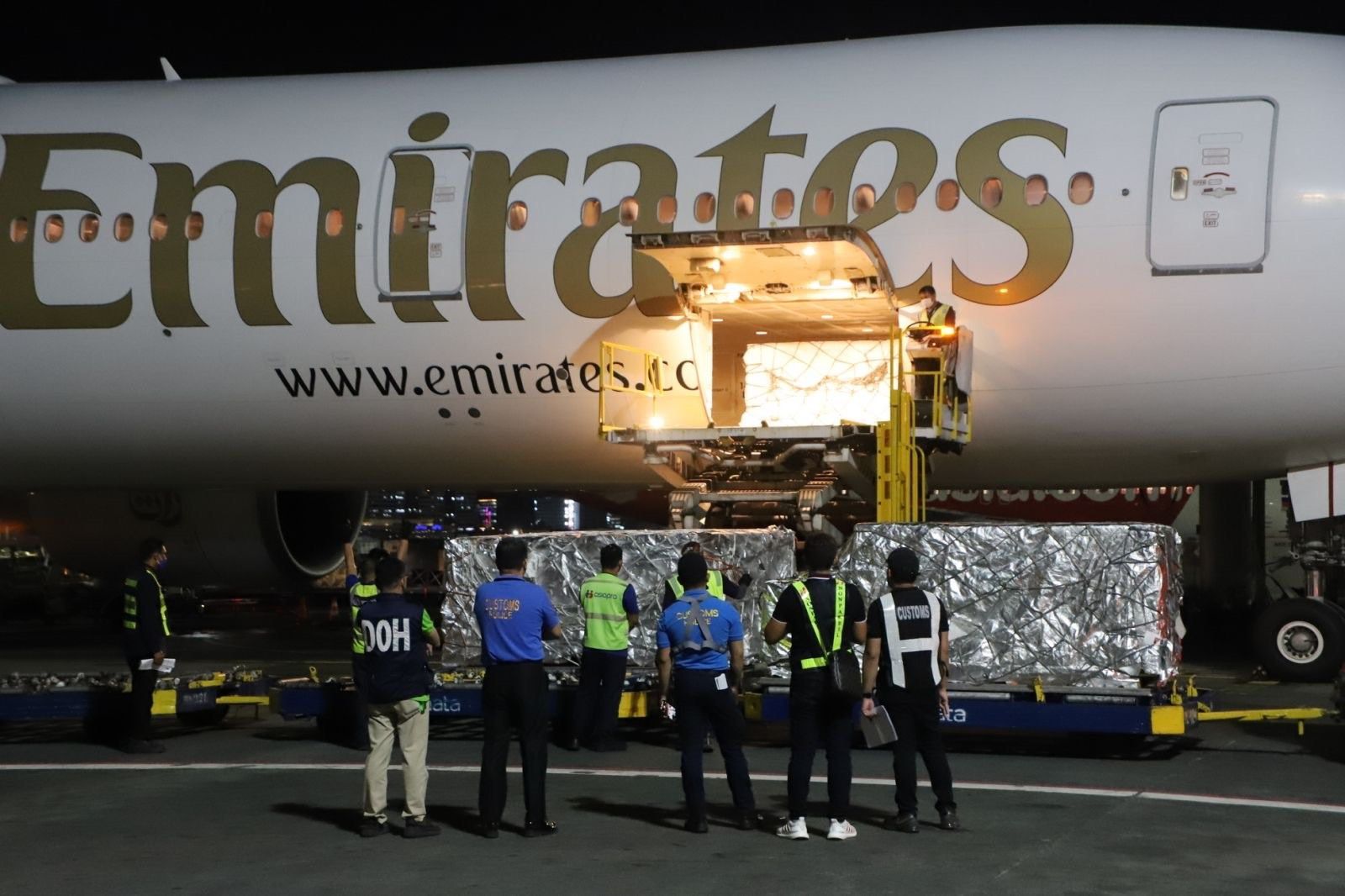 MANILA, Philippines — The first batch comprising 390,000 COVID-19 bivalent doses arrived in the country late Saturday evening, the Department of Health said.
The doses, which were donated by the Lithuanian government, arrived at the Ninoy Aquino International Airport. Bivalent vaccines are meant to target both the original COVID-19 strain and its Omicron subvariants, which caused a wave of COVID-19 infections in the country late last year.
Government officials from the DOH, the Department of Foreign Affairs, and the Bureau of Customs were at the airport Saturday night, together with officials from the Honorary Consul of the Republic of Lithuania and the European Union Delegation to the Philippines.
"It is with great pleasure that we have received such generous donations from the Lithuanian Government and our sincerest gratitude to our partner agencies for being one with the DOH in seeing that within our reach is a bountiful future, one that is most achievable starting with ensuring that we have sufficient protection against the COVID-19 virus," Officer-in-Charge Health Secretary Maria Rosario Vergeire said in a statement.
"To every eligible Juan and Juana, we urge everyone to get the opportunity to gain longer and stronger protection by getting vaccinated against COVID-19."
Negotiations for the bivalent vaccines started as early as August last year, the DOH said, and the Lithuanian government offered the donation in January this year.
The COVID-19 bivalent vaccine will be given as a third booster dose for those aged 18 years and above who are part of the healthcare sector, senior citizens, as well as adults with comorbidities at least four to six months after they got their second booster dose.
READ: Bivalent jabs to become 3rd booster for HCWs, seniors
The DOH said it will release separate guidelines for the rollout of the bivalent vaccine to the general population. The government only allowed the general population to receive their second booster shots last April.
The latest data available on the DOH website showed that the government has administered over 179.046 million COVID-19 vaccines as of March 19. Of these, more than 79.164 million have completed their vaccinations and 24.181 million individuals have had their booster shots.
The delivery of bivalent vaccines was delayed after the state of calamity of COVID-19 expired in December last year — the policy which was supposed to provide guidelines on indemnification and immunity from liability that was required by vaccine makers and other partners.
This was then further delayed by the coordination of the necessary permits last month.