After linking Cavite sortie to CPP-NPA, Lacson denies red-tagging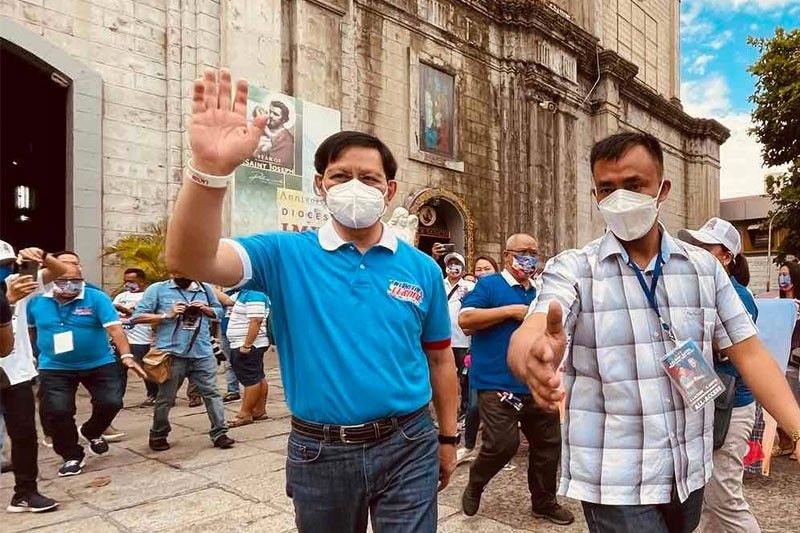 MANILA, Philippines (Updated 10:14 a.m.) — Sen. Panfilo "Ping" Lacson, who is running for president in the May elections, clarified on Monday that he never red-tagged anyone despite expressing concern that another presidential bet might establish a coalition government with the Communist Party of the Philippines (CPP), New People's Army (NPA) and National Democratic Front of the Philippines (NDF) if they win.
In a tweet Sunday, he made the association without naming the candidate. However, one could see that he was referring to Vice President Leni Robredo since his post included a news report about her recent campaign in Cavite, where he was born.
Robredo has been endorsed by the Makabayan bloc of party-lists that the government has repeatedly accused of being "communist fronts", an allegation that the groups have also repeatedly rejected.
"I never red-tagged anybody. I was simply warning those concerned to be wary of a possible coalition government with a movement whose sole objective is to seize power," Lacson said on Monday.
He said insurgency — like corruption — must be put to an end as he called for peace and prosperity.
Red-tagging, or linking activist groups to the communist armed struggle, is a common tactic of government agencies and officials and has been used against environmentalists, human rights workers and journalists regardless of ideology.
The UN Human Rights Office, the Commission on Human Rights and other rights advocates have long pointed out that the practice is dangerous and has been institutionalized in the Philippines.
READ: Robredo campaign: No payments, no NDF involved in massive Cavite rally
Lacson, who has been in public service for over 50 years, was with the Metrocom Intelligence and Security Group during the Marcos dictatorship. He has repeatedly denied his alleged involvement in human rights abuses, saying he was working with the police intelligence branch that dealt with criminals and not with the security branch that dealt with the communist insurgency, among other security concerns.
On Sunday, he shared an Inquirer.net news report about allegations by a Cavite congressman that the crowd at presidential aspirant Robredo's campaign rally in General Trias, Cavite had been paid.
Rep. Jesus Crispin "Boying" Remulla (Cavite 7th District) made the claim over radio DZRH radio Saturday, referring to Robredo by her campaign color and political affiliations but not by name. Remulla also said that "a lot of students were there and they looked like activists" and claimed that they seemed to be "from the Left."
Lacson wrote that the alleged involvement of the NDF claimed by Remulla was "worrisome."
"A coalition government with the CPP/NPA/NDF will set back the gains of the government's efforts to end the country's decades-old insurgency problem."
In another tweet posted hours later, the lawmaker said there may be truth to what he said since he drew flak for his earlier comments.
"There must be basis for the age-old quote - 'truth hurts'. I care for my country that continues to suffer from the longest running insurgency in the world. I just want it to end," he said.
On February 8, the first day of the official campaign period for national candidates, Lacson launched his presidential bid in Imus, Cavite, his hometown.
Calabarzon or Region 4-A, where Cavite is located, is the top vote-rich region in the Philippines, with registered voters totalling 9.19 million, according to data released by the Commission on Elections (Comelec) in December 2021.
RELATED: Labeling dissent as rebellion 'institutionalized, normalized' in Philippines — UN report