Marcos to pursue Duterte's 'war on drugs' with same vigor, but different approach
October 7, 2021 | 10:59am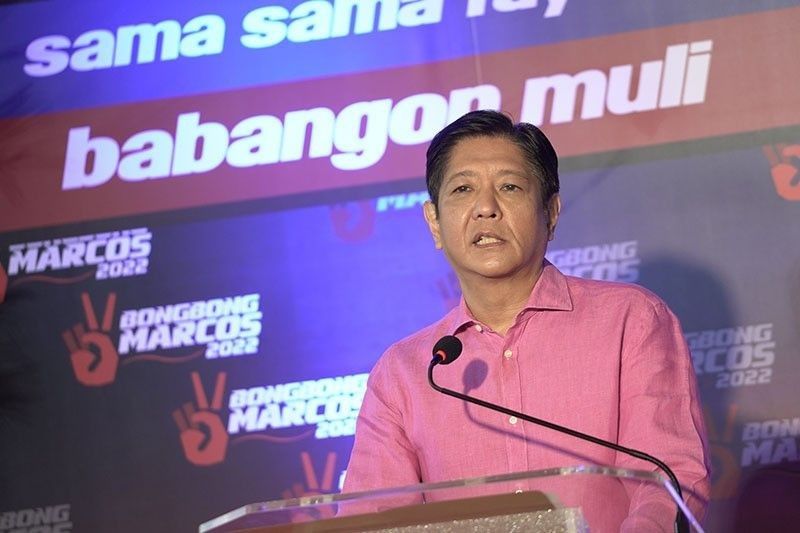 MANILA, Philippines — Should he win as chief executive, former Sen. Ferdinand "Bongbong" Marcos Jr. will pursue President Rodrigo Duterte's "war on drugs" with the same vigor, but will approach it differently.
In an interview with CNN Philippines' The Source, Marcos noted that Duterte's drug war focused on the enforcement side. If he wins as president, Marcos said he will also focus on prevention, educating the youth of the ill-effects of drugs and improving rehabilitation centers.
"Teach children that doing drugs is bad, the health implications. Improve rehab centers, not all are functioning properly. Enforcement, we have seen can only take you so far," he added partly in Filipino.
Duterte's bloody "war on drugs" that claimed thousands of Filipino lives is currently under investigation of the International Criminal Court.
When asked if he believes that human rights violations were committed in Duterte's "war on drugs," Marcos did not address it directly and instead referred to the ongoing ICC probe — which the Duterte government does not acknowledge.
"Well, they are investigating it and we will see the results," he said.
Will he allow the ICC to investigate? Marcos echoed the stand of the present administration and said: "We withdrew already."
He was referring to the Philippines' withdrawal from the ratification of the Rome Statute that took effect in March 2019.
But the Rome Statute, however, provides that it had jurisdiction over crimes committed while the Philippines was still a party to the Rome Statute, the treaty that created the ICC.
For international probers, they may come to the Philippines but only as tourists, Marcos said.
"That is dependent on how they will come. Will they investigate policemen?... Do they want us to help them to bring accusations against our Filipino workers in governmentt? Pambihira naman siguro yun (That is incredible)," he said.
Marcos continued: "Come to Philippines, everybody is welcome but understand that we will examine clearly your intention in coming here. "
Still no apologies from dictator's son
Even as his presidential bid reopened wounds that have barely healed among victims, Marcos was adamant that he cannot apologize for the human rights violations that happened in his father's authoritarian rule.
Marcos' presidential bid was met with strong criticisms. Victims of his father's brutal regime said that his presidential run is a "brazen show of disregard and contempt for the thousands of Filipinos killed, disappeared, tortured, displaced and violated, and the Filipino nation whose economy was plundered and wrecked during the Marcos dictatorship."
Repeating his statement when he sought to become vice president in 2016, Marcos said: "I can only apologize for what I have done. That makes perfect sense. You cannot apologize for what somebody else has done."
He also said that he believes an apology from him would be meaningless for some groups anyway.
"No matter what apologies you give it won't be enough. It's not been enough because political forces opposing my father, his government fell. They won. That side of the political aisle has been dominant since 1986… How can we respond to something that will not look at the facts of the matter and stay with general accusations… we can start talking [apology] in specific wrongdoing that I commit," he added.
Marcos is presenting himself as a unifying leader in his campaign.
When asked about this, Marcos only zeroed in on unity to defeat the COVID-19 pandemic, claiming that response has so far been politicized.