Presidential bid a 'show of disregard and contempt' for Martial Law victims, groups say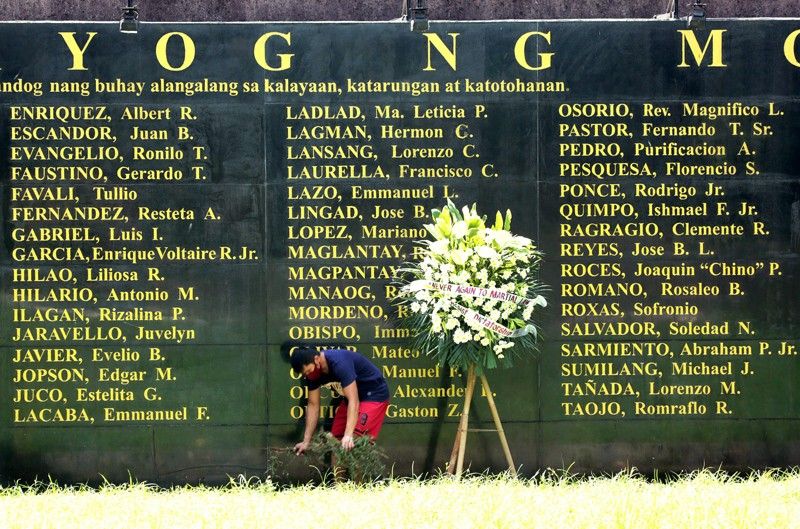 MANILA, Philippines — Martial law victims and human rights advocates on Tuesday called plans by the son and namesake of late dictator Ferdinand Marcos to run for president in 2022 an affront to the victims of the dictatorship, a period that some of the family's supporters portray as the Philippines' "golden years".
The Campaign Against the Return of the Marcoses and Martial Law (CARMMA) said former Sen. Ferdinand "Bongbong" Marcos Jr.'s announcement that he will run for president next year is a "brazen show of disregard and contempt for the thousands of Filipinos killed, disappeared, tortured, displaced and violated, and the Filipino nation whose economy was plundered and wrecked during the Marcos dictatorship."
CARMMA is a coalition of victims of human rights abuses during the Martial Law years.
"[Bongbong] is spitting on the graves of the dead and on the faces of the victims of the Marcos dictatorship," it said.
Political rehabilitation
In a pre-recorded video, Marcos said he is aiming to bring back a "form of unifying leadership" to the country.
His presidential bid is the latest attempt of the family to rehabilitate the Marcos name.
Marcos has distanced himself and the family from abuses and corruption during his father's dictatorship, dubbed as one of the darkest periods of the country's history with thousands of recorded human rights violations and plunder of the state coffers.
"Bongbong Marcos was far from mere bystander in the atrocities committed by his father's fascist dictatorship," human rights group Karapatan said in a separate statement.
It added that Marcos' slogan "Babangon Muli" is an "insidious call to revive their despicable brand of governance — embezzlement of public funds, wholesale violations of people's rights and civil liberties, and barefaced lies in historical distortions and denialism."
CARMMA and Karapatan called on Filipinos to reject Marcos family's bid to return to Malacañang.
"What is nonetheless clear now is that the 2022 national elections will be a tough battlefield, and we must exert all efforts to resist the brewing tactics of the Marcoses and the Dutertes to entrench themselves in power and revive in full the horrors of Marcosian martial law," Karapatan said.
Marcos has yet to announce the date of his filing of candidacy and the name of his running mate.
In 2016, Marcos ran for vice president but lost to Leni Robredo, who is expected to make an "important announcement" on Thursday.
Robredo has received the endorsement of opposition coalition 1Sambayan but has yet to decide on whether she will run for president. The vice president said she is weighing whether her candidacy would be "what is best for our country." She also said that she hopes talks toward a united opposition bear fruit.