Metro Manila seen staying at Alert 4 based on data
September 28, 2021 | 12:00am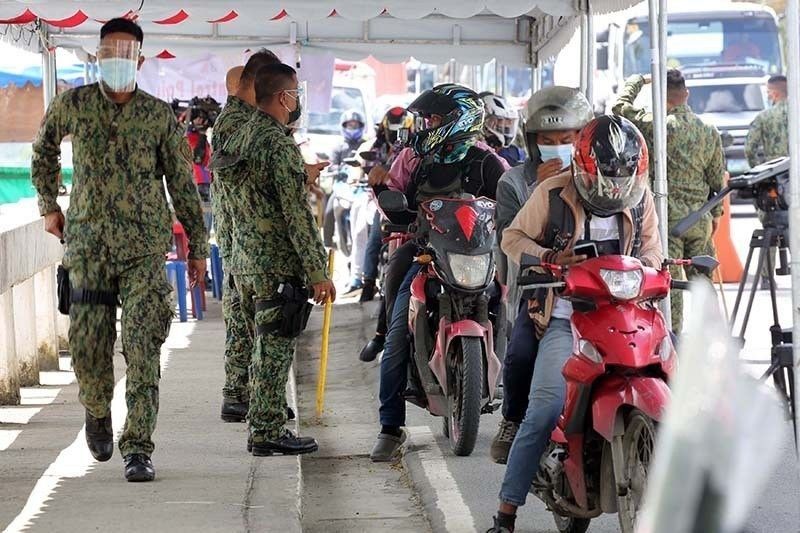 MANILA, Philippines — Despite the downward trend in COVID-19 infections, Metro Manila may remain under Alert Level 4, the Department of Health (DOH) said yesterday as it remains cautious about interpreting data because of lower output from testing laboratories.
DOH epidemiological bureau director Alethea de Guzman said Metro Manila has recorded a sudden downward trend in pandemic infections, with average daily reported cases decreasing by 16 percent from 5,145 as of Sept. 13 to 4,347 as of Sept. 20.
Meanwhile, reproduction number has dropped to 0.8555 as of Sept. 13.
"If these numbers of NCR (National Capital Region) are to be used as our basis, it is possible that it will remain under Alert Level 4. We will continue to study our metrics and numbers and it is important to have accurate data so we can come up with the correct recommendation," De Guzman said.
She said they are very cautious in announcing a decline in cases in Metro Manila because the output of testing laboratories decreased by about 10 percent and the number of persons tested fell from 285,000 to 248,000 in the recent week.
Restored
Trade Secretary Ramon Lopez said about P30 billion worth of wages could be restored per week if Metro Manila downgrades to Alert Level 3 because sectors will be allowed higher operating capacities and more business will reopen.
To help bring back more jobs, Lopez said the Department of Trade and Industry has proposed to the Inter-Agency Task Force for the Management of Emerging Infectious Diseases the reopening of gyms under Alert Level 4.
To ensure the safety of their workers and patrons, precautionary measures like limiting capacity and ensuring proper ventilation can be enforced.
The suggestion was also echoed by presidential spokesman Harry Roque, who said that gyms are "essential, especially to people who have illnesses like diabetes. The gym is really indispensible."
Backlog
The NCR still posted the highest number of new COVID-19 cases on Sunday but OCTA Research noted yesterday that this might be because of backlogs in data reporting.
"The NCR one-week growth rate is -15 percent and reproduction number of 0.98 as of Sept. 26, 2021, even with a spike in cases (possibly due to backlog). Let's hope the downtrend continues in the NCR," OCTA fellow Guido David said, noting that five NCR localities are now at moderate risk while the rest are still at high risk levels.
In terms of new COVID cases, the top 20 areas are Metro Manila (5,653), followed by Cavite (1,056), Laguna (937) Rizal (844), Bulacan (653), Batangas (634), Benguet (566), Isabela (559), Pampanga (532), Pangasinan (514), Negros Occidental (496), Ilocos Sur (410), Nueva Ecija (382), South Cotabato (382), Davao del Sur (348), Iloilo (326), Tarlac (313), La Union (298), Camarines Sur (302) and Cagayan (297).
The Philippine National Police said that 294 small areas within 151 barangays across NCR have been placed under granular lockdown. – Michael Punongbayan, Neil Jayson Servallos, Louella Desiderio