Michael Yang, named as Pharmally backer, skips Senate hearing over blood pressure
September 13, 2021 | 3:44pm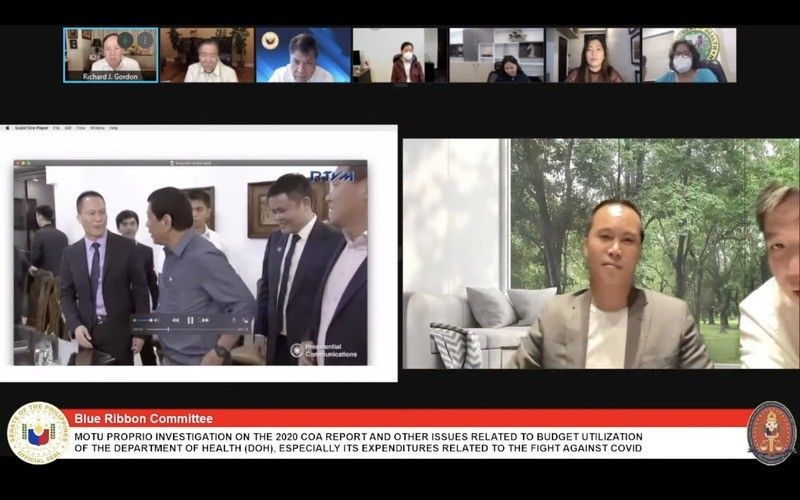 MANILA, Philippines — Former economic adviser to the president Michael Yang on Monday skipped a Senate hearing on alleged deficiencies in pandemic spending despite two outstanding warrants for his arrest for ducking earlier installments of the hearing and later evading senators' questions.
The move from President Rodrigo Duterte's former adviser, whose lawyer told senators "his blood pressure shot up" earlier this morning, comes after his role as the controversial Pharmally Pharmaceutical Corporation's financier was bared at a previous installment of the Blue Ribbon Committee hearing.
"Apparently, because of the proceedings, his health has been affected," Yang's lawyer Raymon Fortun told senators. "He has been instructed...by his doctor to remain on five-day bedrest due to hypertensive urgency."
Former economic adviser to Pres. Duterte Michael Yang is not attending today's hearing.

Yang's attorney tells senators that his blood pressure shot up earlier this morning. "Apparently, because of the proceedings, his health has been affected your honors." @PhilstarNews pic.twitter.com/7HkEfLIXwQ

— Bella Perez-Rubio (@BellaPerezRubio) September 13, 2021
But Sen. Ricard Gordon, Blue Ribbon chairman, said Yang seemed to be in good health just last Friday. "We're not gonna give him a free pass...He can bring his doctor if he wills [but] we want to see him."
He also questioned the sudden cropping up of health complications for Yang, noting that the same has happened to people under investigation in the past. "You know, that always happens. When somebody is under investigation, they come in on a wheelchair [or] they're in a hospital bed."
Upon the motion of Sen. Risa Hontiveros, the panel will also request that the Department of Justice issue a watchlist order on Yang.
The DOJ no longer issues watchlist orders but can issue Immigration Lookout Bulletin Orders against people, usually those with pending cases. These direct Immigration officers to monitor international travels of listed persons.
Yang is currently in Davao City and Gordon's office confirmed to Philstar.com that they are still waiting to hear from Senate security if the warrant has been served. Senate panels are often immediately notified by the Office of the Sergeant-at-Arms when warrants have been served.
The committee previously had trouble serving subpoenas to Yang because he was not at his official residence in Forbes Park, Makati City. He only surfaced after a first warrant was issued for his arrest for flouting Senate subpoenas.
Pharmally names Yang as backer, guarantor to Chinese suppliers
Yang, through a translator, claimed last Friday that he had no further interaction with Pharmally — which bagged the largest pandemic contracts from the government and has been accused of selling "overpriced" medical supplies — after attending a 2017 meeting with its executives and Duterte in Davao City.
Senators also earlier questioned how Pharmally could afford to fulfill contracts worth P8.68 billion with the government in 2020 when it had a paid-up capital of P625,000 when it incorporated in 2019.
Over five hours into Friday's hearing, Pharmally chairman Huang Tzu Yen finally revealed that Yang actually assisted the firm by acting as its financier and guarantor to Chinese suppliers.
By doing so, he contradicted testimony from the firm's director Ong who was cited in contempt and ordered for a second time along with Yang for dodging questions from senators.
Ong finally admitted to senators Monday that Yang helped Pharmally pay suppliers in order to fulfill contracts with the government.