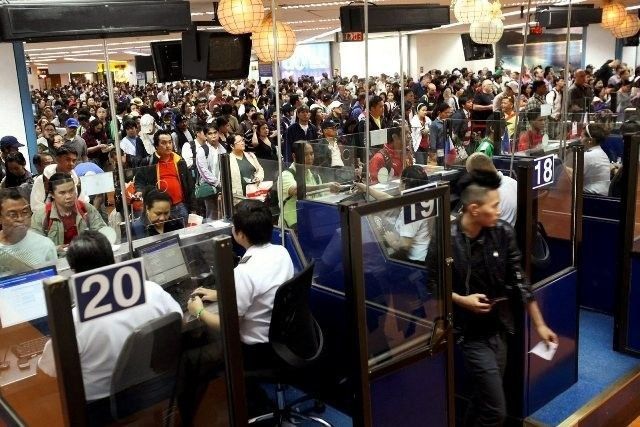 In this file photo, travelers line up at Immigration counters at the Ninoy Aquino International Airport. According to a 2018 ruling by the Supreme Court, "only a lawful order of a court" can justify impairing a person's right to travel.
File photo
Can a spoken order bar freed convicts from traveling?
MANILA, Philippines — President Rodrigo Duterte said Wednesday that the nearly 2,000 convicts of heinous crimes who were freed since 2014 through the Good Conduct Time Allowance should surrender to authorities and, in the meantime, be barred from leaving the country.
Duterte, in a press conference at Malacañang, said he would give the freed convicts 15 days to submit themselves to the Bureau of Corrections. He said they should register with BuCor, whose director general Duterte said last night should resign immediately.
The president indicated he may no longer give Faeldon a new post in government, as he had done twice in the past.
Duterte also said he would leave to the Office of the Ombudsman the fate of other BuCor officials involved in the release of convicts of heinous crimes under the GCTA law.
"I will give you 15 days liberty provided you make yourself available anytime that you will be called for investigation to have a recomputation, or if there is an investigation of corruption, then you cooperate fully," the president said in comments addressed to those freed.
He added that the freed convicts should be issued a hold-departure order.
"Automatic na yan. Putangina pag pinalaya mo yun, pinasakay mo sa eroplano, ikarga kita sa helicopter, ihulog kita, I will handcuff you then throw you out," he added.
(That is automatic. Son of a whore, if you let them go, you let them board a plane, I will load you on a helicopter and throw you out.)
RELATED: Excluded from GCTA or not? Why Sanchez's release was 'a possibility'
What SC jurisprudence says
The SC however held in 2018 that only courts are allowed to issue a hold-departure order.
"It bears reiterating that the power to issue HDO is inherent to the courts. The courts may issue, a HDO against an accused in a criminal case so he may be dealt with in accordance with law," it said then.
The SC was then ruling on the constitutionality of a Watchlist Order issued by the Department of Justice, a part of the executive branch of government, against former President Gloria Macapagal-Arroyo.
The high court also cited Section 6, Article III of the Constitution which reads:
"The liberty of abode and changing the same within the limits of prescribed by law shall not be impaired except upon lawful order of the court. Neither shall the right to travel be impaired except in the interest of national security, public safety or public health, as may be provided by law."
The Department of Justice can issue an Immigration Lookout Bulletin Order for Immigration officials to watch out for people with pending cases at airports and seaports. Although the ILBO cannot stop a person from leaving the country, people who have been issued ILBOs have been offloaded from their flights in the past.
In 2016, bank manager Maia Santos-Deguito, who was under investigation for a money-laundering scheme, was offloaded from her flight to Japan despite the lack of a court-issued HDO.
A regional trial court can also issue a Precautionary Hold Departure Order against persons suspected of a crime from going abroad.
The PHDO can be issued for cases involving crimes punishable by imprisonment for a minimum of six years and one day.
A court can issue the order if it determines that there is a high probability that the person to be charged with a crime will leave the country to evade arrest and prosecution.
The Supreme Court Public Information Office stressed in August 2018 that the determination of finding probable cause of flight risk "shall be without prejudice to the resolution by the prosecutor of any criminal complaint during the preliminary investigation."
Those who disobey to be considered fugitives
Duterte, when he gave his spoken order to issue an HDO, did not cite a basis to impair the freed convicts' right to travel.

The president however said that those who would disobey his order to surrender would be considered "fugitives of justice." They will also be treated as criminals, he said.
Duterte said that Justice Secretary Menardo Guevarra relayed to him a law that when one is released based on "wrongful interpretation or a faulty construction of the law, you can be rearrested."
Guevarra has yet to respond to queries on the legal basis of Duterte's orders as of this story's writing.
The president has given verbal orders in the past, including the closure of Boracay island for rehabilitation in 2018 and the closure of Philippine Charity Sweepstakes Office games, that his officials have been willing to follow despite the lack of a written order.
The supporting documents for those orders were released when their implementation was already under way.