#SarapMagingPinoy: DOT, TikTok team up to promote Filipino dishes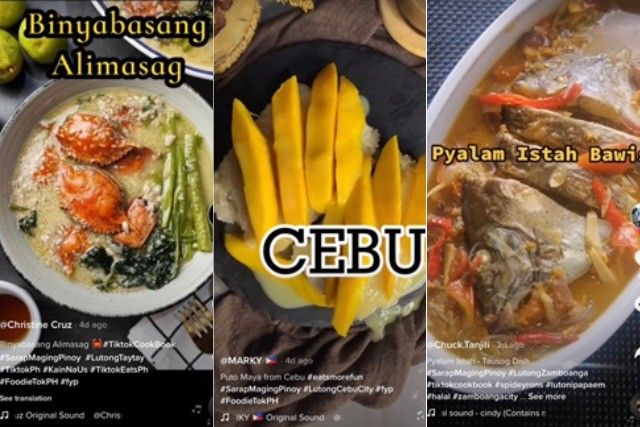 MANILA, Philippines — The Department of Tourism recently partnered with one of the leading destinations for short-form mobile video, TikTok for a campaign that promotes a renewed interest and love for local cuisines.
Called #SarapMagingPinoy, the DOT and TikTok's crowd-sourced community food mapping campaign encourages locals to discover food recipes and celebrate Filipino culture.
This campaign was launched on June 1st and has since gained 35 million views from TikTok users.
The DOT has tapped several content creators from Luzon, Visayas and Mindanao to share clips of their homemade recipes and dishes on the video making and sharing application.
Some videos under this campaign also showcased the scenic destinations of the country as some content creators prepared their diverse cooking styles with these tourist spots as their background.
"Food is an integral part of Filipino culture, it reflects our history and our diversity. More importantly, food is what binds us together with our family, friends, and community. Whenever we travel, we travel for food," Tourism Secretary Berna Romulo-Puyat said.
Those who wish to participate in the #SarapMagingPinoy campaign may do so by posting recipe feature the best dishes from their respective hometowns. TikTok users' entries must include a short introduction that gives viewers information about the dish they are preparing and its city of origin by mentioning the key line "Sarap maging Pinoy."
Users must also use the hashtag #SarapMagingPinoy along with a hashtag that indicates one's city of origin, using the format #Lutong(city), for example #LutongCebu or #LutongDavao.
Other campaign entries can be viewed here: https://vt.tiktok.com/ZSJHQf25c/
Puyat said this campaign is part of the DOT's push for food tourism initiatives.
"It (The DOT) will always be open to partnering with various innovative and engaging platforms such as TikTok to constantly promote and remind our people about how special our cuisine is to our nation," Puyat said.
The DOT, which has been spurring the country as world's culinary destination, last month staged a gastronomic event called "Flavors of Pampanga: Manyaman!," that highlighted the diverse culinary heritage and rich food history of Central Luzon, particularly the country's "culinary capital," Pampanga.