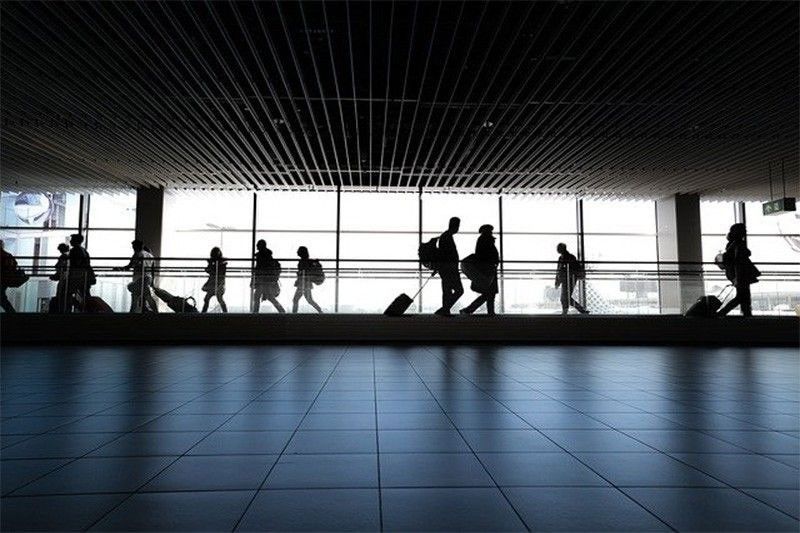 This undated image shows travelers walking in an airport.
Pixabay/Skitterphoto
IATF approves uniform protocols for local travel
No more mandatory swab tests, quarantine
MANILA, Philippines — There will be no more mandatory swab tests and quarantine for travel within the country, the government's pandemic task force said in a resolution last Friday.
"Travelers shall no longer be required to undergo COVID-19 testing except if the local government unit (LGU) of destination will make testing as a requirement prior to travel," presidential Harry Roque Jr. said, quoting from Resolution 101 issued by the Inter-Agency Task Force for the Management of Emerging Infectious Diseases (IATF). "Testing will be limited to RT-PCR test."
Despite the easing of travel restrictions, the IATF maintained that minimum health protocols such as the wearing of face masks and face shields as well as physical distancing shall be observed at all times.
"In addition, travelers shall no longer undergo quarantine unless they exhibit symptoms upon arrival at the LGU of destination," he said.
"Authorities shall continue to strictly implement the minimum public health standards, such as physical distancing, hand hygiene, cough etiquette and wearing of face masks and face shields across all settings," Roque said.
Based on the resolution, the IATF also ruled that clinical and exposure assessment shall be strictly implemented in all ports of entry and exit, while health assessment of passengers, supervised by medical doctors, shall be mandatory upon entry and exit in ports or terminals.
"The continued implementation of proactive measures is necessary to ensure the utmost protection of the health of the Filipino people," the IATF said in its resolution.
As of Feb. 25, there were 32,437 active COVID-19 cases in the country.
The IATF also said travel authority issued by the Joint Task Force COVID Shield as well as health certificates shall no longer be required.
Authorized persons outside of residence (APORs) from national government agencies and their attached agencies must provide identification cards, travel orders and travel itinerary.
They must also undergo and pass symptom-screening procedures at ports of entry and exit.
Meanwhile, the Department of Science and Technology (DOST)'s Safe, Swift and Smart Passage (S-PaSS) Travel Management System will now be institutionalized as a one-stop-shop application/ communication for travelers.
According to the IATF, the StaySafe.ph System shall be utilized as the primary contact tracing system. Other existing contact tracing applications, such as Traze App, must be integrated with the StaySafe.ph System.
Furthermore, ports and terminals must have sufficient quarantine/isolation facilities, as well as a referral system for handling symptomatic travelers.
Roque said all province-bound buses in Metro Manila would be required to use the Integrated Terminal Exchange as the central hub for transportation.
"At the option of the LGUs, they may provide transportation for all travelers who are transiting from one LGU to another in cases of arrivals at air and sea ports to their end-point destinations," he said.
In a statement, the Department of Tourism (DOT) said it "deems the simplification of requirements as vital in encouraging domestic travel and helping in the speedy recovery of Philippine tourism."
In an interview with dzBB radio, Tourism Secretary Bernadette Romulo-Puyat said the development could "definitely increase tourism activity" in the country."
She added the DOT would not question the move of any LGU to require swab tests for visitors.
The DOT offers cheaper swab tests at the Philippine General Hospital and the Philippine Children's Medical Center. – Ghio Ong