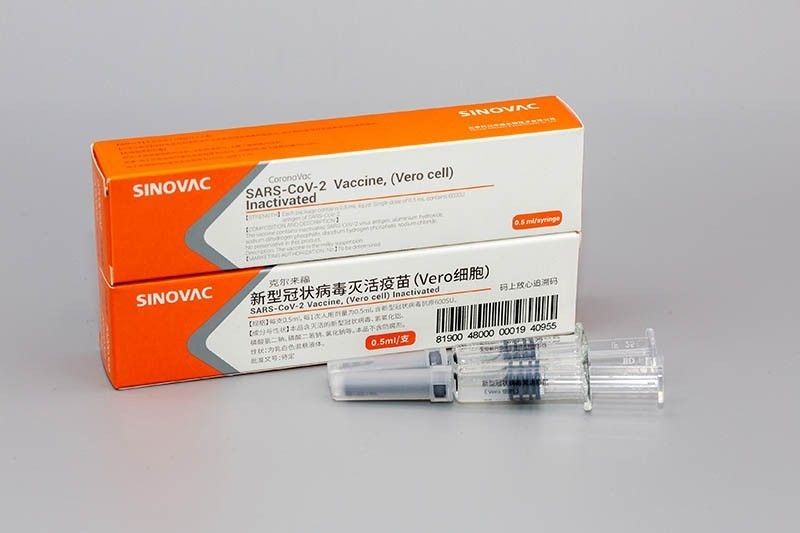 Undated photo shows coronavirus vaccine candidate developed by Sinovac Biotech Ltd.
Sinovac
China's Sinovac applies for emergency use for COVID-19 vaccine
(Philstar.com) - January 14, 2021 - 12:12pm
MANILA, Philippines (Updated 2:03 p.m.) — Sinovac Biotech Ltd. has applied for emergency use approval (EUA) of its coronavirus vaccine, the Food and Drug Administration disclosed Thursday, but the regulator said the Chinese biopharmaceutical company would need to submit additional requirements.
FDA Director General Eric Domingo said Thursday that they are still waiting for the results of the vaccine's Phase 3 clinical trials before they start evaluation of the controversial shot, whose efficacy data from late-stage trials has not yet been published in a peer-reviewed journal.
"At quick glance, the clinical trial data that they sent is still lacking," Domingo told a news briefing partly in Filipino. "We will have to ask them for the clinical trial phase 3 report, which I belive they are collating now."
Domingo also said that he cannot assure that Sinovac's vaccine would be cleared for emergency use in 21 days as this estimate only applies to jabs that were given EUAs by stringent and mature regulatory agencies like of the US, UK and Canada. Sinovac's CoronaVac has only been approved for emergency use by China.
The FDA chief added that the speed of the EUA process largely depends on how quick Sinovac would respond to queries and submit additional data on its vaccine.
Sinovac's jab was shown to be only 50.4% effective in late-stage trials in Brazil, passing global health authorities' benchmark of 50% to 60% efficacy for coronavirus vaccines by a very slim margin.
Despite concerns about its efficacy, the Philippines has secured 25 million doses of the Sinovac vaccine, with President Rodrigo Duterte telling the public that he would take full responsibility for any blunders in the national vaccination program.