HRW: No denying inclusion in Duterte's list results in human rights violations
December 8, 2020 | 12:33pm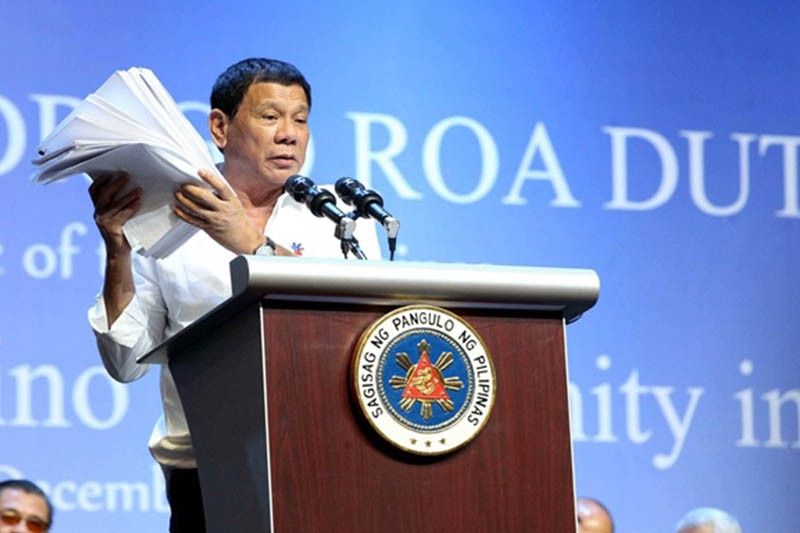 MANILA, Philippines — International accountability mechanisms must investigate President Rodrigo Duterte's drug lists and the resulting violence perpetrated against the people listed, a human rights watchdog said Tuesday.
Human Rights Watch made the call to the International Criminal Court and the United Nations Human Rights Council after Duterte distanced himself from the list of government officials allegedly involved in the illegal drug trade he himself read out last year.
This list of "narco-politicians" included Los Baños, Laguna Mayor Caesar Perez, who was shot inside the municipal hall last week. Perez's family insisted he was not involved in illegal drugs.
"The proof of violence unleashed by these lists can be counted in the bodies lying on the streets. There is no denying that listing people on such target lists results in the violation of the rights of people," Phil Robertson, HRW deputy Asia director, said.
Perez joined the list of killed local executives under the administration of Duterte which included David Navarro (Misamis Occidental), Rolando Espinosa (Albuera, Leyte), Mariano Blanco III (Ronda, Cebu) and Pablo Matinong Jr. (South Cotabato). Like him, they were part of the chief executive's list.
From his stint as Davao City mayor to presidency, Duterte has released lists of people he accused of involvement in illegal drugs and read their names publicly. In 2019, Malacañang even bared an "ouster plot matrix" or the supposed plot to unseat Duterte involving journalists, lawyers and members of the political opposition.
Critics questioned the credibility of such lists, pointing out inaccuracies and unvalidated information. They also feared the lists would translate to death as was happened to others listed.
'Disingenuous, cowardly'
In 2019, Duterte named the Los Baños mayor as part of his "narco list."
But in a public address Monday evening, Duterte distanced himself from the inclusion of Perez in his "narco-list," saying the list was a product of various intelligence reports from the police, military and drug enforcement authorities.
"First of all, I'm sorry that your father died the way it happened… That list is not mine," Dueterte said.
"The list is not mine, it's just given to me. I did not craft that list. I am not a police, I do not work in intelligence," he added.
Presidential spokesperson Harry Roque said Monday the drug list was not drawn "out of thin air" but admitted it was not enough to stand as cases before courts.
HRW slammed the president's move to wash his hands clean, calling it the "height of hypocrisy."
"For him to disavow how these lists were used by law enforcers to violate civil liberties and human rights of those listed is not only disingenuous—it is cowardly," Robertson said.
"He cannot now deny involvement in the violence perpetrated against those on his lists when he has used such lists as a public, political prop to shore up his popularity and fuel his political rise to presidency," he added.
Latest government figures put the number of alleged drug personalities killed in the war on drugs at 5,942. But it is significantly lower than the estimates by human rights watchdogs of as many as 27,000 killed. — with report from Christian Deiparine