US aid to Philippines' COVID-19 response amounts to nearly P1 billion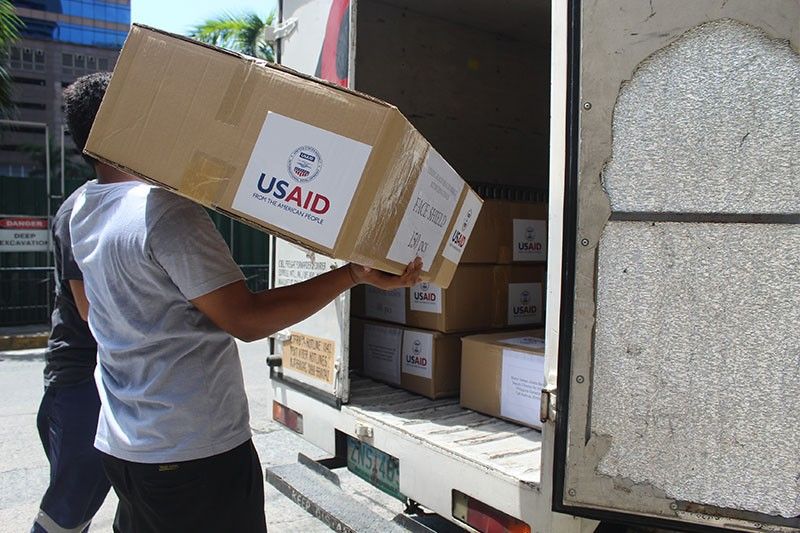 MANILA, Philippines — The United States government on Sunday said that it has given P978 million in COVID-19 assistance to the Philippines.
That's according to a video posted by the US Embassy in the Philippines on its YouTube channel.
"So far, total US government COVID-19 assistance to the Philippines amounts to approximately P1 billion. This assistance is being provided through the US Department of Defense, United States Agency for International Development and the US Department of State," US Ambassador to the Philippines Sung Kim said.
The embassy added that personal protective equipment and other medical supplies amounting to P10 million from the US government have been donated to hospitals across the Philippines.
"We are working with the Philippine Department of Health to deliver assistance to medical clinics from Luzon to Mindanao. The equipment so far has been distributed to 14 medical clinics, hospitals, and local health offices in Palawan, Isabela, Tarlac, Laguna, Bataan, Bulacan, Sulu, Zamboanga del Sur, and Basilan," Col. Stephen Ma, Joint US Military Assistance Group chief, said.
He added that "the supplies include disposable gloves, masks, medical clothing, various types of face protection, and tools such as infrared thermometers."
Ma also logged 1,000 cots provided to the Philippine Office of Civil Defense and 150 cots turned over to the Philippine General Hospital.
Meanwhile, the US Agency for International Development said that it has aided in the country's efforts to boost its testing capacity by partnering with international organizations to upgrade laboratories and by helping to expand the specimen transport systems nationwide.
In March, the US Department of State released a report showing that Washington released approximately $18.3 million in emergency health and humanitarian assistance to ASEAN countries.
Among its ASEAN neighbors, the Philippines received that largest amount of assistance from the US with approximately P200 million as of March 26.
As of July 20, the health department has confirmed 68,898 novel coronavirus infections and a death toll 1,835 in the country. — Bella Perez-Rubio
As It Happens
LATEST UPDATE: November 23, 2020 - 2:54pm
A thread of major developments in the bilateral relations between the Philippines and the United States from April to December 2020. (Photo by AFP/Mark Cristino)
November 23, 2020 - 2:54pm
US national security adviser Robert O'Brien affirms Washington's commitment to the Philippines in protecting its sovereign rights, offshore resources and rights consistent with international law.
Citing Washington's realignment of its position on the South China Sea with the 2016 arbitral ruling that invalidate Beijing's expansive claims, O'Brien stresses that resources in the area belong to the Filipino people.
"They don't belong to some other country that just because might, they may be big, and they may be bigger than the Philippines, they can come take away and convert the resources of the Philippine people," O'Brien says.
October 7, 2020 - 1:03pm
The US Embassy in the Philippines says the US government has turned over 150 laptop computers, printers, projectors and 80 sets of learning materials to the Department of Education through the United States Agency for International Development.
"This assistance is part of USAID's Opportunity 2.0, a five-year, P1.9-billion ($37.5 million) project that works with DepEd, the Technical Education and Skills Development Authority, and local governments to support their ongoing programs to provide relevant education, employability skills, and work experience to out-of-school youth," the US Embassy says in a statement.
August 19, 2020 - 8:56am
The US government launches a new program to provide second-chance opportunities to at least 180,000 out-of-school youth in the Philippines.
Under the five-year "Opportunity 2.0" project, which is worth P1.9 billion, the USAID will partner with DepEd and TESDA to augment their ongoing programs that provide relevant education, employability skills and work experience.
"Through this new partnership, we can leverage a range of resources to maximize the potential of the Filipino youth, particularly those who are out-of-school or unemployed. With the right knowledge, attitudes, and skills, they will play a pivotal role in this great country's growth and success over the long-term," US Ambassador Sung Kim says.
August 7, 2020 - 8:05am
US Secretary of State Mike Pompeo called Foreign Affairs Secretary Teodoro Locsin Jr. to discuss the recent change in US policy on maritime claims in the South China Sea, the US Department of State says.
The two foreign ministers also discussed US support for Southeast Asian coastal states upholding their sovereign rights and interests consistent with international law, as well as opportunities for further maritime cooperation between the two countries.
"The two secretaries also discussed the strong economic, security, and people-to-people ties that bind our two countries," the statement read.
July 27, 2020 - 8:56am
The US Army and Marine Corps service members, in partnership with the Philippine Air Force, Army and Coast Guard, deliver an additional P11.4 million ($236,000) worth of personal protective equipment and medical supplies to hospitals in 11 cities in the Philippines.
The latest donation brings the total assistance of the US government to the Philippines' efforts against COVID-19 to P989 million (more than $20 million).
"This latest delivery of U.S. government assistance for Filipino frontliners in the battle against COVID-19 is a testament to our ongoing commitment to help the Philippines defeat the pandemic," US Ambassador Sung Kim says.