PNP: Domestic violence, OSEC complaints surge as lockdown eased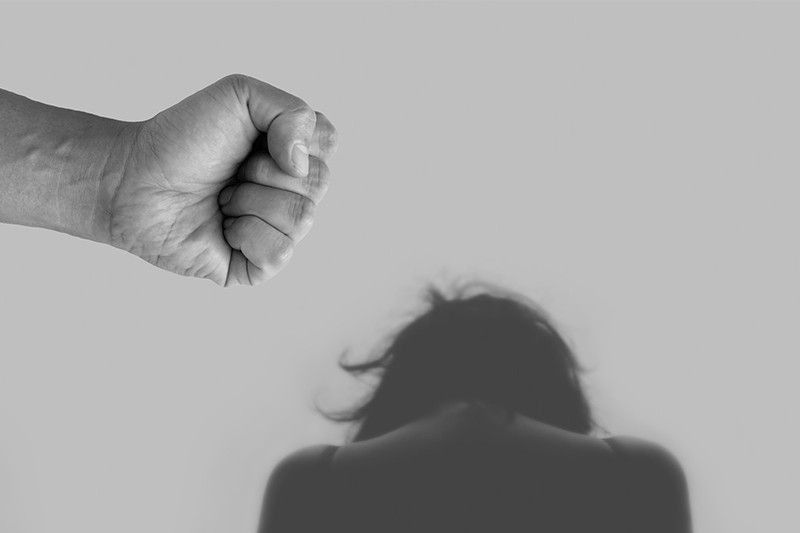 MANILA, Philippines — The more relaxed quarantine measures imposed at the beginning of the month also ushered in an increase in the reporting of domestic violence, the Philippine National Police (PNP) said.
These cases, it noted, were not reported earlier because of the lack of transportation and restrictions in movement due to the coronavirus disease 2019 (COVID-19) pandemic.
The PNP Women and Children's Protection Center (WCPC) also recorded a surge in cases of online sexual exploitation of children or OSEC during the pandemic.
The WCPC said that from March 16 up to the first week of June at least 2,131 cases of domestic violence against women were recorded. By June 17, this increased by 115
nationwide, bringing the total to 2,246.
"During the ECQ (enhanced community quarantine), we have logged fewer walk-in reports in our police stations compared to those we have responded to through phone calls and social media," WCPC spokeswoman Col. Joy Tomboc said in an interview aired over dzBB yesterday.
"Before, victims opt to proceed to police stations. Calls on our desks have increased and we have responded to all of them," she added, noting a surge of domestic violence complaints both in police stations and through electronic means during the general community quarantine.
Human rights groups have said reports of domestic violence have been increasing globally as the pandemic rages on.
In his 11th weekly report to Congress, President Duterte said the PNP has logged 1,945 cases of violence against women and 1,754 cases of violence against children while the country is under quarantine.
PNP data also showed that the WCPC and its Women and Children Protection Desks (WCPD) nationwide have conducted 5,049 investigations and 3,628 arrests with 3,462 inquest proceedings from March 16 to June 15.
Cases of violence against women were most pronounced in Central and Western Visayas during the ECQ. Cases of violence against children were most recurrent, meanwhile, in Central Visayas, Central Luzon and Metro Manila.
During the ECQ, the WCPC faced "logistical" hurdles due to the state of public health emergency that suspended the filing of complaints for preliminary investigations, limited movements and other issues such as transportation.
The police unit also cited as a challenge their investigators' "initial lack of knowledge on online filing of temporary remedies before the courts."
Aside from these issues, Tomboc said the challenge also lies on the part of victims who hold back from reporting domestic violence as it opens up the possibility of breaking up their family.
"They consider shame in their family, losing a father or a family member. They give importance to love, integrity of their family, they forget to take care of themselves," Tomboc said.
The WCPC spokeswoman said prompt reporting of incidents was important as it could immediately address supposed crimes as opposed to "late reporting."
She said under the women and children protection laws and PNP protocol, if incidents of domestic violence have occurred within 24 hours of reporting, the police could immediately arrest the perpetrator without a warrant.
"In the case of late reporting, it falls under regular filing which needs court approval, determination of probable cause before being issued an arrest warrant," she explained.
The WCPC earlier faced complaints of alleged inaction on several incidents, an act that it vowed to investigate.
Tomboc urged victims of domestic violence to proceed to WCPDs in their respective police stations or report incidents through their Facebook page and hotlines 09197777377 (Smart) or 09667255961 (Globe).
Online sexual exploitation
The country is among the world's top sources of child cybersex materials.
The WCPC explained that since the pandemic forced millions at home, it opened opportunities for children to stay online for increased hours daily and giving pedophiles a chance to prey on them.
Last April 22, the PNP arrested a 25-year-old woman in an undisclosed province in Luzon allegedly for cybersex trafficking of minors, including her own children. Two weeks prior, WCPC-Visayas arrested another woman who trafficked and abused her cousin in Lapu-Lapu City, Cebu.
Both suspects allegedly live-streamed the sexual abuse of these minors to foreign sex offenders in exchange for money.
"Cases of (OSEC) have increased. This prompted multiple operations by the WCPC and we have arrested several perpetrators and rescued many victims," Tomboc said yesterday.
Police data showed that foreigners in the Philippines preying on Filipinos aged 18 and below were mostly from the Netherlands, United Kingdom and Australia.
The Department of Justice also reported last May 25 that OSEC cases surged by 264 percent during the pandemic. The DOJ Office of Cybercrime said the National Center for Missing and Exploited Children recorded a total of 279,166 cases from its Cyberline Trip Report hotline from March 1 to May 24.
For the same period last year, there were only 76,561 reports.
A seven-year study by the human rights group International Justice Mission (IJM), released last month, said the Philippines has become the world's largest known source of OSEC due to its English fluency and high internet connectivity.
Among the other drivers of this crime, according to IJM, were endemic poverty, prevailing social norms and change in parenting dynamics due to migration.
Child Rights Network (CRN), the biggest network of groups and agencies pushing for child rights legislation in the Philippines, said Philippine laws have prevented the eradication of OSEC due to their inability to capture corresponding punishment for the crime.
While the cybercrime prevention act, anti-child pornography act and anti-child abuse law are the most referenced laws for OSEC cases, these laws failed to define OSEC as a distinct and separate crime and impose certain punishments against it, the CRN claimed.
Facebook, one of the most used platforms in child sex abuse materials, said it takes down 99.5 percent of the millions of abusive content monthly, but a few thousand pieces could still slip past their technology.
According to the CRN, one of three internet users in the Philippines are children, 90 percent of whom can access the internet freely and without supervision.