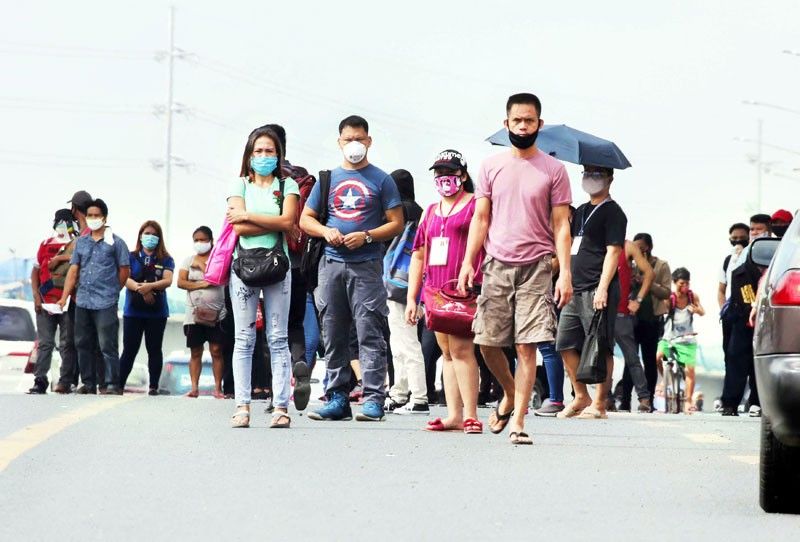 Commuters wait for free rides on Commonwealth Avenue in Quezon City yesterday, the first day of the general community quarantine under which limited public transport is allowed.
Boy Santos
GCQ Day 1: Thousands stranded
MANILA, Philippines — Thousands of commuters mostly workers returning to their jobs were stranded yesterday in Metro Manila, as public transport remained limited despite the easing of restrictions for the first time after more than two months of Luzon-wide quarantine.
On the first day of Metro Manila's transition to a less-restrictive general community quarantine (GCQ), only rail lines and "bus augmentation" units, taxis, transport network vehicle services, shuttle services, point-to-point buses and bicycles were allowed to ferry commuters. Tricycles were also allowed, subject to approval of concerned local government units.
Jeepneys and UV Express vehicles, the most visible modes of transport in Metro Manila before the March 17 lockdown, will be allowed to ply their routes only in the second phase of resumption of public transportation, starting on June 22.
As the situation in the streets became more desperate, several government agencies including the Philippine National Police (PNP) and Philippine Coast Guard deployed trucks to pick up stranded commuters.
PNP chief Gen. Archie Gamboa said their Libreng Sakay program would continue despite the limited number of police trucks.
"We are all now under GCQ. A certain portion of mass transportation is allowed so we expect people to have available rides, but of course it's still limited," he said.
In a statement, the PNP said yesterday's transition to GCQ was generally peaceful.
Defense Secretary Delfin Lorenzana said the military deployed 48 trucks and buses to give commuters free ride. He said the deployment will continue "until the Department of Transportation (DOTr) can field sufficient transport."
Transport groups decried as "discriminatory" the government's decision to continue its ban on jeepneys despite the relaxing of quarantine.
The militant Pinagkaisang Samahan ng Tsuper at Operators Nationwide or Piston said the government was using the pandemic as an excuse to phase out traditional jeepneys.
"The GCQ transport design of the DOTr is to permanently uproot the livelihood of traditional jeepney operators and drivers and to punish millions of workers and commuters who don't have their own vehicles," said George San Mateo, Piston national president emeritus.
"Chaos and confusion reign in the streets of Metro Manila after the DOTr failed in its primary mandate to provide efficient transportation system," labor coalition Nagkaisa said, as it demanded that PUVs be allowed to operate in areas under GCQ.
"In its mad rush to jumpstart a stalled economy, the national government has once again heaped more unnecessary burdens to the working class," the coalition added.
Malacañang earlier said officials were still studying ways to enforce physical distancing in jeepneys before allowing them to begin ferrying passengers.
The Land Transportation Franchising and Regulatory Board (LTFRB) said the government prioritized buses and modern jeepneys in the second phase because these modes of transport have bigger capacity.
The DOTr also explained that traditional jeepneys, aside from having the smallest capacity, are not equipped with automatic fare collection systems that minimize or prevent physical contact.
"Traditional jeepneys already have franchises and are duly-registered before the lockdown was enforced last March. This meant that they have undergone inspections and emission testing," San Mateo said.
"That's why they don't have any reasons to use safety (issue) against jeepneys," he added.
Piston also appealed to the government to address the plight of workers and passengers who returned to work on the first day of work under more relaxed quarantine restrictions.
"They are the majority of commuters who don't have their own vehicles. They endure having to walk, hitching with private vehicles or bike during intense heat. They are minimum wage earners and don't have the capacity to use taxis or ride TNVS cars," San Mateo said.
Tugade's apology
Transportation Secretary Arthur Tugade yesterday said he felt sorry for distraught commuters but stressed he had not promised them convenience.
"We did not give any expectations that on the first day of GCQ, all those who would go out will be able to get a ride. There is a limitation," Tugade said in an interview with CNN Philippines.
"We did not promise or said anything that transportation will be extensive and will meet the requirements of all on the first day of GCQ and even on the duration of the GCQ for that matter because as I have said, our approach is partial, limited, calculated, and gradual," Tugade said.
He said his department also has the responsibility to make sure that the spread of COVID-19 is prevented.
"We ask for your patience and understanding. I hope you forgive us if it creates inconveniences. Please be assured that what we are doing right now is for the many," he said.
"Please observe too that a meaningful reform in a transportation system does not happen with one event. It does not happen with one transaction deal. It is a continuing effort with all of us cooperating," he pointed out.
Tugade reminded the public that Metro Manila is still under GCQ, which is why limitations remain, particularly in public transportation.
"Under this situation there will really be those who will face difficulties and inconveniences. I ask for your understanding. This will only be for the meantime. Hopefully, the time will come when the majority will benefit in comfort and in convenience with all the efforts we are doing at this time," Tugade said.
"If vehicles allowed to operate under hierarchy of transportation would not be sufficient, then traditional jeepneys can be allowed subject to all stated conditions," he maintained.
Tugade also urged private vehicles using EDSA to find alternate routes, as they would be limited to two lanes.
He also said the MRT-3 operated with 20 train sets, the first time since March 2017 that the rail line operated with that many trains.
The MRT-3, together with LRT-1, LRT-2 and PNR resumed operations with limited passenger capacities yesterday.
'Fill need without compromise'
Reacting to reports of thousands stranded in the streets, Sen. Grace Poe – chairperson of the committee on public services – said the government must immediately fill the need for public transport without compromising safety.
She said it was clear on the first day of the GCQ that mass transportation "does not meet the surge of people who have come out of quarantine to begin working again to feed their families."
"The long lines of commuters in bus stations, workers walking to offices and people scampering to get on every available ride should not be part of the new normal under GCQ," the senator said.
She said the government must show it is on top of the situation and take the necessary action to make available more public utility vehicles without compromising safety.
She also urged companies and businesses to maximize the work-from-home scheme, to help lessen the number of people who will need to go out and take mass transportation.
Safety protocols and proper signage should be in place in public transportation, establishments, malls and other economic hubs that are allowed to operate, she said.
"Our people's health and safety should not be the consequences of this fragile and slow easing of the lockdown. As we save livelihoods, we must primarily save lives," Poe said.
"There should be no letup in our whole-of-society efforts, especially as people begin to move and come into contact with each other. Government capacity should be constantly boosted to track and isolate the sick and their contacts, which are the effective ways of keeping new infections under wraps," she said.
DOTr Assistant Secretary Mark de Leon said bus augmentation units only had few passengers largely because of "lack of public demand" for MRT-3 along EDSA. But along another major thoroughfare, Commonwealth Ave., hundreds of commuters could be seen waiting for a ride.
To ease the situation today, buses would be allowed on "service route" along Commonwealth Avenue between Angat and Quezon Ave., according to Metropolitan Manila Development Authority (MMDA) spokesperson Celine Pialago.
MMDA general manager Jojo Garcia urged the public not to get too "excited" about going out under the GCQ.
"The pandemic is still existing. We should limit the movement of people, because the person is the carrier. There will be inconveniences, definitely, but it's better to think of safety first," Garcia said over ANC.
Transport economist Jedd Ugay said the situation was expected as transportation was limited.
He said he noticed that social distancing measures were no longer observed as passengers struggled to get free rides along Commonwealth Avenue.
"If this goes on for the next three weeks, people will really suffer. If we want to resume the economy, there should be enough mobility options for commuters," he told The STAR. Richmond Mercurio, Marc Jayson Cayabyab, Mayen Jaymalin, Michael Punongbayan, Paolo Romero, Ghio Ong