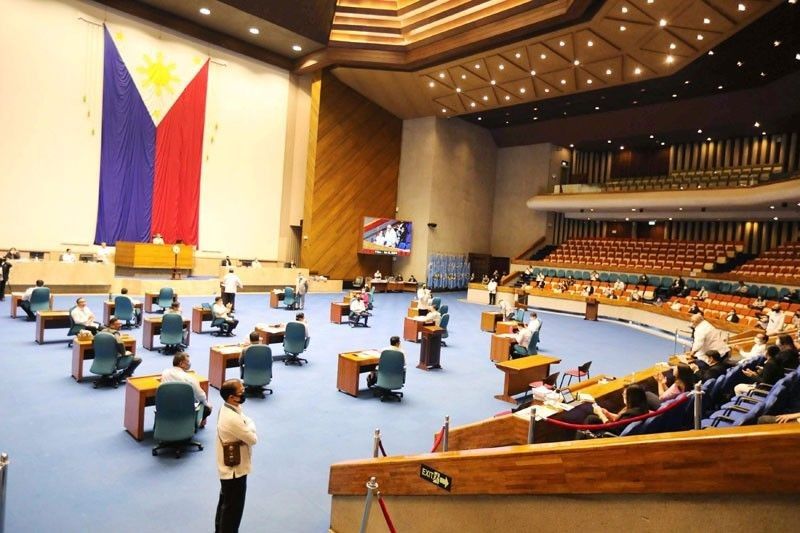 House Bill 6623 or the proposed New Normal for the Workplace and Public Spaces Act of 2020 sets protocols to be implemented once social and economic activities resume.
STAR/ Boy Santos, file
Lawmakers file bill on 'new normal'
Edu Punay
(The Philippine Star) - April 29, 2020 - 12:00am
MANILA, Philippines — House leaders yesterday filed a bill that would institutionalize new norms of physical distancing in public places and other safety measures such as wearing of face masks after the lifting of the enhanced community quarantine and resumption of businesses.
House Bill 6623 or the proposed New Normal for the Workplace and Public Spaces Act of 2020 sets protocols to be implemented once social and economic activities resume.
The proponents of the measure are Speaker Alan Peter Cayetano; Deputy Speakers LRay Villafuerte, Paolo Duterte and Loren Legarda; Majority Leader Martin Romualdez and committee heads Eric Yap of the appropriations, Jose Antonio Alvarado of good government and Mike Defensor of public accounts.
The bill prescribes new norms of physical distancing and safety measures in government and private offices, schools, commercial establishments and other public spaces to prevent the transmission of the coronavirus disease 2019 (COVID-19).
The measure seeks the mandatory wearing of face masks, availability of handwashing or sanitizing stations in public areas, temperature checks and physical distancing of at least one meter in all public spaces.
Physical distancing will apply during queueing for tickets and in the interiors of public utility vehicles (PUVs). Contactless payment scheme will be implemented and passengers will be required to wash their hands or sanitize before boarding PUVs.
The operations of motorcycle taxis will remain suspended to curb the spread of the virus through the use of common helmets and close contact between driver and passenger.
For schools and other learning institutions, on-site classes, sports and other extracurricular activities will remain suspended subject to consultations with the Department of Education and the Commission on Higher Education.
Online learning platforms will, in the meantime, be the primary mode of learning for students in public and private schools.
Once on-site classes resume, the number of classes should be reduced and staggered days should be implemented to enable students and teachers to comply with physical distancing and other safety measures.
Under the measure, restaurants and other food businesses may resume operations under a new normal, but only for take-out and delivery.
Buffets and salad bars would be prohibited once dine-in services are gradually introduced. Two-meter distancing between diners should be strictly followed and disposable or non-shareable menu booklets and cutlery should be used.
As for banks, supermarkets, malls and commercial spaces, the entry of people will be limited and online transactions and shopping services as well as cashless and contactless payments should be encouraged.
Salons, parlors and spas – once allowed to reopen – would be required to strictly observe frequent handwashing, disinfecting and cleaning practices, including the sanitizing of scissors and other tools.
Applicable safety and distancing measures should also be applied at construction sites, industrial workplaces, offices, call centers and other public spaces.
The bill seeks to impose fines and prison terms on violators.
Villafuerte said these new normal measures would be in place for three years or less while COVID-19 remains a global health crisis.
On Monday, Malacañang encouraged businesses to have their employees tested for the virus and to disinfect their stores before resuming operations.
Some businesses will be allowed to resume operations in areas under general community quarantine, but are still required to observe social distancing and other health measures.
Meanwhile, workers will not be stopped from mounting protests on Labor Day despite the Luzon-wide lockdowns.
Julius Cainglet, vice president of the Federation of Free Workers, said labor unions would stage protests through social media on May 1.
"This will be first time to be done in the country. We will be mounting online mobilization to mark Labor Day," Cainglet said. "Workers from different parts of the country can join the protests through Facebook, Zoom and other social media platforms." – With Alexis Romero, Mayen Jaymalin