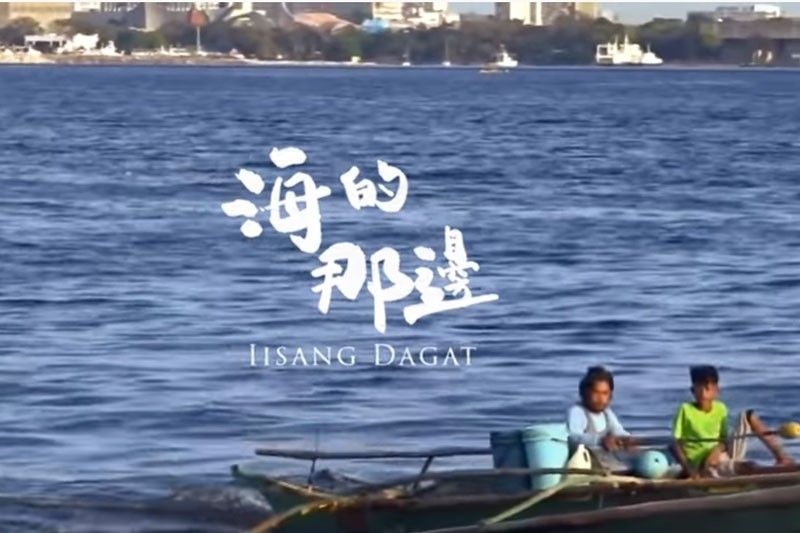 The Chinese Embassy in Manila recently released a music video titled "Iisang Dagat", which drew negative responses from Filipino social media users.
YouTube screengrab/Chinatown TV
Chinese Embassy's 'Iisang Dagat' video made people more angry, Carpio says
MANILA, Philippines — While Beijing claims that its music video titled "Iisang Dagat" is a tribute to COVID-19 frontliners, there might be a subliminal message in it, retired Senior Associate Justice Antonio Carpio said.
In an online forum organized by the Foreign Correspondents Association of the Philippines on Monday, Carpio said the video is connected to Beijing's official position on the South China Sea, including the West Philippine Sea.
As of this post, the music video has more than 512,000 views on YouTube with about 149,000 'dislikes'.
"They say 'Iisang Dagat' but the Chinese are saying 'Iisang dagat pero amin 'yan (One sea but that's ours) because we own more than 85% of the South China Sea,'" Carpio said.
China's nine-dash line over the South China Sea overlaps with maritime claims of other countries in the region, including the Philippines.
In July 2016, the Permanent Court of Arbitration issued a ruling on the Philippines' arbitration against China. The international tribunal invalidated Beijing's expansive claims over the contested waterway but China continues to reject the landmark award, which favored the Philippines.
"They will say 'Iisang Dagat' of course there's only one sea because the water just moves around. That's fact. There's only one South China Sea but what is unsaid is that they claim to own it," Carpio added.
'China trying to make up for COVID-19 failures'
China's music video appears to be an attempt to make up for its failures at the start of the new coronavirus pandemic, Carpio said, adding that Beijing initially suppressed information on the infectious disease, which originated in Wuhan City.
At the same time, Beijing is also taking advantage of the pandemic but it backfired on them as seen in the public's response to the music video, he said.
Carpio further noted that it was "very rare" for a video to have "overwhelming" dislikes online.
"You can just see that it has boomeranged on China. It has made people more angry at China," Carpio said.
The retired SC justice also recalled how the Department of Health changed its tune on supposedly substandard medical equipment from China after the Chinese Embassy sent a text message to Health Secretary Francisco Duque III.
While it is dealing with the pandemic, the Philippine government should be more concerned about the safety of frontliners rather than trying to please China, he said.
Carpio also said that there should be an investigation whether the face masks, personal protective equipment and other medical equipment that came from China are really compliant with regulations of the World Health Organizations.
"China has taken advantage but of course there's a pushback. People jst don't buy that and that is show in the video that the Chinese Embassy had released. People saw through it and said they don't like it," Carpio said.
Chinese Ambassador Huang Xilian wrote the lyrics of the song, which was performed by Chinese diplomat Xia Wenxin, Camarines Sur Gov. Imelda Papin, Filipino-Chinese singer Jhonvid Bangayan and Chinese actor Yubin.
As It Happens
LATEST UPDATE: May 31, 2021 - 11:14am
May 31, 2021 - 11:14am
The government should name and identify rocks and features in the Kalayaan Island Group to assert Philippine sovereignty in the West Philippine Sea, a senator says Monday.
"The features we occupy in the KIG remain unnamed. Mapapalakas ang paggiit natin ng ating karapatan sa WPS kung malinaw ang pangalan, katangian, at sakop ng mga inaangkin nating teritoryo. Udyukin na ng DENR ang National Mapping and Resource Information Authority (NAMRIA) para simulan ang pag-papangalan ng mga ito," Sen. Risa Hontiveros says in a statement.
May 18, 2021 - 10:04pm
The Philippines protests China's unilateral fishing ban in the South China Sea, including the West Philippine Sea.
The Department of Foreign Affairs says the Philippines does not recognize China's fishing moratorium as it covers areas over which the country exercises sovereignty, sovereign rights and jurisdiction.
"China's annual fishing moratorium extends far beyond China's legitimate maritime entitlements under UNCLOS and is without basis under international law," the DFA says in a statement.
JUST IN: The Philippines protests China's unilateral fishing ban in the South China Sea. @PhilstarNews pic.twitter.com/imoUaKNwFN

— Patricia Viray (@patriciaviray) May 18, 2021
May 3, 2021 - 8:58am
The DFA protests the illegal presence of Chinese Coast Guard vessels in Panatag (Scarborough) Shoal and their belligerent actions against the Philippine Coast Guard.
DFA also rejects the statement of Chinese foreign ministry spokesperson Wang Wenbin that China enjoys sovereignty over Panatag Shoal/Bajo de Masinloc.
"China has no enforcement rights in these areas... The unauthorized and lingering presence of these vessels is a blatant infringement of Philippine sovereignty," the DFA says in a statement.
April 28, 2021 - 12:24pm
Foreign Affairs Secretary Teodoro Locsin Jr. orders the filing of another diplomatic protest against China following the statement of a Chinese official on the Philippine Coast Guard's exercises in the West Philippine Sea.
"They can say what they want from the Chinese mainland; we continue to assert from our waters by right of international law what we won in The Hague. But we must not fail to protest. @DFAPHL have we fired off a diplomatic protest? Do it now," says Locsin on Twitter.
April 25, 2021 - 1:08pm
The Philippine Coast Guard sends BRP Malapascua and BRP Francisco Dagohoy (MMOV 5002) — a fisheries bureau vessel manned by PCG personnel — to Pagasa Island in the West Philippine Sea for maritime exercises.
Pagasa Island is in the Kalayaan Island Group of Palawan province.