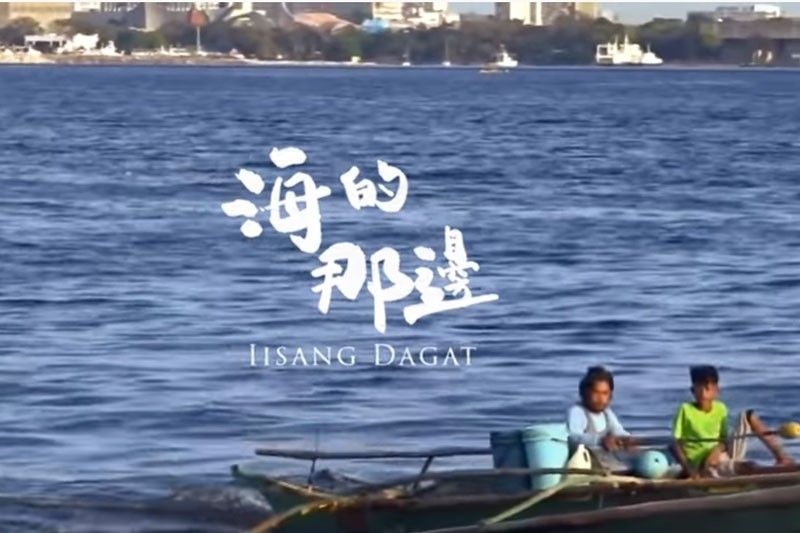 The Chinese Embassy in Manila recently released a music video titled "Iisang Dagat", which drew negative responses from Filipino social media users.
YouTube screengrab/Chinatown TV
Chinese Embassy's 'Iisang Dagat' video made people more angry, Carpio says
MANILA, Philippines — While Beijing claims that its music video titled "Iisang Dagat" is a tribute to COVID-19 frontliners, there might be a subliminal message in it, retired Senior Associate Justice Antonio Carpio said.
In an online forum organized by the Foreign Correspondents Association of the Philippines on Monday, Carpio said the video is connected to Beijing's official position on the South China Sea, including the West Philippine Sea.
As of this post, the music video has more than 512,000 views on YouTube with about 149,000 'dislikes'.
"They say 'Iisang Dagat' but the Chinese are saying 'Iisang dagat pero amin 'yan (One sea but that's ours) because we own more than 85% of the South China Sea,'" Carpio said.
China's nine-dash line over the South China Sea overlaps with maritime claims of other countries in the region, including the Philippines.
In July 2016, the Permanent Court of Arbitration issued a ruling on the Philippines' arbitration against China. The international tribunal invalidated Beijing's expansive claims over the contested waterway but China continues to reject the landmark award, which favored the Philippines.
"They will say 'Iisang Dagat' of course there's only one sea because the water just moves around. That's fact. There's only one South China Sea but what is unsaid is that they claim to own it," Carpio added.
'China trying to make up for COVID-19 failures'
China's music video appears to be an attempt to make up for its failures at the start of the new coronavirus pandemic, Carpio said, adding that Beijing initially suppressed information on the infectious disease, which originated in Wuhan City.
At the same time, Beijing is also taking advantage of the pandemic but it backfired on them as seen in the public's response to the music video, he said.
Carpio further noted that it was "very rare" for a video to have "overwhelming" dislikes online.
"You can just see that it has boomeranged on China. It has made people more angry at China," Carpio said.
The retired SC justice also recalled how the Department of Health changed its tune on supposedly substandard medical equipment from China after the Chinese Embassy sent a text message to Health Secretary Francisco Duque III.
While it is dealing with the pandemic, the Philippine government should be more concerned about the safety of frontliners rather than trying to please China, he said.
Carpio also said that there should be an investigation whether the face masks, personal protective equipment and other medical equipment that came from China are really compliant with regulations of the World Health Organizations.
"China has taken advantage but of course there's a pushback. People jst don't buy that and that is show in the video that the Chinese Embassy had released. People saw through it and said they don't like it," Carpio said.
Chinese Ambassador Huang Xilian wrote the lyrics of the song, which was performed by Chinese diplomat Xia Wenxin, Camarines Sur Gov. Imelda Papin, Filipino-Chinese singer Jhonvid Bangayan and Chinese actor Yubin.
As It Happens
LATEST UPDATE: April 30, 2020 - 4:15pm
April 30, 2020 - 4:15pm
The Philippines says it strongly protests "the establishment of the so-called districts of 'Nansha' and 'Xisha' under the supposed administrative jurisdiction of its self-declared 'Sansha City'" which would cover parts of the West Philippine Sea.
In a statement, the Department of Foreign Affairs says it has protested since 2012 the "unlawful establishment of Sansha City" that includes Philippine territory and maritime zones in the WPS, including the Kalayaan Island Group and Bajo de Masinloc.
The Philippines also protests the dseignation of Kagitingan Reef in the Kalayaan Island Group "as adinistrative center for the so-called 'Nansha district'," saying the reef is part of the KIG and an integral part of Philippine territory.
April 27, 2020 - 1:41pm
Sen. Risa Hontiveros has filed a resolution to urge the executive branch to "exert legal and diplomatic pressure" on China over its activities in the West Philippine and to have the regional giant pay for enviromental damage in the area.
"China's sense of entitlement to our seas has caused severe and irreparable harm to our ecosystems," Hontiveros says in a statement on the filing of Philippine Senate Resolution No. 369.
Even if the Senate, the majority of which supports the Duterte administration and its foreign policy with China, adopts the resolution, it is non-binding on the executive branch.
"Hindi tayo kolonya, kaya panahon nang singilin ng gobyerno ang Tsina (We are not a colony so it's about time that we have China pay)," she also says.
In her resolution, Hontiveros says "unlawful Chinese activities in the West Philippine Sea are estimated to have caused at last P33 billion in damage annually to marine ecosystems within the Philippines' continental shelf and exclusive economic zone" since 2013, the year that the Philippines filed its arbitration case.
April 22, 2020 - 7:59pm
The Philippines has sent the Chinese Embassy two diplomatic protests, Foreign Affairs Secretary Teodoro Locsin Jr. says on his Twitter account.
He says the protests are on "1. on the pointing of a radar gun at a Philippine Navy ship in Philippines waters and 2. [on] declaring parts of Philippine territory as part of Hainan province—both violations of international law and Philippine sovereignty."
September 15, 2019 - 4:22pm
Vice President Leni Robredo chides presidential spokesperson Salvador Panelo, telling him that he should be better informed of what exactly President Duterte has stated before presenting his own "interpretation," so they can stop contradicting each other in public.
Her statement comes after Panelo called her out for "misplaced and flamboyant remarks" in response to the president's remark about ignoring the arbitral ruling for a joint oil and gas exploration deal with China.
"Litong lito talaga ako, kasi ang sinasabi ni pangulo, iba sa sinasabi niya. Nagsabi si pangulo na i-set aside iyong arbitral ruling; ang sabi niya, hindi iyon iyong gustong sabihin," Robredo says on her weekly radio show, BISErbisyong LENI on RMN-DZXL 558.
Robredo says the administration should put a stop to this "practice" as contradictions between the president's statements and Panelo's "clarifications" only make things even more confusing for the people.
August 20, 2019 - 8:59pm
The White House accuses China of "bullying tactics" in the increasingly tense waters of the South China Sea and says it will resist Beijing on the dispute.
"China's recent escalation of efforts to intimidate others out of developing resources in the South China Sea is disturbing," President Donald Trump's national security advisor John Bolton tweets.
"The United States stands firmly with those who oppose coercive behavior and bullying tactics which threaten regional peace and security."
China's recent escalation of efforts to intimidate others out of developing resources in the South China Sea is disturbing. The United States stands firmly with those who oppose coercive behavior and bullying tactics which threaten regional peace and security.

— John Bolton (@AmbJohnBolton) August 20, 2019
— AFP