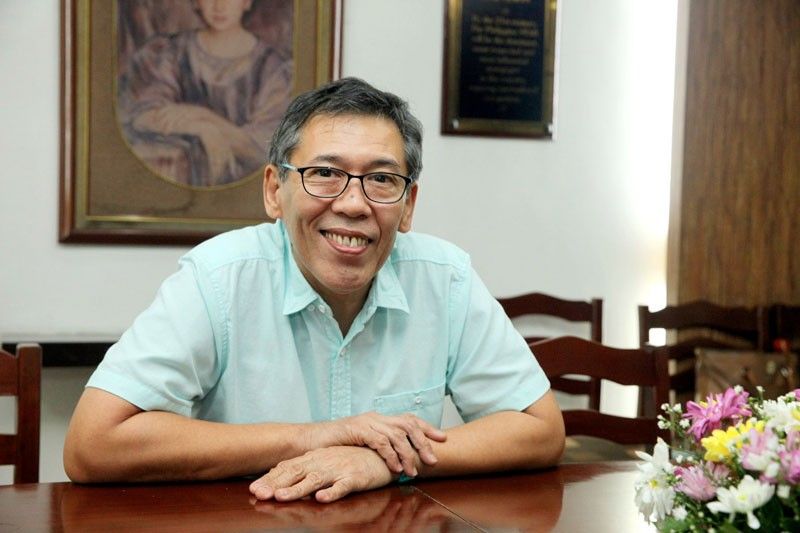 Jose Manuel Diokno
STAR/File
Duterte unleashes insults on Diokno, other critics
MANILA, Philippines — Human rights lawyer Chel Diokno received heaps of insults from President Duterte on Friday night as the Chief Executive released his outburst over the lawyer's criticisms of the administration's handling of the coronavirus disease 2019 (COVID-19) pandemic.
Duterte slammed Diokno, calling him a "lousy lawyer" who lost his senatorial bid due to his "big teeth."
"You know Chel Diokno, and the rest of the opposition and the yellows, don't force yourselves into the government. You keep on propagating black propaganda because the election is getting near," Duterte said.
Duterte addressed the nation, telling the public that if they would elect people like the opposition, then nothing good will happen in the future for the country.
He said he would rather not care anymore if the people would side with the political opposition. "Then what will happen if they become part of the administration, what did they do? Would they have the money in the future? Right now, I tell you, we have the funds," Duterte said.
Although Diokno is a lawyer, Duterte belittled his abilities, adding the defeated senatorial candidate was far different from his late father.
"Pero ikaw, nung nakita kita, wala ka talagang sinabi. Magsalita ka parang huwag lang ma-insulto 'yon ha. Kayong mga janitor, huwag kayong mainsulto tutal totoo namang janitor ka, 'di janitor ka. Sundalo ka, sundalo ka (But you, when I saw you, you're really nothing. You speak just so it won't be insulted. Janitors, don't be insulted because it's true that you are a janitor, then you're a janitor. If you're a soldier, you're a soldier)," the President said.
"Ito si Diokno magsalita parang janitor. At saka tumakbo ka ng senador, eh hindi kayo bino… bumoto ng tao. Alam mo kung bakit? Pwede kitang biruin? Huwag kang magalit. Alam mo kung bakit hindi ka nanalo? Kasi kalaki ng ngipin mo. Magsalita kalahati ng panga mo lumalabas (Diokno, he talks like a janitor. And you ran for senator and the people did not vote for you. You know why? Can I joke with you? Don't be mad. Do you know why you lost? Because your teeth are big. When you talk, half of your jaw comes out)," Duterte said.
"Maghanap ka ng ba… ano bang tawag diyan? Vaciador. 'Yung nagtatadyak ng… tadyak ng pang… pang-patalas ng mga barbero. Diyan ka pumunta. Ilagay mo 'yung ngipin mo doon. Doon ka sa tadyak. Naglilibot 'yan (Go look for… what do you call that? Vaciador. The one that pedals… pedals the… sharpening for the barber. You go there. Place your teeth there. There where it's pedalled. They go around)," he added.
Diokno has offered his services to a netizen being questioned over his post, which supposedly violated provisions of the Bayanihan to Heal as One Act.
Duterte was unable to hide his anger against the lawyer, prompting him to attack his personality and physical attributes in a close to one-hour televised address Friday.
"Bakit ganun? Binabastos kita? Eh p***** i**, galit ako sa iyo. Sumobra ka. Sige subukan mo. Subukan mong mag-converge-converge. Sige. Constitutional right man kaya 'yan. Subukan mo. Sumali ka. 'Pag hindi, ikaw ang ipa-una (Why is that? I'm disrespecting you? Son of a b***h, I'm mad at you. You went too far. Go ahead and test me. Try to converge. Go. That's a constitutional right. Test me. Go join. If not, you'll be first)," the President said.
Duterte even challenged Diokno to go out of the comfort of his home, and openly criticize him on the streets. The President said he wants to see how Diokno would defend himself once he gets accosted by the police if he creates an uproar amid the Luzon quarantine.
'Principal's office'
Diokno, on Twitter, responded to the President's televised tirade.
"I heard I was being summoned to the principal's office last night. Was it about my teeth?" he posted in Filipino, accompanied by a tearful sad face emoji.
In another post also written in Filipino, Diokno said he has only been helping his clients and has never advised them to violate any laws.
"Mr. President, I have been helping several clients who have to endure illness and hunger, and I have never advised any of them to be disruptive or violate laws. It's OK to pick on me but focus on the needs of the people," he wrote.
Diokno has been vocal against the government's actions in handling the COVID-19 pandemic, and said the National Bureau of Investigation is running after ordinary citizens criticizing the administration.