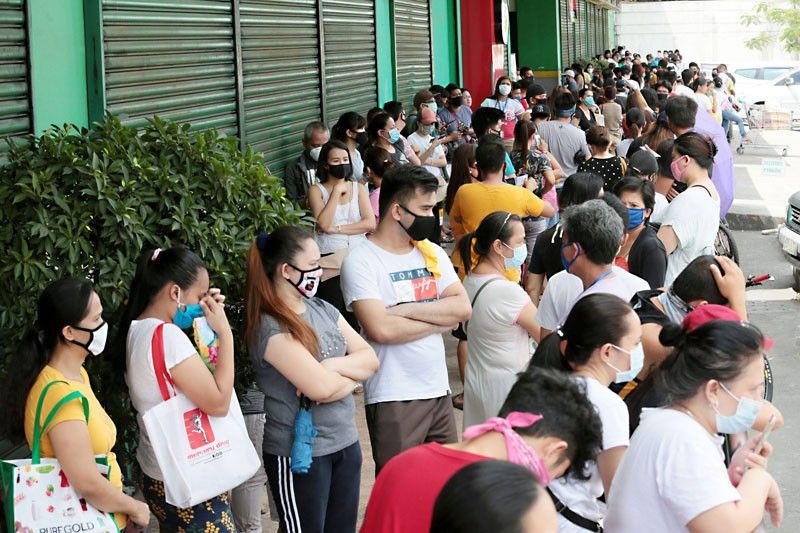 Customers gather near the entrance of a supermarket while waiting for its doors to open – a common scene in many communities around Metro Manila.
Michael Varcas
DILG: Quarantine passes, masks not needed for shopping
MANILA, Philippines — The Department of the Interior and Local Government (DILG) has clarified that "no mask, no quarantine pass, no entry" should not be imposed on any market or establishment even with the Luzon-wide enhanced community quarantine.
The DILG, one of the lead implementers of the lockdown, also thumbed down the market curfew hours being imposed by some local government units that restrict the public from buying their supplies to as little as four hours per day.
DILG Undersecretary Epimaco Densing explained that quarantine passes and masks should not be required at any market or grocery establishment as all Filipinos have the right to freely buy their supplies, especially with the COVID-19 crisis.
"I repeat the order that we have given to our regional offices to announce to local governments not to implement the no mask, no entry or no quarantine pass, no entry policy," he said in Filipino over radio dzMM.
Densing also ordered local government units not to impose 4-hour window hours for buying supplies, as he noted this will lead to residents crowding establishments.
"Just maintain the 12 hours," he added.
The DILG official explained that quarantine passes issued by barangays and city governments are only optional and are not supposed to be requirements in order for residents to gain entry into markets.
The DILG undersecretary for operations noted that the quarantine passes are issued to limit movement by residents and that it is more important to ensure that the public practices social distancing instead of imposing guidelines that go beyond policies issued by the national government.