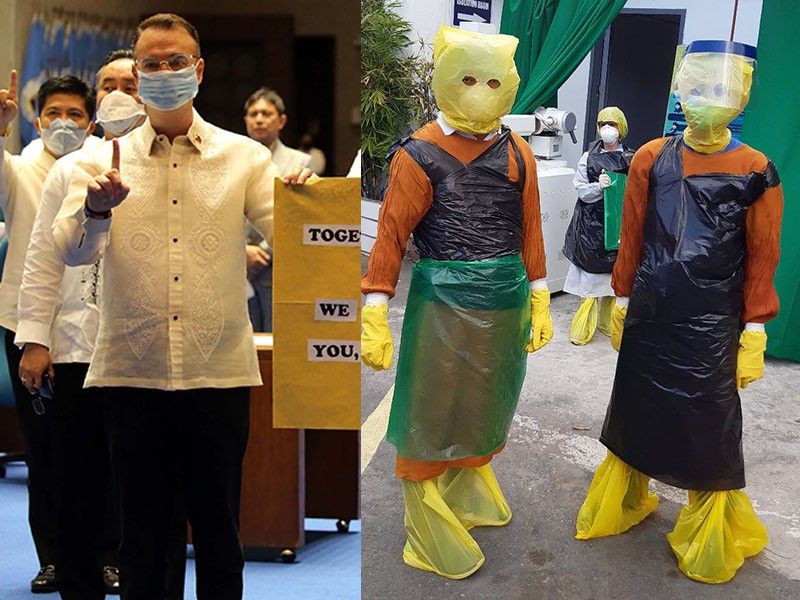 Left photo shows House Speaker Alan Peter Cayetano holding a controversial banner during the House of Representatives special session on March 23, 2020. Right photo shows frontliners at St. Jude Hospital in Los Baños, Laguna wearing improvised protective suits.
The STAR/Boy Santos, Facebook/Tes Depano
'Fake' posts not helping real calls for PPE shortages, warns Cayetano
MANILA, Philippines (Updated 6:21 p.m.) — On the sidelines of Monday's special session that granted President Rodrigo Duterte emergency powers in response to the novel coronavirus outbreak, House Speaker Alan Peter Cayetano warned that some reports of shortages in personal protective equipment are fraudulent and are misleading the public from donating to facilities that actually need it.
"There is a lot of fake news," Cayetano said in a Monday speech.
"Have you heard that people are spreading fake news saying there is a lack of PPEs or personal protective equipment in an area? It's unfortunate when you propagate fake news. It's unfortunate for those who truly need PPEs. Now we don't know where to donate," Cayetano added in Filipino.
Public and private representatives of the health sector have raised concerns over the lack of PPEs in Philippine hospitals owing to global shortages in supply during the COVID-19 pandemic.
Health Assistant Secretary Maria Rosario Vergeire at a Monday briefing said that frontline health workers in the country are depending entirely on donations since there are no PPE supplies available for the government to procure.
RELATED: Congress grants Duterte covid standby powers | Senate okays emergency powers for Duterte in fight vs COVID-19 outbreak
"We would like to inform our citizens, there is a global shortage of personal protective equipment, which are used by responders to deal with COVID-19. Which is why donations that arrive are being carefully assessed and allocated rationally to those in deed," the health official said in Filipino.
"Many are asking why the DOH isn't buying more equipment despite its large budget. Regardless if we want to buy supplies now, these are unavailable so now we depend on donations."
Cayetano, meanwhile, added in his speech: "We have to get the local government units and the frontliners whatever they need."
Global demand, local shortage
Frontline health care workers including doctors and nurses around the globe have been affected by shortages in the global supply of personal protective equipment — attributed to rising demand, panic buying, hoarding and misuse.
"We can't stop COVID-19 without protecting our health workers," World Health Organization Director-General Tedros Adhanom Ghebreyesus said earlier this month.
"Shortages are leaving doctors, nurses and other frontline healthcare workers dangerously ill-equipped to care for COVID-19 patients, due to limited access to supplies such as gloves, medical masks, respirators, goggles, face shields, gowns and aprons."
The WHO said that industry and governments need to ramp up the manufacturing of personal protective equipment by 40% in order to meet the global demand.
WHO calls on industry and governments to increase manufacturing of personal protective equipment by 40% to meet rising global demand due to #COVID19

???????? https://t.co/XM7RlcivuV#coronavirus pic.twitter.com/c5JTXdpQm7

— World Health Organization (WHO) (@WHO) March 3, 2020
Health workers at the Lung Center of the Philippines in Quezon City and St. Jude Hospital in Los Baños have appealed for PPE donations as their supplies deplete, leaving them vulnerable to infection.
Last week, 11 local private hospitals also appealed to the health department to centralize COVID-19 response efforts due to the inadequacy of their current facilities to accommodate all patients.
"The panic is escalating, mortality is increasing, our supplies of [PPE] are running short, our frontline staff are increasingly getting depleted as more of them are quarantined or physically and emotionally exhausted, and a number of our medical colleagues are already hooked to respirators fighting for their lives in various ICUs (intensive care units)," read their collective statement.
"This, our collective call to action is to centralize all efforts and resources into ONE OR TWO COVID-19 hospitals, adequately equipped and invested upon by the government, designated to receive, screen and treat PUIs and COVID-19 positive patients when the allowable number of cases per hospital, private and public, is exceeded."