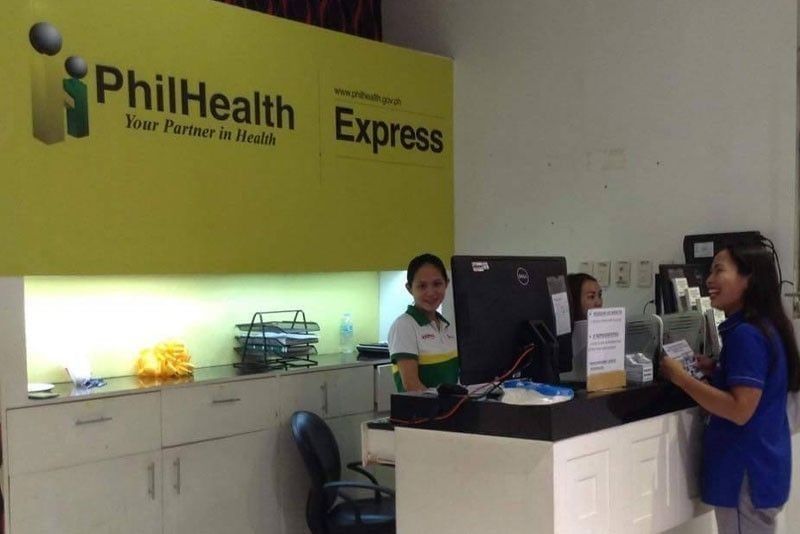 PhilHealth will be shouldering testing costs for potential COVID-19 patients.
Facebook / PhilHealth
PhilHealth to shoulder testing costs for COVID-19
MANILA, Philippines (Updated 2:42 p.m.) — Cabinet Secretary Karlo Nograles on Wednesday said that the Philippine Health Insurance Corporation (PhilHealth) would shoulder the testing costs for the novel coronavirus (COVID-19) in hospitals.
The insurance company would also carry hospital fees for quarantine and isolation, according to Nograles.
PhilHealth told Philstar.com in an online exchange that the benefit may be availed for admissions beginning January 30.
The insurance company also sent the following details:
Patients Under Investigation in levels 2-3 hospitals for quarantine/appropriate management can avail Isolation Package P14,000.00. P4,000 Referral Package for PUI patients for referral to higher level facility can be availed by referring hospitals.
The Referral Package for Patients Under Investigation (PUI) covers patients initially seen in lower level facility but needs referral to a higher level facility for quarantine. This package with a Case Rate amount of P4,000.00 can be availed of by the referring hospitals for the initial management, stabilization and transit of the patient to the referral hospital.
The Existing Case Rate Package such as (Adult Respiratory Distress Syndrome, Pneumonia, Sepsis and Hemodialysis may be claimed instead of the Isolation Package based on the presentation and management during the course in the ward.
Nograles said that this was "so that the public need not to worry of the expenses that could be incurred by individuals seeking treatment."
In an earlier text message exchange, Health Secretary Francisco Duque III told Philstar.com that patients were only tested "just 3x" per day.
Only "about 200 to 250 people" are getting tested a day at the Research Institute for Tropical Medicine, Duque said.
BREAKING: Cabinet Secretary Karlo Nograles says PhilHealth will shoulder the testing costs for COVID-19 in hospitals. pic.twitter.com/Bj7TFnhHme

— Philstar.com (@PhilstarNews) March 11, 2020
"PUIs are isolated in hospitals and tested for COVID-19. If positive [they're] manage[d] accordingly until 2 negative tests are reached and then discharged with close monitoring," he added.
Once samples are taken from PUIs, the Research Institute for Tropical Medicine (RITM) runs confirmatory tests for traces of COVID-19. The Health department says these tests can take up to 48 hours.
Nograles also bared that PhilHealth president and CEO Ricardo Morales said the agency was already in the process of formalizing and operationalizing the measure.
Many have cast fear over the country's ability to detect new cases as they happen. On Tuesday, the country's Food and Drug Administration gave a green light for a detection kit developed by the University of the Philippines National Institute of Health.
As of this writing, some 106,000 worldwide have been afflicted with the new virus.
"Given this, the last thing we want is for our citizens to worry about medical costs and expenses. Their only concern should be their well-being and the well-being of their families," Nograles said. — with report from Prinz Magtulis
If you believe you have come into possible contact with infected patients, you may be directed to the proper office of the Department of Health for advice through the following lines: (632) 8651-7800 local 5003-5004 or (632) 165-364.
You may also opt to call the Research Institute for Tropical Medicine at (02) 8807-2631/ 8807-2632/ 8807-2637.
As It Happens
LATEST UPDATE: May 31, 2020 - 2:59pm
Follow this page for updates on a mysterious pneumonia outbreak that has struck dozens of people in China.
May 31, 2020 - 2:59pm
Jerusalem's Al-Aqsa mosque compound -- the third holiest site in Islam after Mecca and Medina in Saudi Arabia -- reopened on Sunday after being closed for more than two months because of the coronavirus pandemic.
Dozens of worshippers in protective masks were let into the compound before the first prayers of the day, held in a cool and windy night.
Chanting "God is greatest, we will protect Al-Aqsa with our soul and blood", the group gathered in front of the large wooden doors were welcomed by mosque director Omar al-Kiswani, who thanked them for their patience.
It followed a fraught day in annexed east Jerusalem, where the compound is located.
Israeli police on Saturday shot dead a disabled Palestinian they mistakenly thought was armed, prompting furious condemnation from the Palestinians.
The religious site, which houses Al-Aqsa mosque and the Dome of the Rock, had closed its doors in March as part of measures to limit the spread of COVID-19. — AFP
May 31, 2020 - 9:01am
The US recorded 960 coronavirus deaths on Saturday, bringing its total to 103,758 since the global pandemic began, according to a tally kept by Johns Hopkins University.
The country has officially logged 1,769,776 cases of the virus, far more than any other nation, the tracker by the Baltimore-based university showed at 8:30 pm (0030 GMT Sunday). — AFP
May 30, 2020 - 8:49pm
The Department of Health reports 590 new cases of the coronavirus disease, bringing the national tally to 17,224.
Of the new confirmed cases, 252 were considered "fresh" and 338 were positive results returned "late."
There are 88 recoveries 8 deaths, the Health department adds.
May 30, 2020 - 5:35pm
The Department of Health announces that the COVID-19 case bulletin for Saturday, May 30, 2020 will be released around 8:00 p.m.
May 29, 2020 - 9:37pm
The Department of Health reports 1,046 new cases of the coronavirus disease, the highest surge in a day in the Philippines. This brings the national tally to 16,634.
The agency says there are 122 recoveries and 21 new fatalities.