FDA allows use of test kits developed by UP scientists as virus spreads locally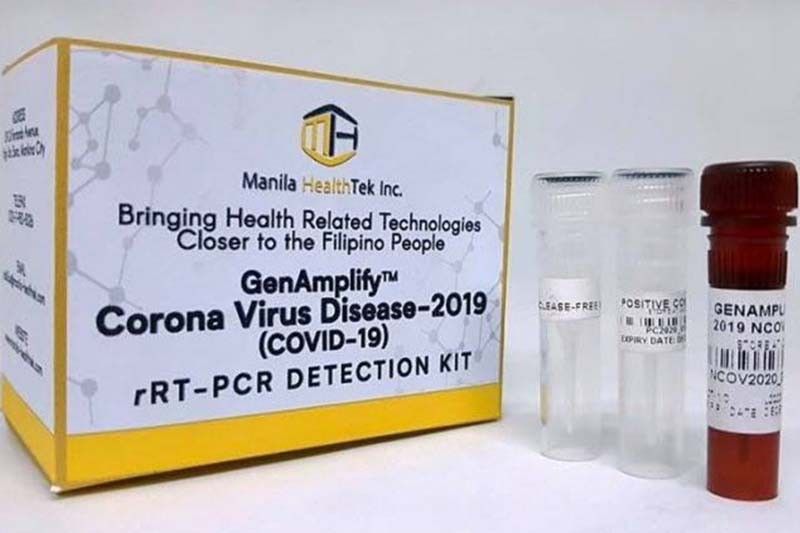 MANILA, Philippines — As the Philippines grapples with a growing health crisis, the country's Food and Drug Administration allowed the use of a test kit that would help the Department of Health detect more cases of the new coronavirus.
The virus that causes coronavirus disease (COVID-19) is spreading locally after a month of not detecting any case but the testing has so far revealed only 24 cases since late January—half of them diagnosed Monday.
The FDA issued on Tuesday a Certificate of Exemption for the detection kit developed by the University of the Philippines National Institute of Health. The kit will be used for field testing coupled with gene sequencing at the Philippine Genome Center.
The test kit will aid the DOH to detect rapidly the presence of the new coronavirus in samples taken from suspected carriers.
"This will provide our laboratories with technological reinforcement to accommodate the growing number of patients to be tested and id in early screening of positive cases. Furthermore, this will provide greater access to a less costly diagnostic procedure," FDA Director General Enrique Domingo said.
Health Secretary Francisco Duque told Philstar.com that only "about 200 to 250 people" are getting tested a day at the Research Institute for Tropical Medicine—the country's lone diagnostic laboratory for the new coronavirus. DOH is expected to receive additional 4,500 extracting kits from the World Health Organization.
In a Malacañang briefing Monday, the Health chief said the limited coverage of the coronavirus tests in the country may have led to a possible "underreporting" of COVID-19 cases in the country.
Out of the 24 confirmed infections, two have recovered, while 21 are still treated in hospitals. The Philippines reported one death in February—a tourist from Chinese city of Wuhan.
The virus has spread to over 100 countries and territories with more than 110,000 cases of infection. The death toll reached 4,011 on Tuesday.
As It Happens
LATEST UPDATE: June 25, 2022 - 4:46pm
Follow this page for updates on a mysterious pneumonia outbreak that has struck dozens of people in China.
June 25, 2022 - 4:46pm
China reports zero new COVID-19 infections in Shanghai for the first time since March on Saturday, as the country's latest outbreak subsides after months of virus-spurred lockdowns and restrictions.
China is the last major economy still committed to a zero-Covid strategy, stamping out new cases with a combination of targeted lockdowns, mass testing and lengthy quarantines.
The economic hub of Shanghai was forced into a months-long lockdown during a Covid surge this spring driven by the fast-spreading Omicron variant, while the capital Beijing shuttered schools and offices for weeks over a separate outbreak. — AFP
June 13, 2022 - 4:20pm
Beijing starts a new round of mass testing in its most populous downtown district after a rapidly spreading outbreak linked to a bar saw Covid rules tightened again in the capital.
A night of partying by one Beijing resident last week threw the city's tentative reopening into chaos, leading authorities to shutter nightlife venues in the downtown district of Chaoyang days after they reopened last Monday.
The resident, who did not get tested for 14 days, went to several bars and nightlife venues in Chaoyang in the days before and after developing a fever.
The outbreak stemming from the Heaven Supermarket bar has infected at least 183 people in 15 districts so far. — Agence France Presse
June 9, 2022 - 1:04pm
City authorities say that Shanghai will lock down a district of 2.7 million people on Saturday to conduct mass coronavirus testing as the Chinese metropolis struggles to fully emerge from punishing curbs.
The city eased many restrictions last week, after confining most of its 25 million residents to their homes since March as China battled its worst COVID-19 outbreak in two years.
But the lockdown was never fully lifted, with hundreds of thousands in China's biggest city still restricted to their homes and multiple residential compounds put under fresh stay-home orders.— AFP
June 5, 2022 - 5:09pm
City officials say Beijing will gradually lift COVID-19 restrictions this week.
After some easing in recent days, the Chinese capital -- which reported 19 new infections Sunday -- announced residents would start returning to work from Monday and schools would reopen from June 13.
China is wedded to a zero-COVID strategy of hard lockdowns, mass testing and long quarantine periods to wipe out clusters as they emerge. — AFP
June 2, 2022 - 7:32am
The World Health Organization laments Wednesday that it had no access to data about North Korea's COVID-19 outbreak, but assumed the crisis was deepening, contrary to Pyongyang's reports of "progress".
North Korea, which announced its first ever coronavirus cases on May 12, said last week its COVID-19 outbreak had been brought under control, with state media reporting falling caseloads.
But WHO emergencies director Michael Ryan questions that claim. — AFP