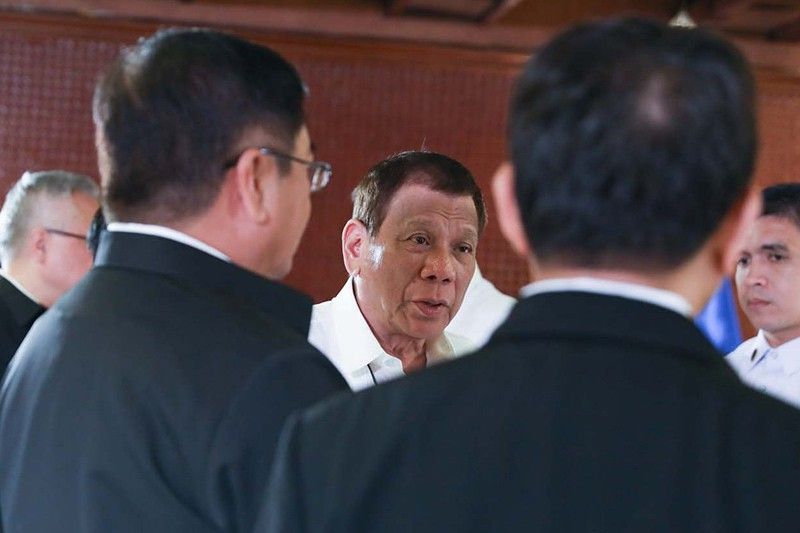 President Rodrigo Duterte discusses matters with Cabinet members during a briefing on the 2019 novel coronavirus (2019-nCoV) at the Malacañan Palace on Feb. 3, 2020.
Toto Lozano/Presidential Photo
Duterte ready to seize private buildings to quarantine nCoV patients
MANILA, Philippines — The government may expropriate private facilities and convert them to quarantine centers or hospitals if the Philippines is hit by a novel coronavirus outbreak, President Rodrigo Duterte said.
While he believes that nCoV will eventually die a "natural death," Duterte has instructed the Health department to prepare rooms or spaces for patients who exhibited symptoms of the disease.
"I will expropriate. I will get your building whether you like it or not, whether it is on times of emergency... It is confiscatory in nature," the president told reporters in Malacañang Monday night.
"You confiscate, then you make it a hospital bringing in the equipment inside the building where the egress and ingress is controlled," he added.
Duterte said the government may use the drug rehabilitation facility at Fort Magsaysay in Nueva Ecija donated by a Chinese philanthropist to accommodate patients who have to be quarantined or treated.
"But that building I think the first building is vacant, not used. Problem is I think the governor is against (the conversion of the building to a hospital). It's in Fort Magsaysay. That building is inside a national government reservation. It's spacious," Duterte said.
"I will place a lot of people there if the contagion actually... It's epidemic if it is just regional or local or national. It is pandemic if it is worldwide," he added.
Previous reports said Nueva Ecija Gov. Aurelio Umali is against the conversion of the Mega Drug Rehabilitation Center in Fort Magsaysay into a quarantine center. The drug rehabilitation center was launched in 2016 as part of the Duterte administration's campaign against illegal drugs.
Duterte said agencies have not yet finalized the sites of the quarantine facilities, noting that the Philippines only has two confirmed cases of nCoV.
"It is not yet needed but I said we will prepare," he said.
Cabinet Secretary Karlo Nograles said the drug rehabilitation center in Fort Magsaysay would "most probably" be used as a quarantine facility.
"The huge facility can accommodate a lot if need be. In the meantime, all our different government hospitals have their own quarantine facilities. Our government hospitals are ready to implement the quarantine protocols," Nograles said in a media forum Tuesday in Quezon City.
Duterte said the government is also buying face masks to protect the public from the virus.
"We are procuring and we have supplies coming in. The supply is depleted because there is an emergency and there's a need for it. So everybody is buying. That's the reason why there is a scarce supply in the market. Without the virus, the masks are not being sold by the thousands. The virus raised the prices," he said.
Nograles said Trade Secretary Ramon Lopez has spoken with local manufacturers and importers of the mask to augment the supply of the medical tool.
"I think the scarcity comes with the problem of hoarding... it is creating some sort of panic among our people. There is the tendency for our countrymen... to purchase more than what is required," Nograles said.
"We are asking our countrymen not to hoard face masks," he added.
As It Happens
LATEST UPDATE: May 27, 2020 - 7:29am
Follow this page for updates on a mysterious pneumonia outbreak that has struck dozens of people in China.
May 27, 2020 - 7:29am
The novel coronavirus has killed at least 347,723 people since the outbreak first emerged in China last December, according to a tally from official sources compiled by AFP at 1900 GMT on Tuesday.
At least 5,541,590 cases of coronavirus have been registered in 196 countries and territories. Of these, at least 2,191,200 are now considered recovered.
The tallies, using data collected by AFP from national authorities and information from the World Health Organization (WHO), probably reflect only a fraction of the actual number of infections. — AFP
May 26, 2020 - 9:15pm
The World Health Organization said Tuesday that Dutch workers apparently infected with the coronavirus by minks could be the first known cases of animal-to-human transmission.
The WHO told AFP that it was in close contact with Dutch researchers investigating three cases where the virus appears to have been passed to humans from minks.
"This would be the first known cases of animal-to-human transmission," the UN health agency told AFP in an email.
"But we are still collecting and reviewing more data to understand if animals and pets can spread the disease," it said. — AFP
May 26, 2020 - 4:50pm
The Department of Health announces that a total of 14,669 individuals have contracted the coronavirus disease, with the agency reporting 350 new cases.
There are 89 new recoveries and 13 new deaths.
May 26, 2020 - 9:03am
The US coronavirus death toll has risen by 532 over the past 24 hours, the Johns Hopkins University tracker said Monday.
After that relatively small increase, the US toll now stands at 98,218 lives as of 8:30 pm (0030 GMT Tuesday), according to the Baltimore-based university, and US cases of infection now number 1,662,375.
Both are the highest anywhere in the world. — AFP
May 26, 2020 - 7:21am
The novel coronavirus has killed at least 344,107 people since the outbreak first emerged in China last December, according to a tally from official sources compiled by AFP at 1900 GMT on Monday.
The drop in the total numbers of deaths is due to Spain's revision of its toll downwards by nearly 2,000.
At least 5,453,650 cases of coronavirus have been registered in 196 countries and territories. Of these, at least 2,133,900 are now considered recovered. — AFP