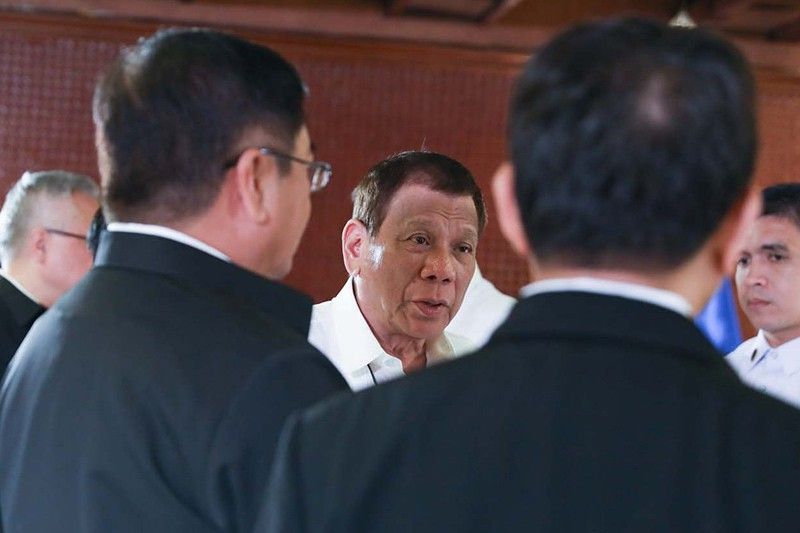 President Rodrigo Duterte discusses matters with Cabinet members during a briefing on the 2019 novel coronavirus (2019-nCoV) at the Malacañan Palace on Feb. 3, 2020.
Toto Lozano/Presidential Photo
Duterte ready to seize private buildings to quarantine nCoV patients
MANILA, Philippines — The government may expropriate private facilities and convert them to quarantine centers or hospitals if the Philippines is hit by a novel coronavirus outbreak, President Rodrigo Duterte said.
While he believes that nCoV will eventually die a "natural death," Duterte has instructed the Health department to prepare rooms or spaces for patients who exhibited symptoms of the disease.
"I will expropriate. I will get your building whether you like it or not, whether it is on times of emergency... It is confiscatory in nature," the president told reporters in Malacañang Monday night.
"You confiscate, then you make it a hospital bringing in the equipment inside the building where the egress and ingress is controlled," he added.
Duterte said the government may use the drug rehabilitation facility at Fort Magsaysay in Nueva Ecija donated by a Chinese philanthropist to accommodate patients who have to be quarantined or treated.
"But that building I think the first building is vacant, not used. Problem is I think the governor is against (the conversion of the building to a hospital). It's in Fort Magsaysay. That building is inside a national government reservation. It's spacious," Duterte said.
"I will place a lot of people there if the contagion actually... It's epidemic if it is just regional or local or national. It is pandemic if it is worldwide," he added.
Previous reports said Nueva Ecija Gov. Aurelio Umali is against the conversion of the Mega Drug Rehabilitation Center in Fort Magsaysay into a quarantine center. The drug rehabilitation center was launched in 2016 as part of the Duterte administration's campaign against illegal drugs.
Duterte said agencies have not yet finalized the sites of the quarantine facilities, noting that the Philippines only has two confirmed cases of nCoV.
"It is not yet needed but I said we will prepare," he said.
Cabinet Secretary Karlo Nograles said the drug rehabilitation center in Fort Magsaysay would "most probably" be used as a quarantine facility.
"The huge facility can accommodate a lot if need be. In the meantime, all our different government hospitals have their own quarantine facilities. Our government hospitals are ready to implement the quarantine protocols," Nograles said in a media forum Tuesday in Quezon City.
Duterte said the government is also buying face masks to protect the public from the virus.
"We are procuring and we have supplies coming in. The supply is depleted because there is an emergency and there's a need for it. So everybody is buying. That's the reason why there is a scarce supply in the market. Without the virus, the masks are not being sold by the thousands. The virus raised the prices," he said.
Nograles said Trade Secretary Ramon Lopez has spoken with local manufacturers and importers of the mask to augment the supply of the medical tool.
"I think the scarcity comes with the problem of hoarding... it is creating some sort of panic among our people. There is the tendency for our countrymen... to purchase more than what is required," Nograles said.
"We are asking our countrymen not to hoard face masks," he added.
As It Happens
LATEST UPDATE: January 27, 2021 - 12:27pm
Follow this page for updates on a mysterious pneumonia outbreak that has struck dozens of people in China.
January 27, 2021 - 12:27pm
Hong Kong has begun using "ambush lockdowns" to suddenly close off and test everyone inside neighbourhoods where coronavirus cases have spiked, as a spate of recent outbreaks lay bare the rampant inequality in the wealthy Chinese finance hub.
Police cordoned off a row of densely packed tenement buildings in the Yau Ma Tei area overnight on Tuesday through to Wednesday morning to conduct mandatory tests.
The new tactic involves authorities giving no warning of an impending lockdown.
City leader Carrie Lam said such "ambush style" lockdowns were needed to ensure people did not flee before testers move in.
"I thank residents in the restricted area for their cooperation," she wrote on her Facebook page Wednesday as the lockdown was lifted. —AFP
January 26, 2021 - 1:07pm
Mexico's coronavirus death toll has surpassed 150,000, the government says, a day after President Andres Manuel Lopez Obrador announced he had Covid-19.
The health ministry reports 659 more deaths in its daily update, taking the total to 150,273, behind only the United States, Brazil and India.
The overall number of infections registered now stands at more than 1.77 million in the nation of around 128 million, an increase of 8,521 from the previous day. — AFP
January 26, 2021 - 11:41am
Thousands of Australians defy coronavirus rules to protest the country's national day, held on the anniversary of British colonization of the vast continent that its Indigenous population brands "Invasion Day".
Officially recognized as Australia Day, January 26 also sees annual rallies drawing attention to the injustices faced by Indigenous people and calling on the government to change the date of the national holiday.
The celebration of the origins of the modern nation is a time of mourning for Indigenous Australians, who have inhabited the land for 65,000 years and view the arrival of British settlers in 1788 as the beginning of two centuries of pain and suffering.
Thousands of people gathered at a central Sydney park in defiance of police threats of fines and arrests for breaching a 500-person limit on gathering in public places, though organizers called off a march through the city that usually follows. — AFP
January 26, 2021 - 7:38am
The Netherlands was hit by a second wave of riots Monday evening, as protesters again went on the rampage in several cities following the introduction of a coronavirus curfew over the weekend.
Riot police clashed with groups of protesters in Amsterdam as well as the port city of Rotterdam, where people smashed shop windows and ransacked their supplies.
The unrest also hit Amersfoort in the east, the small southern city of Geleen near Maastricht, The Hague and Den Bosch, police and news reports said.
More than 70 people had been rounded up by 2200 GMT, public newscaster NOS reported.
Geleen police said in an earlier tweet that they were dealing with "rioting youths who are throwing fireworks". — AFP
January 25, 2021 - 2:17pm
New Zealand's first case of coronavirus in the community for more than two months has been identified as the more contagious South African variant, prompting Australia to suspend quarantine-free travel from the neighbouring country for at least 72 hours.
A 56-year-old New Zealander, who recently returned from Europe, tested positive on Saturday to the infectious strain, 10 days after she completed her compulsory two weeks in isolation.
New Zealand has been widely praised for its handling of the pandemic, with just 25 deaths from 1,927 confirmed virus cases in a population of five million. — AFP