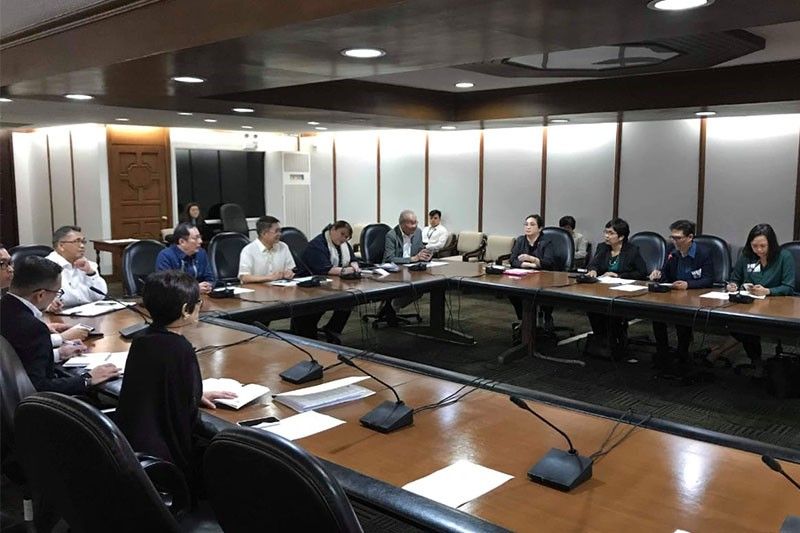 The Department of Foreign Affairs convened an emergency meeting with the Department of Health to discuss strategies to properly respond to the health emergency brought about by the novel coronavirus outbreak in China and other countries.
DFA/Lorenzo Vidal
Health, Foreign Affairs draw up protocols to protect OFWs from coronavirus
(Philstar.com) - January 27, 2020 - 3:58pm
MANILA, Philippines — Officials of the Department of Foreign Affairs and the Department of Health, and health experts convened an emergency meeting Monday to discuss measures to protect overseas Filipino workers amid the novel coronavirus (2019-nCoV) outbreak in China and other countries.
Foreign Affairs Undersecretary Eduardo Malaya sought the guidance of the Health department on how to establish protocols on the evacuation and repatriation of Filipinos in affected cities and provinces—particularly Wuhan, China, which is the epicenter of the pandemic.
The officials also discussed the formulation of further health advisories for OFWs in affected countries, the DFA said in a statement.
The DOH will be establishing hotlines in every foreign service post in China, where Filipinos can directly call.
OFWs in affected areas are advised to avoid crowded places, use masks and gloves, and to practice proper hygiene to reduce exposure to and transmission of the SARS-like virus.
According to the DFA, there are no reports yet of any Filipino abroad who has been affected by the novel coronavirus.
"The DFA, through its Embassies and Consulates General in China and affected areas, continues to reach out to overseas Filipinos to take necessary precautions and follow the advice from local health authorities in their area," the DFA said in a statement.
The DFA added that it is coordinating with Filipino communities overseas to call for volunteer nurses and doctors who can response in case a fellow Filipino would be infected.
Health Secretary Francisco Duque clarified earlier Monday that there is no confirmed case of the novel coronavirus in the Philippines.
The DOH, however, is monitoring 11 patients under investigation that have been put under quarantine. — Patricia Lourdes Viray
As It Happens
LATEST UPDATE: April 8, 2020 - 10:02pm
Follow this page for updates on a mysterious pneumonia outbreak that has struck dozens of people in China.
April 8, 2020 - 10:02pm
Global trade growth is expected to plummet by up to a third in 2020 due to the coronavirus pandemic, the World Trade Organization said Wednesday, warning that the numbers would be "ugly".
"World trade is expected to fall by between 13 percent and 32 percent in 2020 as the COVID-19 pandemic disrupts normal economic activity and life around the world," the WTO said in a statement.
There were a wide range of possibilities for how trade would be hit by the "unprecedented" health crisis, it added.
However, WTO chief Roberto Azevedo warned the downturn "may well be the deepest economic recession or downturn of our lifetimes".
In its main annual forecast, the 164-member WTO pointed out that trade had already been slowing in 2019, before the emergence of the novel coronavirus.
But the virus has now infected some 1.4 million people since late last year, killing more than 80,000 and forcing governments across the world to take radical measures.
More than half of humanity has been asked to stay at home and economic activity has ground to a virtual standstill in many places. -- AFP
April 8, 2020 - 7:09pm
The World Health Organization's European office says that despite seeing "positive signs" from some countries, it was too early to scale back measures aimed at containing the spread of the new coronavirus.
"Now is not the time to relax measures. It is the time to once again double and triple our collective efforts to drive towards suppression with the whole support of society," WHO regional director for Europe, Hans Kluge, says. ?— AFP
April 8, 2020 - 4:08pm
The Department of Health reports 106 new confirmed COVID-19 cases, bringing the tally to 3,870.
There are 23 new recoveries and five new fatalities, the DOH adds.
April 8, 2020 - 3:32pm
Voicing joy and excitement from behind face masks, tens of thousands of people fled Wuhan on Wednesday after a 76-day travel ban was lifted on the Chinese city where the coronavirus first emerged.
Previously quiet train and bus stations bustled as an exodus began from the city of 11 million, with some passengers wearing hazmat suits.
Hao Mei, a single parent from the nearby city of Enshi, said her two children had been home alone since she got stuck in Wuhan, where she works in a school kitchen.
"You have no idea! I was already up around 4 am. I felt so good. My kids are so excited. Mum is finally coming home," the 39-year-old told AFP as she waited to board a train.
"At the start of the lockdown, I cried every night. I was really miserable, because my little girl is still young, she's only 10."
Up to 55,000 people are expected to leave Wuhan on Wednesday just by train, according to government estimates. -- AFP
April 8, 2020 - 12:14pm
The National Telecommunications Commission and United Nations Children's Fund join hands with the telecommunications to ensure parents and children's security both online and offline amidst the COVID-19 pandemic.
Upon UNICEF's request, the NTC extends its support in spreading information to alleviate the situation. The telecommunications sector is sending out text blasts encouraging subscribers to visit unicef.ph and saferkidsph.org for information and tips on how to support parents and children in managing the impact of COVID-19.