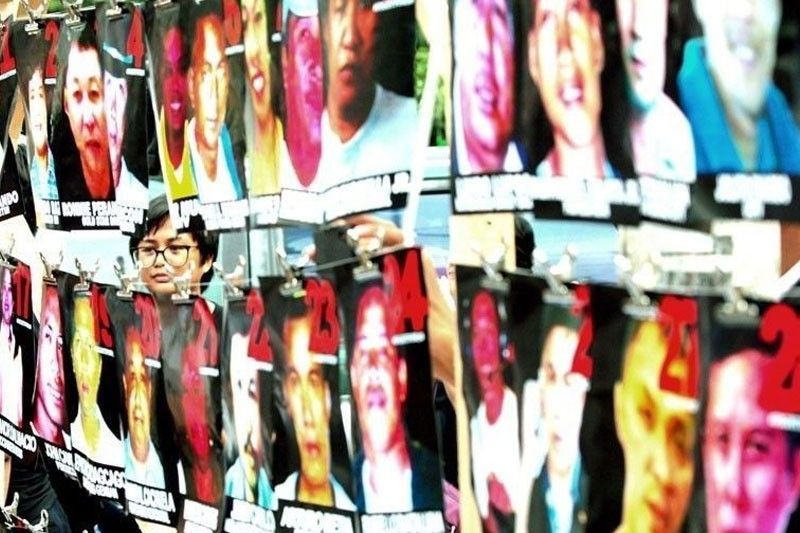 Dimaukom is one of at least 80 suspects that have remained at large and have evaded arrest for a decade.
The STAR/Krizjohn Rosales
Police nab Maguindanao massacre suspect
MANILA, Philippines — One of the fugitive principal suspects in the 2009 Maguindanao massacre was arrested by policemen yesterday.
Faisal Dimaukom, 42, also known as Kagi Faizal, was arrested at Barangay Kabinge in Datu Saudi Ampatuan, Maguindanao at around 5:50 a.m.
Brig. Gen. Marni Marcos, director of the Bangsamoro Autonomous Region in Muslim Mindanao police, said relatives of Dimaukom helped the police locate the accused in Barangay Kabingi.
Authorities have tagged Dimaukom as one of the principal suspects in the massacre that claimed the lives of 58 people, including 32 media workers on a hilltop in Ampatuan, Maguindanao on Nov. 23, 2009. The government has offered a P300,000 reward for Dimaukom's capture.
Dimaukom is one of at least 80 suspects that have remained at large and have evaded arrest for a decade.
More than 100 suspects were charged for the massacre.
Quezon City Regional Trial Court Branch 221 Judge Jocelyn Solis-Reyes had convicted 28 of the accused led by former mayor Andal Ampatuan Jr. of Ampatuan town and his brother, former governor Zaldy Ampatuan of the Autonomous Region in Muslim Mindanao, last Dec. 19.
Andal Jr. and Zaldy are sons of clan patriarch and former Maguindanao governor Andal Ampatuan Sr., who died in 2015 while in detention.
"I am extending my gratefulness and appreciation especially to the stakeholders for this is a result of good intelligence work and coordination with them," Marcos said.
Marcos said a fragmentation grenade was seized from Dimaukom.
He was turned over to the Parang police station for documentation and disposition.
Dimaukom will later be turned over to the Quezon City RTC.
Lawyer Nena Santos, counsel of the victims of the Maguindanao massacre, said Dimaukom was not among those convicted during the Dec. 19 promulgation on the case by Judge Solis-Reyes.
"Until his arrest, he was one of those 80 suspects who are still at large and are wanted for their involvement in the massacre," Santos said.
A Quezon City RTC has given the prosecution three days to comment on the appeal of one of the Maguindano massacre convicts to be transferred to the infirmary for health reasons.
Judge Reyes yesterday heard several motions related to the case, including Zaldy Ampatuan's request to be transferred to the New Bilibid Prison infirmary.
In an open court hearing, Reyes gave the prosecution three days to submit their comment instead of five days.
Ampatuan, who was sentenced to 40 years in prison for 57 counts of murder over the massacre, earlier asked the court to allow him to undergo therapy, rehabilitation and medication as prescribed by his doctors.
He was confined for almost two months at the Makati Medical Center prior to the promulgation of judgment.
Other matters discussed during yesterday's hearing included the case of Col. Bahnarin Kamaong, who appeared in the convicted and acquitted list, as well as the motion for reconsideration filed by Anwar Ampatuan Sr. and his sons. – With Romina Cabrera, John Unson