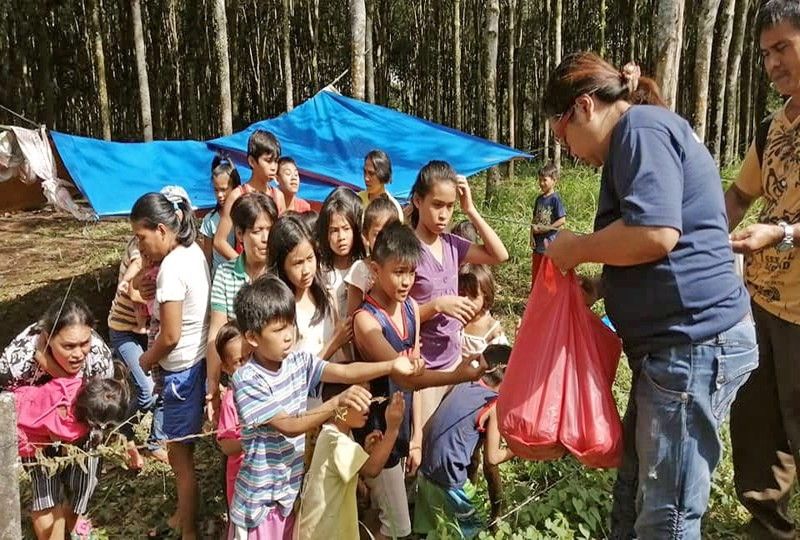 GOOD SAMARITANS: A woman distributes bread to children along a highway in Makilala town, North Cotabato yesterday. The screen grab from a video courtesy of Edwin Bailies shows families living in tents under rubber trees following two strong earthquakes.
Quake-hit villages cry for food, water
Jaime Laude
(The Philippine Star) - November 3, 2019 - 12:00am
MANILA, Philippines — Quake victims in Central Mindanao and Davao Region desperately need food and water as well as medicine, although the government has mobilized all concerned agencies to address their needs.
With basic needs as well as fuel supply running low, displaced residents staying in makeshift tents in Tulunan and Makilala, both in North Cotabato, on Friday trooped to the highway to ask help from motorists.
Aside from food and water, the placard-bearing quake victims asked for tarpaulin sheets, which they could use as roof for their makeshift tents.
They also listed their needs on a white recycled tarp and displayed it beside the highway for motorists to see.
Some motorists stopped and distributed bottled water and other food items.
Provincial board member Jumar Cerebo appealed to good Samaritans to course their assistance through the local government.
Cerebo advised motorists to avoid distributing the aid themselves as they might be mobbed by the quake victims.
"Motorists who distributed bottled water to quake victims in front of a school were mobbed by unruly and thirsty residents. It was good that nobody got hurt," he said.
But some motorists continued to give aid to quake victims.
Eugene Villamor, 30, a quake victim, posted on social media that the people were glad that good Samaritans were coming over to help them.
"Your generosity will return to you," he said.
The Office of Civil Defense (OCD) said it has dispatched portable water filtration units to address the problem in quake-devastated areas.
Aside from water filters, the OCD loaded tons of relief goods on a Philippine Air Force plane to be distributed among the quake victims, according to PAF spokesman Maj. Aristides Galang.
21 killed
The death toll in the two quakes has climbed to 21, the NDRRMC said yesterday.
Of that number, 18 were from Central Mindanao and three from Davao Region.
Of the 18 deaths in Central Mindanao, nine perished from the magnitude 6.6 quake that occurred on Oct. 29, while the others died in the magnitude 6.5 quake on Oct. 31.
The additional fatalities were identified as Melcaio Laxamana, 67; Melissa Jamero, 67; Nifa Sabemas, 55, and Elma Rose Casuela, 64.
Laxamana and Jamero were hit by falling debris while Sabemas and Casuela died from cardiac arrest during the quake.
Reported missing were Gilbert Superales and Miggy Attic, who were reportedly buried alive in the landslide.
"It's been raining every night, preventing search and retrieval teams from digging for bodies," the office of the local Magsaysay risk reduction and management council said.
Figures going up
As of last night, the number of affected families in Central Mindanao and and Davao Region, has risen to 29,479 families or 147,395 persons from 29,349 families or 146,745 individuals yesterday morning, the National Disaster Risk Reduction and Management Council (NDRRMC)
Of the figures, 4,257 families or 21,285 individuals are sheltered in 28 evacuation centers and makeshift tents.
Of the 20,929 damaged structure in Central Mindanao, Davao Region, Western and Northern Mindanao as well as in the Bangsamoro Autonomous Region in Muslim Mindanao 20,921 were residential houses.
The figures are expected to further go up once displaced residents from other villages isolated by landslides are accounted for.
There have been reports that over 90 families were trapped in Sitio Kapatagan, Barangay Luayon in Makilala as the only accessible road leading to the village was destroyed in a landslide on Oct. 31.
Forced evacuation
Some 2,900 families living in disaster-prone villages of Magsaysay were forcibly evacuated due to the continuing aftershocks and the heavy rains that may trigger other landslides.
In Makilala, 3,000 residents residing in landslide-prone areas were also forcibly evacuated to safer grounds.
Residents from the hinterlands of Kidapawan City have left their homes to stay in evacuation centers.
Franz Irag of the Central Mindanao OCD said almost all quake-affected families have sought shelter in 27 evacuations centers.
The Department of Social Welfare and Development, Armed Forces of the Philippines and Department of Transportation sent food packs, tents, tarpaulins and shelter repair kits for affected families.
Personnel of the Bureau of Fire Protection and Philippine Coast Guard are on the ground helping in the conduct of search and rescue operations.
The Department of Health mobilized its available manpower to attend to the evacuees.
Private and government hospitals damaged by the quakes set up their medical tents in open spaces to accommodate patients.
Building and site inspections are being conducted throughout the quake-hit regions by experts from the Department of Public Works and Highways (DPWH), local building officials and disaster teams.
The Department of Trade and Industry gave assurance that prices and supply of goods would remain stable in quake-affected areas.
More quakes
A magnitude 4.5 earthquake rocked Tulunan early yesterday morning, the Philippine Institute of Volcanology and Seismology (Phivolcs) said.
The quake occurred at around 2:38 a.m. It was tectonic in origin and was felt at Intensity 5 in Kidapawan City.
Meanwhile, another quake also occurred in Sarangani, Davao Occidental yesterday afternoon.
The epicenter of the magnitude 4.4 earthquake was located 153 kilometers southwest of Sarangani.
Flashfloods
On Friday, flashfloods swept through quake-stricken communities at the border of Datu Paglas town in Maguindanao and Tulunan in North Cotabato.
Dozens of families were rescued by members of the municipal disaster risk reduction and management councils and civic groups.
The provincial government of Lanao del Sur dispatched its calamity responders and relief workers and trucks of relief goods to North Cotabato.
Gov. Mamintal Adiong Jr. yesterday said they are ready to help relocate quake-affected Maranaos from Mlang, Tulunan and Makilala towns as well as in Kidapawan City to their hometowns in Lanao del Sur.
Adiong said they can provide overland conveyances for displaced Maranaos who may decide to return to Lanao del Sur.
The quake victims gather in open fields before dusk and return to their farms during daytime.
Cracks
The Bolton Bridge II along Quimpo Boulevard in Davao City sustained minor cracks from the magnitude 6.5 earthquake that hit the region last week, officials said over the weekend.
The cracks prompted local public works officials to limit the capacity of the bridge from 20 to 15 tons until repairs are completed.
Technical engineers of the DPWH have been checking the structural integrity of roads, bridges and other infrastructure affected by the recent series of quakes in the region.
DPWH Secretary Mark Villar sent Undersecretary Dimas Soguilon to Davao and Cotabato to assess the situation for the deployment of quick response teams.
In Davao del Sur, two of four lanes of the Matanao Bridge located along the Davao-Cotabato road were temporary closed to traffic due to cracks in the deckslab, according to district engineer Nicomedes Parilla.
Soguilon and DPWH Region 11 chief Allan Borromeo inspected the quake-damaged school buildings of the Kasuga National High School in Magsaysay town.
Soguilon has yet to submit his report to Villar.
Quake data sought
Sen. Richard Gordon has requested Phivolcs to furnish him with significant data that would enable him to inform the people on the condition of the quake-stricken areas.
In a letter to Phivolcs director Renato Solidum Jr., Gordon said the Philippine Red Cross (PRC), which he heads, needs to inform and prepare the public on the situation on the ground.
Gordon wanted an update on the seismic status in Mindanao, current fault reading and other pertinent information that can be used to ensure public safety, historical data on earthquakes in the affected areas and seismic map of Mindanao and the Philippines.
The PRC has been helping quake-hit areas by providing ambulances, water tankers, medical tents with generators and trucks for evacuation. – John Unson, Jose Rodel Clapano, Cecille Suerte Felipe, Rhodina Villanueva