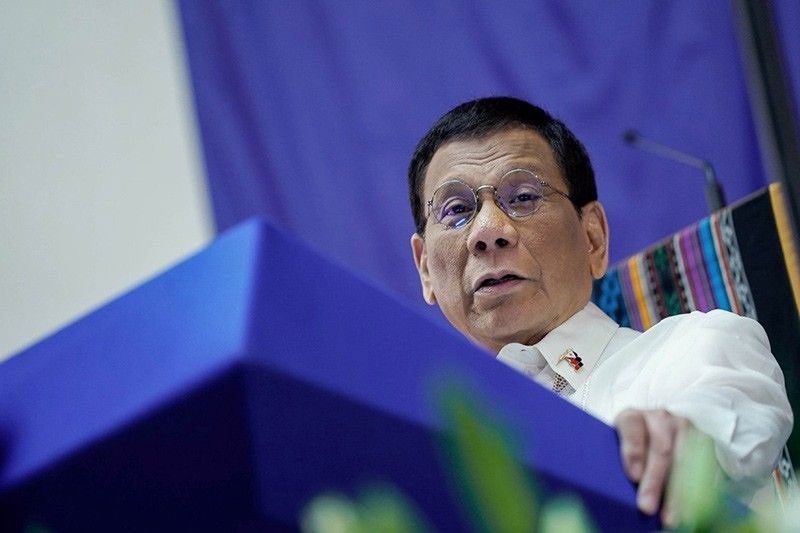 Mayor Evelio Leonardia said that he is leaving it to the best judgment of President Duterte,who is slated to attend the Maskara Festival this month, "as we feel that he is, in fact, concerned about Bacolod."
King Rodriguez/Presidential Photo
'Free to kill' order to Espenido draws mixed reactions
BACOLOD CITY, Philippines — The order of President Duterte to controversial police officer Lt. Col. Jovie Espenido that he is free to kill everybody in Bacolod, where he is currently assigned, yesterday drew mixed reactions from Negrenses, Church officials and the business community, among others.
Mayor Evelio Leonardia said that he is leaving it to the best judgment of President Duterte,who is slated to attend the Maskara Festival this month, "as we feel that he is, in fact, concerned about Bacolod."
"I believe the President has Bacolod close to his heart, so he must have the best of intentions for Bacolod and we believe that the authorities know better when you talk about the real drug situation and the other areas of peace and order," Leonardia said.
Stressing that Bacolod City is plagued by illegal drugs, Duterte ordered Espenido to "go there, you are free to kill everybody."
Romeo Baldevarona, head of the Commission on Human Rights in Negros Occidental, said he believes there is nothing to be alarmed with the order of Duterte, stressing that Espenido will respect human rights and the right to life in law enforcement.
Frank Carbon, chairman of the Metro Bacolod Chamber of Commerce and Industry, disclosed in a radio interview that the order of Duterte to Espenido has positive and negative effects.
The positive effect is that it will have an impact on the peace and order in Bacolod City, as those behind illegal drug activities will flee to other areas.
Carbon said it will also have a negative effect on the image of Bacolod City, especially to tourists and investors, who may reconsider visiting.
Two Negros bishops aired their dismay over the order issued by Duterte to Espenido, stressing that only God has the right to take away life.
Bacolod Bishop Patricio Buzon said that coming from a President, such statement is irresponsible, to say the least, and utterly disrespectful of the people of Negros.
"God is the author of life, and He alone has the right to take it," Buzon said.
San Carlos Bishop Gerardo Alminaza said: "God have mercy on him and our people. Our right to life is the first of all other rights and is universal, absolute, inalienable and inviolable."
"I pray and hope that Lt. Col. Espenido and the rest of our PNP/AFP have enough moral integrity and will exercise critical thinking and not take it literally," Alminaza said.
Espenido is known for his bloody anti-drug operation against local government officials, including the killing in 2016 of mayor Rolando Espinosa Sr. of Albuera, Leyte who was linked to the illegal drug trade.
When he was the police chief of Ozamiz City, it was under his watch that then mayor Reynaldo Parojinog and 14 others linked to the illegal drug trade were killed in a series of raids in 2017.
Espenido is presently assigned as the deputy chief for Operations of the Bacolod City Police Office.
Bacolod police chief Col. Henry Binas is reportedly considering Espenido to head the local police anti-illegal drugs unit.
Alex Tablate, Philippine Drug Enforcement Agency regional chief of Western Visayas, said that Negrenses should get used to President Duterte's statements.
Tablate said that anti-drug operations are covered by a protocol to be strictly followed, otherwise, drug enforcers could be held liable for violating laws.
Human rights group Karapatan denounced the recent "kill order" of Duterte to Espenido.
"This recent statement by Duterte is nothing new, but its ramifications on the ground remain dangerous. We take this as a directive to perpetrate more bloodshed in the already battered region of Negros. Espenido, like Duterte, does not care for human rights or due process, except when it is in the context of escaping accountability," said Karapatan vice chairperson Reylan Vergara.
Vergara said the transfer of Espenido to Negros will worsen the alleged already unrelenting human rights violations in the area.
He recalled that "in the first half of Duterte's term, he already made remarks addressed to authorities that anyone who kills in the name of this government's policies will be protected or, if charged, pardoned.
No doubt that the President has enabled a blood-thirsty police force to continue to commit atrocities with impunity.