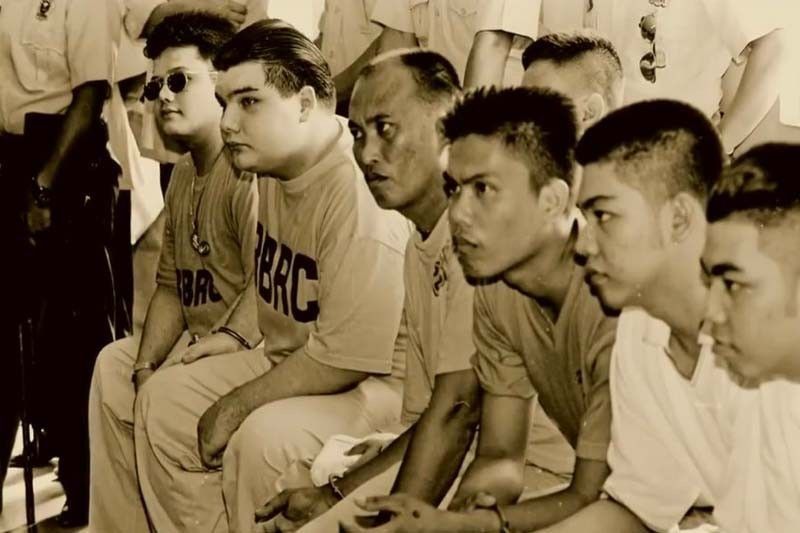 Seven men dubbed as the "Chiong Seven" were imprisoned for the alleged rape and kidnap of sisters Marijoy and Jacqueline.
Screenshot from documentary "Give Up Tomorrow"
Duterte wants 1,914 heinous crimes convicts to surrender
MANILA, Philippines (Update 2, 7:33 p.m.) — President Rodrigo Duterte has ordered the 1,914 heinous crimes convicts freed over the years of implementation of the law cutting down their prison time due to their good conduct to surrender to authorities.
Duterte told the freed convicts to "surrender and have yourself registered in [the Bureau of Corrections] in 15 days."
The president said they are given 15 days of liberty provided that they make themselves available for recomputation of their GCTA and for investigation for corruption, or else they would be treated as fugitive.
"Or you will be treated as criminal for evading the law. Well, you know, things can go wrong," Duterte warned.
According to data of the Bureau of Corrections, there have been more than 22,000 persons deprived of liberty whose GCTA were granted and whose sentences were shortened.
Of these, 1,914 inmates were sent to imprisonment for committing heinous crime.
"Maybe three days I will decide if I put up... I will place P1 million per head, dead or alive," he also said.
The president claimed that he does not need a warrant for his order.
Duterte said that Justice Secretary Menardo Guevarra relayed to him a law that when one is released based on "wrongful interpretation or a faulty construction of the law, you can be re-arrested."
Guevarra was asked to explain the law cited by Duterte but he has yet to reply as of this story's posting.
Former Supreme Court spokesperson Theodore Te earlier said that sending the heinous crime convicts back to prison would mean "a retroactive application of the law in a prejudicial manner, which is prohibited by the Constitution as an ex post facto application of the law."
An ex post facto law is that would penalize a crime that was committed when the act was not deemed illegal yet. The Bill of Rights states: "No ex post facto law or bill of attainder shall be enacted."
"The GCTA that may serve to shorten a sentence and entitle the inmate to be released extinguishes liability and, even if applied erroneously but in good faith to unqualified inmates (e.g., those serving time for heinous crimes who under the law are not entitled to GCTA), cannot justify sending back to jail those set free," Te, who is a professor on criminal law, explained.