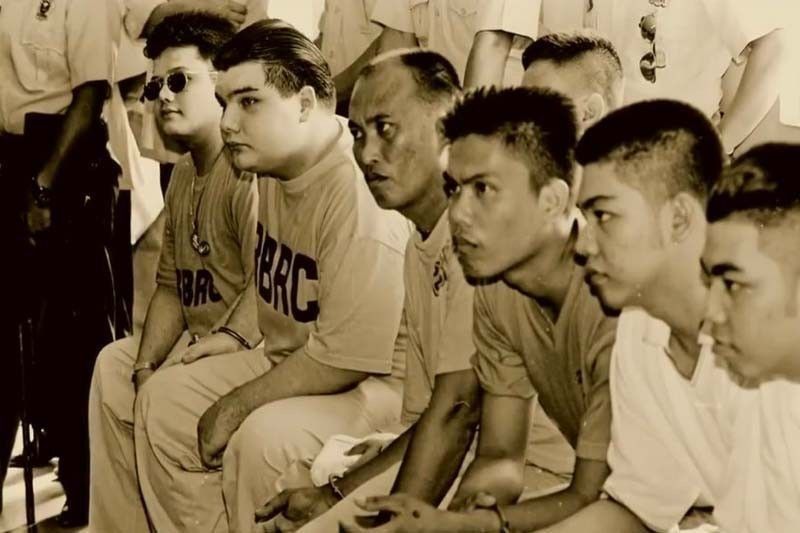 Seven men—most of them from prominent families in Cebu City—were imprisoned for the rape-slay of the Chiong sisters.
Screenshot from documentary "Give Up Tomorrow"
DOJ: Two freed convicts in Chiong sisters rape-slay yet to surrender
(Philstar.com) - September 16, 2019 - 10:38am
MANILA, Philippines — Two of the four men convicted for the rape and murder of the Chiong sisters in 1997 have yet to surrender to authorities, the Department of Justice said.
Justice Undersecretary Markk Perete said that the DOJ is still waiting for Josman Aznar and Anthony Uy to turn themselves in, more than a week since President Rodrigo Duterte ordered the freed heinous crimes convicts to surrender to authorities.
Two other convicts in the case, Ariel Balansag and Alberto Caño, surrendered on September 6.
"Like the rest, they have until the 19th to surrender. Thereafter, the police will also treat them as convicts prematurely released but who will be recommitted to complete the rest of their sentence," Perete, who is also DOJ's spokesperson, said Sunday.
Duterte, on September 4, announced that he wants the nearly 2,000 convicts of heinous crimes who were granted time allowances for their good conduct to surrender.
The Department of Justice has taken the position that prisoners convicted for heinous crimes are excluded from GCTA.
Nicanor Faeldon, since sacked as director general of the Bureau of Corrections, told senators at a hearing earlier this month that "as far as the bureau is concerned and based on the Uniform Manual, which was later on passed, Section 3 of RA 10592, talks about Article 96 of the Revised Penal Code, it does not exclude any convict of any crime."
READ: Excluded from GCTA or not? Why Sanchez's release was 'a possibility'
The president said they are given 15 days of liberty provided that they make themselves available for recomputation of their GCTA and for investigation for corruption, or else they would be treated as fugitives.
"Or you will be treated as criminal for evading the law. Well, you know, things can go wrong," Duterte warned.
The DOJ said Sunday that 505 heinous crime convicts turned themselves in to the custody of the Bureau of Corrections (BuCor).
RELATED: PNP-SAF joining convict manhunt
Aznar lawyer: GCTA beneficiaries re-arrest unconstitutional
A September 6 report of Sun.Star quoted Edgar Gica, Aznar's lawyer, as saying that Duterte's re-arrest order is against the Constitution.
"This young man should now be allowed to rebuild his life... Hunting for him is like accusing him of the same crime again," he added.
"They have served their sentence. They have gone home and have a right to be left alone," Gica also said.
Justice Secretary Menardo Guevarra explained that Duterte's order is anchored on two SC rulings or jurisprudence, which forms part of the law of the land.
EXPLAINER: A look at the Supreme Court rulings behind Duterte's order to re-arrest freed convicts
Guevarra cited the 1967 ruling of People v Fidel Tan, and 2001 decision on City Warden of the Manila City Jail v Estrella et al.
In the Tan ruling, the inmate's GCTA was granted by the provincial warden of Samar. The SC held that the warden usurped the authority of the Director of Prisons in crediting Tan with GCTA.
It held: "The prisoner's re-arrests would not place him twice in double jeopardy because his re-incarceration is merely a continuation of the penalty he had not completely served due to the erroneous act of the warden, it is not a new or subsequent conviction." — Kristine Joy Patag