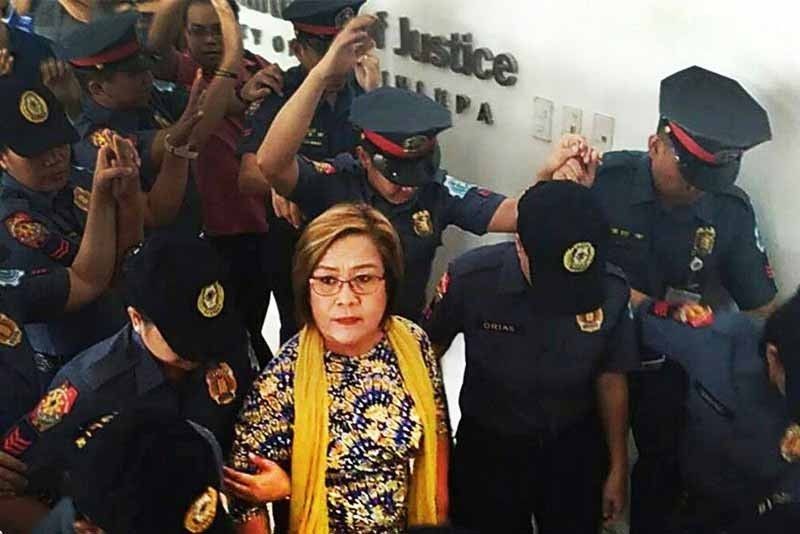 This November 16, 2018 photo shows Sen. Leila De Lima being escorted by members of the Philippine National Police.
Leila De Lima/Release
Southeast Asian lawmakers call for end of judicial harassment vs opposition figures
(Philstar.com) - September 6, 2019 - 6:13pm
MANILA, Philippines — A group of legislators from Southeast Asia once again called on the Philippine government to immediately end all attacks on all opposition lawmakers and drop all "politically-motivated" cases against them.
The ASEAN Parliamentarians for Human Rights made the statement Friday when opposition figures tagged in a sedition suit presented their counter-affidavits and refuted the allegations made against them.
More than 30 people perceived to be critics of the government—which include Vice President Leni Robredo, and Sens. Risa Hontiveros and Leila De Lima—were tagged in a suit that accuses them of conspiring to oust President Rodrigo Duterte by releasing a series of anonymously posted videos alleging drug links.
APHR chairperson Charles Santiago said the Philippine authorities have launched a campaign against the political opposition "with judicial harassment as its main weapon."
"This case is entirely baseless and part of a systematic attack by the Duterte administration on free speech and democracy. It is just another intimidation tactic used to silence criticism," Santiago, a Malaysian member of parliament, said.
De Lima, who has been detained since February 2017, and Hotiveros are members of APHR.
APHR stressed that the sedition case is part of a series of attacks against opposition lawmaker, noting the kidnapping charges filed against the leaders of Anakbayan, and the trafficking and child abuse charges filed against Rep. Sarah Elago (Kabataan) and former Rep. Tom Villarin (Akbayan).
"The Philippine authorities are instilling a climate of fear among lawmakers. Self-censorship in the Congress in hindering the members of parliament's ability to effectively speak on behalf of the people they represent," Kasit Piromya, APHR board member, said.
In a report released last June, APHR pointed out that there are deliberate efforts to harass and muzzle opposition lawmakers in the Philippines through trumped-up criminal charges, threats and intimidation.
"The concerted efforts by the government of President Rodrigo Duterte to silence opponents in Congress are not only affecting efforts to curb human rights abuses but is also threatening to do lasting damage to democratic institutions in the Philippines," it said in the report.
APHR is a regional group of lawmakers "committed to promoting human rights, democracy and justice in Southeast Asia."