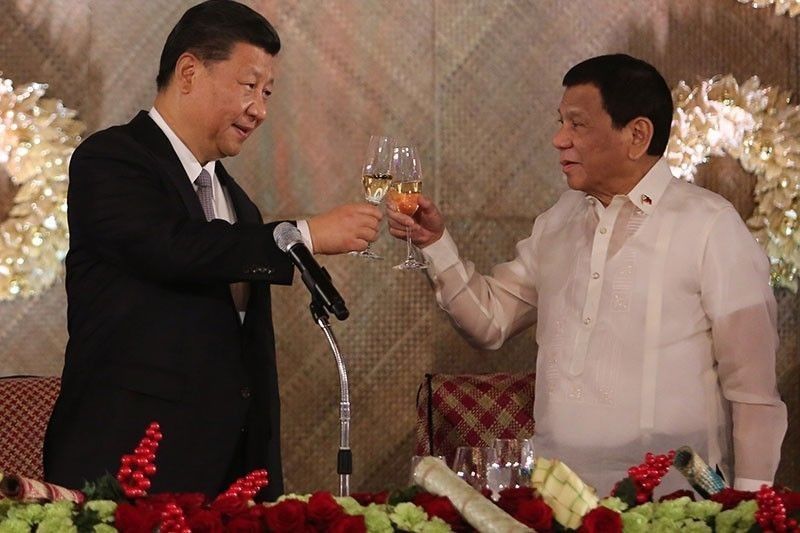 In this Nov. 20, 2018 photo, President Rodrigo Duterte is with Chinese President Xi Jinping during the state banquet at the Rizal Hall of Malacañan Palace.
Pool/Russell Palma, File
China willing to be 'pragmatic, flexible' in joint oil exploration talks with Philippines
MANILA, Philippines — The Chinese government has expressed willingness to be pragmatic and flexible in negotiating the proposed joint oil and gas exploration with the Philippines.
In November last year, the two countries signed a memorandum of understanding on cooperation and gas development in the West Philippine Sea.
As President Rodrigo Duterte meets with Chinese President Xi Jinping in his fifth visit to Beijing, Philippine Ambassador to China Chito Sto. Romana said there is hope that the negotiations would move forward.
"It's possible that the two sides will discuss the need fo form the joint steering committee and the working committees," Sto. Romana said in a televised press briefing in Beijing.
The joint working committees will be composed of the Philippine and Chinese companies that will be engaged in the possible joint exploration.
The Philippine envoy noted that both sides want to achieve cooperation in areas in the West Philippine Sea, both disputed and undisputed.
"The plan is to get the framework ready so that the steering committee can start the ball rolling, as well as the groups, they can start meeting so that the service contracts which have been affected by the moratorium can also proceed," Sto. Romana said.
Sto. Romana was referring to the moratorium on exploration and drilling in the West Philippine Sea.
Former President Benigno Aquino III issued the moratorium in the West Philippine Sea in 2012 due to rising tension with China.
Two areas are being considered for possible joint exploration with China: Service Contract 57 covering northwest Palawan and SC 72 involving Recto or Reed Bank.
Sto. Romana noted that the agreement between the two countries would have to be in accordance with the Philippine Constitution, the Chinese constitution and the United Nations Convention on the Law of the Sea.
"There will be protracted or at least intense negotiations. Legal experts will have to come in and see how they will phrase it in a way that will be acceptable to both sides," he said.
The envoy also stressed it is very important for the Philippines to sign the deal with China as the Malampaya natural gas field in Palawan would soon run out of supply.
"It's going to affect our power supply that's why the president (Duterte) is moving with a sense of urgency to move the process forward," Sto. Romana said.