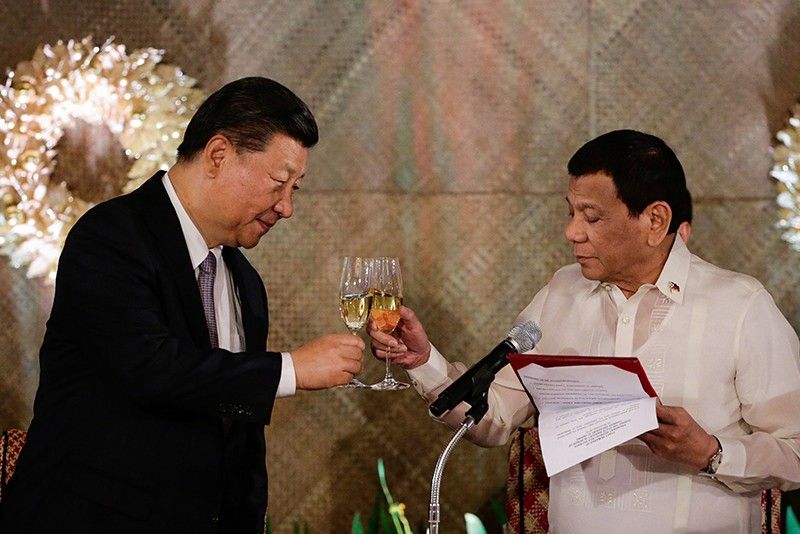 Philippine President Rodrigo Duterte, right, proposes a toast to Chinese President Xi Jinping during a state banquet at Malacanang Palace in Manila, Philippines, Tuesday, Nov. 20, 2018. President Xi Jinping is on a two-day state visit, the first by a Chinese leader in 13 years.
Mark R. Cristino, Pool Photo via AP
Analyst: Philippines, China still 'hesitant' to seal binding joint exploration agreement
MANILA, Philippines — The Philippines and China have preliminarily agreed to cooperate on oil and gas exploration in the South China Sea — control of which is at the heart of a bitter maritime dispute between the two countries.
However, Manila and Beijing are yet to address the elephant in the room: Who has the sovereign rights to the contested areas?
READ: Experts: Joint development in South China Sea no guarantee of better ties
Philippine officials are yet to release a completed copy of the "memorandum of understanding," which was inked Tuesday in the presence of President Rodrigo Duterte and visiting Chinese President Xi Jinping.
The signing of the MOU came following bilateral talks early this year that sought to ease tensions by working out ways to explore potential oil and gas reserves in areas where both nations stake a claim.
"It (MOU) is still tentative. It's an indication that there's still reluctance or hesitation on both sides to really implement a binding agreement," De La Salle University international studies professor Renato De Castro said in a phone interview.
"So in terms of substance, it doesn't say much because it's just a memorandum of understanding that they would negotiate further for the joint exploration," De Castro added.
'Questionable'
A few hours before Tuesday's signing ceremony, opposition Sen. Antonio Trillanes IV sent to reporters a two-page "Chinese draft" titled: Framework Agreement on Joint Maritime Oil and Gas Exploration between China and the Philippines.
Philstar.com could not independently verify the authenticity of the document. It wasn't also clear if the document shared by Trillanes was the MOU sealed by Manila and Beijing in Malacañan.
In the Chinese draft, Beijing insisted that a joint exploration activity "shall not affect the respective position on sovereignty and maritime rights and interests of the two parties."
The framework agreement also did not mention the specific areas in the South China Sea that have been earmarked for joint energy exploration, nor did the limits set by the Philippine Constitution for such a venture.
"The fact that they (China) did not mention any specific area makes the document very questionable... They want to hold a joint exploration but of course, where?" De Castro said, adding that both sides are "very wary that their claims or their territorial rights might be compromised by a joint agreement."
The Philippines, which rely heavily on energy imports, earlier confirmed that two areas are being considered for possible joint exploration with China: Service Contract (SC) 57, which covers the non-contested area of northwest Palawan, and SC 72 which refers to Reed Bank.
"One's notion of a joint exploration [is] you try to basically cooperate on a disputed territory. But by not conducting it in a disputed territory that defeats the very purpose of joint exploration or joint development," De Castro said. "Because from the perspective of the Chinese, the South China Sea is theirs and not disputed."
In late 2014, the Department of Energy suspended exploration at the Reed Bank, which is in waters also claimed by China, after government pursued a legal battle against the Asian power.
Acting on an arbitration case filed by Manila, a 2016 United Nations-backed ruling spelled out, among other issues, that the Philippines had sovereign rights to explore and exploit potential energy resources at the Reed Bank.
"Reciprocity should be applied in any joint exploration/development or it will be a one-sided arrangement inside the Philippine exclusive economic zone that will unduly favor the Chinese," a former Philippine official familiar with national security issues said in a separate interview.